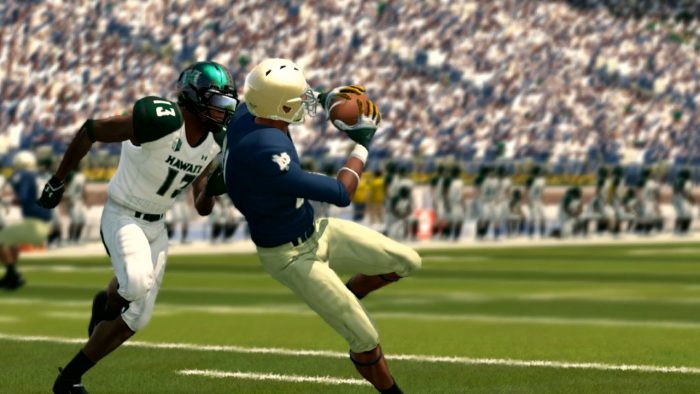 By: Ryan Moreland
I am starting a new series this offseason that will look at the history of the league and give some insight into the games that most of us never got to see. In this first article, we go back to the first-ever season in the CFSL. I hope you enjoy it.
The Teams
The CFSL, like most sports leagues, had meager beginnings. The league started with just eight teams, made up of 96 players. The first eight teams were Auburn, Boise State, Florida State, Hawaii, Iowa, Notre Dame, Ohio State, and Tennessee.
Five of these eight teams are in the league today. However, Florida State and Boise State would eventually drop out of the CFSL and be reintroduced later. The only schools to have played in every season of the CFSL are Ohio State, Notre Dame, and Auburn.
Season
In the first season, each team played a nine-game schedule. This meant that each team played every team in the league at least once, and played two teams twice. Here are the records at the end of the regular season:
| | |
| --- | --- |
| Team | Record |
| Boise State | 6-3 |
| Notre Dame | 6-3 |
| Hawaii | 5-4 |
| Auburn | 5-4 |
| Florida State | 5-4 |
| Ohio State | 4-5 |
| Tennessee | 3-6 |
| Iowa | 2-7 |
All-Americans
You will notice that some positions are not listed (i.e. cornerback). This is because the league was so small at this point that there weren't user players at those positions yet (hard to imagine now, isn't it?).
Here are the Season 1 All-Americans:
| | | |
| --- | --- | --- |
| Position | Player | School |
| QB | Blake Moon | Auburn |
| HB | Michael Kovach | Florida State |
| WR | Gage Bodine | Notre Dame |
| WR | Devonta Duncan | Auburn |
| TE | Derrick Gray | Hawaii |
| DL | Brandone Colvin | Florida State |
| DL | Lorenzo Vasquez II | Notre Dame |
| DL | Tyson Ali | Notre Dame |
| LB | Tylar Jones Drew | Boise State |
| LB | Tony Bryant | Auburn |
| LB | Jerry James | Iowa |
| S | Terrence Mitchell | Tennessee |
| S | Tyler Smith | Notre Dame |
| S | Antjuan Curry | Notre Dame |
| K | Kody Hill | Florida State |
Playoffs
In the first season, only four teams made it to the playoffs. The ties for first and third might lead you to believe that it was a difficult choice of who got into the playoffs. However, with every team playing each other, the head to heads would decide who got which seed. Boise State beat Notre Dame 41-28 when the two played earlier in the season, thus earning the Broncos the top seed. Hawaii also beat Auburn 26-14 in their meeting. Both Hawaii and Auburn beat Florida State.
That meant that the seeding was set. Boise would hold the top spot with Notre Dame, Hawaii, and Auburn following in that order. Now, let's get to the playoff games.
#3 Hawaii vs #2 Notre Dame
This game was a battle of styles. Hawaii's high-flying offense was led by quarterback Elliot Tubigutz. Notre relied on their excellent rush attack that was led by HB Juan Cena. After three-quarters of play, the score was 24-23 with Notre Dame holding a narrow lead.
However, Cena and company proved to be too much for Hawaii in the fourth quarter. The Fighting Irish would score 21 unanswered points in the game's final quarter to win 45 to 23. Cena ended the game with 189 yards and three touchdowns on the ground and Notre Dame would secure a position in the National Championship Game. You can watch the full game here.
#4 Auburn vs #1 Boise State
This game featured two teams with great running backs and excellent running quarterbacks. For Boise State the duo of quarterback Aidric Berry and Joe Friedrich helped land them the top seed. Auburn's QB Blake Moon led the offense with HB Brandon Davis Jr behind him. All four of these players finished top five in rushing that season!
Unlike the first playoff game, this one would be exciting to the finish. Boise State's rushing duo combined for 267 rushing yards and three rushing touchdowns. Not to be outdone, Auburn's Moon and Davis Jr totaled 288 rushing yards and four rushing scores.
Both teams ran the ball all over the field, however, it was the passing game that would make a difference in this game. Moon added 288 yards in the air with a pair of scores while Berry threw for 111 yards, no scores, and a pair of interceptions. Auburn would go on to win 45 to 38 for the chance to play Notre Dame for the Title. You can watch the full game here.
National Championship: #4 Auburn vs #2 Notre Dame
The stage was set and the league was ready to crown its first-ever champion.
Despite not having his best game in the semi-final round, Notre Dame's quarterback Ty White would come out red hot. Notre Dame scored 17 points in both the first and second quarters. White would end the game with 344 total yards and four total touchdowns.
While Auburn's offense was slow out of the gate, only scoring a single touchdown in the first quarter. However, they soon found their footing thanks to the arm of Blake Moon. The Tigers also scored 17 in the second quarter to make the score 34-24 at the half. Moon finished the game with 287 total yards and three passing touchdowns.
Auburn's offense was now alive and kicking. They scored ten points in the third quarter. This would tie the game at 34 because the Tigers' defense didn't give up a point that quarter. This was thanks, in large part, to four-star Quentin James and his game-high 11 tackles.
Notre Dame once again found themselves in a tight game heading into the final quarter of the game. And once again the Irish would turn on that late-game magic. Notre Dame found the endzone twice in the fourth while their defense, led by three-star sensation Bobby Slovak, didn't allow a single point. Notre Dame won the game 48 to 34 and was the CFSL's first National Champion. You can see the full game here.