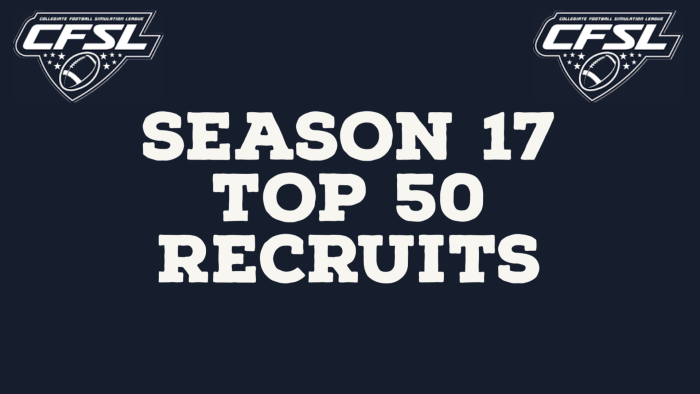 By: Ryan Moreland (@ryanmoreland)
The CFSL Recruiting has deliberated and now it is time to name this season's top 50 recruits. A special thanks to the members of the selection for their input in making this list.
The Top 50
| | | |
| --- | --- | --- |
| Rank | Player | Position |
| 50 | Joey McCue | SS |
| 49 | BrySon Homan | WR |
| 48 | Tyler Johnson | HB |
| 47 | Bucko Bonds | HB |
| 46 | Terrell Brewer | OLB |
| 45 | Christian Davis | HB |
| 44 | Jordan Tank | TE |
| 43 | Hunter Scheuren | TE |
| 42 | Dior Washington | DE |
| 41 | Cait Graziano | WR |
| 40 | JJ Lang | WR |
| 39 | Angelo Perez | CB |
| 38 | Archer Fox | DE |
| 37 | Jaxson Vernal | CB |
| 36 | Gabi Blanco | CB |
| 35 | Barrett Steele | TE |
| 34 | Dakota Ryans | SS |
| 33 | Clark Stiles | TE |
| 32 | Jim Morris | FS |
| 31 | Jamal Davis | SS |
| 30 | JoDeci Billups | SS |
| 29 | Jeff Collins | DT |
| 28 | Craig Smith | CB |
| 27 | Kyle Jones | DE |
| 26 | Braxton McFadden | HB |
The Top 25
25. Nathaniel Thomas
QB | Fairfield, CA
The California Kid has caught the eye of many a QB-needy team. Thomas has an impressive arm, but it is his running ability that makes him a truly dynamic player. There have been no indications on where Thomas will end up in the CFSL, but whoever gets him will be getting a playmaker.
24. Beau Dale
QB | Rolling Fork, MS
At first glance, Dale seems like your average farm boy, but hidden behind his aww-shucks demeanor is the mind of a surgeon. His football IQ and rocket arm have made him a hot commodity in recruiting. However, the quiet kid from Rolling Fork hasn't given any hints on where he might end up.
23. Bishop Guerrero
QB | Redwood, TX
Guerrero is a well-known name in the CFSL and Bishop is the next in line for his shot at the college ranks. The self-described Texas Gunslinger has a lively arm, great pocket awareness, and the ability to make plays with his legs. If his brothers are any indication of Bishop's pedigree, any team would be lucky to have him. So far, Guerrero has not put out a top schools list.
22. Gaff Hudson
MLB | Hooker, OK
The Hooker Bulldogs legend is ready to jump out of small-town Oklahoma and make a name for himself in the CFSL. And many teams are likely dying for a chance at this talented linebacker. Hudson's ability to make plays against the rush and in coverage has gotten him a lot of notice despite playing for a small school. Hudson has yet to name any schools that he might be interested in.
21. Ajani Abu
MLB | Baltimore, MD
The Jamaican-born linebacker has been storming up recruit leaderboards as of late. Abu didn't find football until his family moved to Baltimore, but he has taken to it quickly. He may be quite raw, but his physical gifts will make him a standout at the next level. Abu's shortened his list of schools to Northern Illinois, Florida, Clemson, Toledo, and Oregon.
20. Nick Cal
HB | Dallas, TX
There has been a long line of great halfbacks to come out of the state of Texas and Cal could be the next. Cal is a downhill runner that has a habit of making defenders pay when they get in his path. There have been some rumors about where Cal will play his college ball, but nothing concrete yet.
19. Tyrone Blake
HB | Aberdeen, MD
Blake looks like a blur when you watch him on tape. The speedy halfback not only shows exceptional talent on the field but also off of it. Blake is a member of the National Honor Society and a member of many organizations at his school. Many recruiters have remarked that Blake is a coach's dream. He has narrowed his search down to three schools: Alabama, Auburn, and Miami.
18. Greg Cooksey
QB | Amherst, OH
Cooksey comes from a small school in Ohio, so not much is known about the kid. However, the one thing that jumps off what little tape he does have is an explosive arm. There is a lot of mystery surrounding this prospect, including where he intends to go next season.
17. Nathan Reno
MLB | Chicago, IL
In a linebacker-heavy class some might overlook Reno, but to do so is a mistake. The younger brother of CFSL legend Nick Reno shows off a rare athletism at the position. Can he follow in his brother's footsteps and become a household name? Time will tell.
16. Brody Rockmore
OLB | Denver City, TX
Years of working on the family ranch made Rockmore a man among boys in high school. The freakish linebacker is a hard hitter, with surprisingly great footwork. He has been known to shut down the over-the-middle passing game. Rockmore has narrowed his search to Oklahoma State, Florida, or Florida State.
15. Holly Jax
OLB | Phoenix, AZ
Holly is the younger brother of Longhorn TE Jason Jax. But word is that Holly is the true athlete of the family. The rangy linebacker is said to have dominated his older brother in the backyard. There has been no word on where this prospect might end up.
14. Sasha Belov
SS | Serov, Russia
Sasha, along with brother Andrei (who also made our list) fled Russia to avoid mandatory military service. Despite being new to the game, Belov impressed in his senior year of high school. The hard-hitting safety is raw but has as much upside as anyone on our list. Word is that Belov will be attending Oklahoma University.
13. Tyleek Tyree
DE | London, Ohio
The Tyree name is far from new in Alabama. Tyleek's older brother Tavian was a halfback for the Crimson Tide. Now it is the younger brother's time to shine. Tyleek is huge, fast, and physical. He hopes to be the next in a long line of great Alabama defensive linemen.
12. Jake James
MLB | Hampton, VA
The Bethel High legend started out at nose tackle before moving back to linebacker. He has been making highlights ever since. James has a rare ability to make plays at every level. James will be doing just that next season for either Eastern Michigan, Florida State, or Oregon.
11. Chet Owens
SS | Clarksville, TN
Chet "Plane" Owens is the son of military veterans and it shows in the discipline he brings to football. He is a hard worker who rarely makes the same mistake twice. The hard-hitting safety plans on making a name for himself at the next level. That could either be with Oklahoma State, Texas, or Oregon.
10. Carlos De Leon
FS | Albuquerque, NM
They say that 70% of the earth is covered in water. De Leon covers the other 30%. He is the third-highest-ranked safety in the nation for a reason. He is rangy, with ball-hawk ability, but still can deliver big hits. For this reason, many teams have recruited De Leon, but rumor is only Texas, Oklahoma State, Florida, Miami, and Oklahoma have a chance of landing him.
9. Jacob Hammer
DT | Eucha, OK
Hammer is another player with a CFSL pedigree. His older brother was an All-American tailback at Oklahoma State. Now Jacob intends to make his presence felt on the other side of the ball (especially when it comes to one QB in particular). The pass-rushing DT has made no inclination to his plans.
8. John August Smith
DE | Omaha, NE
If you look up disruptive in the dictionary it will say "See: John August Smith." The four-year high school starter has been a problem for offenses since he first put on shoulder pads. The nation's second-highest-rated defensive end has not made any hints as to where he will be playing at the next level.
7. Arthur Wilson
CB | Charleston, SC
The Burke High School product had a whopping 34 interceptions before graduating. Now the ball-hawk has his sights set on the CFSL. Although many teams have surely reached out to the ultra-productive corner, we have yet to hear where Wilson may end up.
6. Willie Davis
FS | Moultrie, GA
The younger brother of Oklahoma State/Missouri's Greyson Davis has big shoes to fill. However, some say Willie is the better of the two. Time will tell, but all we know for now is that he will play his college ball at either Michigan, North Carolina, or Oklahoma.
5. Andrei Belov
QB | Serov, Russia
The second Belov brother comes in as the best quarterback of this recruiting class. After leaving Russia with his brother Andrei fell in love with the game. In his one year at Blacksburg High, Belov shocked many by dominating the competition. No one knows yet if he will be going with his brother to Oklahoma or if he has his sights set elsewhere.
4. Tatum Quirk
FS | Athens, TN
Few names are as synonymous with the CFSL as Qurik. Tatum, the younger brother of Tanner and Tucker, is a well-rounded defensive back that doesn't seem to have a weakness. He led his high school team to two state championships. He will now look to win CFSL titles, but no one knows where yet.
3. Plano Greene
DE | Republic, MO
This edge-bending pass rusher is one to keep an eye on. The younger brother of former Texas standout Dallas Greene set a school record for sacks. He looks to continue that level of success at the next level. He has narrowed his search down to Texas, North Carolina, or Boise State.
2. Jagger Kash
FS | Morgantown, WV
This recruiting class could be called the year of the safety and there was only one name that could be on top of that list. Kash has all of the skills to be an elite defensive back. Whoever lands Kash will certainly feel elated. His hometown Mountaineers are in the mix, as are Boise State and Florida.
1. Chef Wyatt
HB | Jacksonville, AR
There could only be one name at the top of the list and for our money, that is Chef Wyatt. The massive power back ran right through the competition in high school. The players get bigger, faster, and more talented at the next level, but we suspect it will be more of the same for Wyatt. He has yet to give any indication of where he will call home for the next four years.