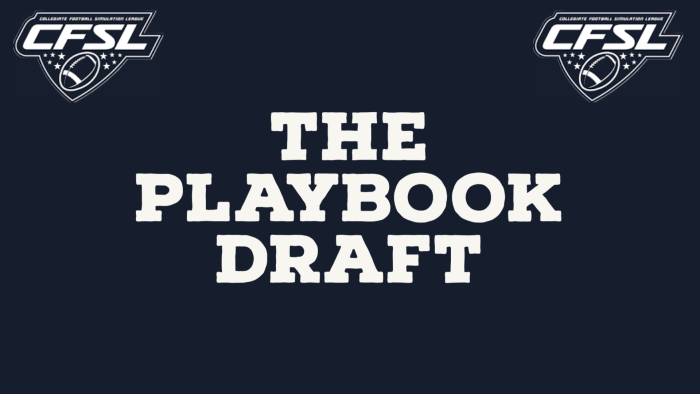 By: Cole Mantell (@ColeMantell)
The Season 17 Playbook draft took place last night and with the 26 selections comes conversations, debates, and intrigue. While a lot often goes into a team choosing a playbook, there is also a lot to learn about each team depending on said selections. Today, we'll be taking a look at each team's selection, as well as some surprises in what playbooks weren't selected. Note that we will not be grading the picks themselves, but instead try to glean some knowledge of what was the thinking behind each pick.
Pick 1 – Clemson – Clemson (Pistol)
The Clemson book was the only Pistol family book selected, as it often is. Clemson knows exactly the type of offense they are running with this selection. In the Revamped Era the Clemson book has been an early selection each season, though this is the first time in said era it was the first book taken. Clemson provides teams that select this book plenty of running options and features some of the best-combined setups for teams with multiple HBs. Clemson is also familiar with this book. They used it just two seasons ago. Clemson used this playbook well in establishing the run and making teams work the clock to try to beat the Tigers.
Pick 2 – West Virginia – Cincinnati (Multiple)
We didn't have to wait long for the first big surprise in the Playbook Draft. West Virginia chose to use the second pick on Cincinnati, making the playbook the first on this list to have never been selected previously. Even more interestingly, this is the first time that West Virginia has taken a playbook outside of the Spread family. This indicates a few things. First, West Virginia likes what they see in this book over other popular Multiple book choices we will get to later (such as Colorado or Virginia Tech). Second, a team will often choose a playbook less popular in an attempt to shake things up. For a West Virginia team that had a poor showing last season and has never run a Multiple book, this easily qualifies. Third (and most importantly) West Virginia knows that most teams either don't have as much data on Cincinnati or that they have written the book off. This means teams have to put more work in to prepare for and beat WVU. The flip side is that if West Virginia doesn't have everything tuned in, they may need to switch books sooner rather than later. Still, this is one of the most interesting picks in the draft.
Pick 3 – Pittsburgh – Missouri (Spread)
West Virginia went with a surprising move, but their rival Pittsburgh did the exact opposite. The fact that the Missouri playbook even fell to pick three is a bit of a surprise (and a win for the Panthers). This playbook has been taken in almost every season and for good reason. The Missouri book helped the last two champions win it all. While Pittsburgh might not have as many Elites and 5 stars as those championship teams, the power of a heavy pass, and stylized running game that propelled the previous two champions is still there. Pittsburgh will likely have less upfront research to do in tuning this book, but the big factor now is how the Panthers can avoid counter-research in a book so popular almost everyone has done some testing with it.
Pick 4 – North Carolina – California (Air Raid)
When the Missouri playbook was taken, arguably the next playbook people were expecting to go was this book. California is a powerful build in the Air Raid system. Oklahoma ran it last season with much success and before them, LSU used the book in their previous pass-happy offenses with a younger Moses King. With a certain former LSU AD on the staff now at UNC, this was likely the Tar Heels' first choice and they should be ecstatic. North Carolina's only downside in taking the Air Raid family is that it is very popular. Seven teams selected an Air Raid book this season. If something goes wrong and UNC wants to switch books options will be limited. That's the price for maybe the best passing book taken this season. Also notable, UNC was the only team to take the 3-4 defense this season.
Pick 5 – Boise State – Fresno State (Spread)
It's not often you see a team like Boise State picking this early. The staff in Boise used their choice well. Fresno State might not be as well-known as Missouri these days, but the book also has a rich history in the CFSL. Washington used the book with Cairo Croft. More recently Miami had the book last season in their run to the Final Four. Now the question will be how much Boise State decides to pass from this book. As a Spread book, there is a lot of running available, but Fresno State is similar to Missouri in that you can pass a bunch if you wish. That is the challenge for game planners who have the Broncos on their schedule.
Pick 6 – Oregon – Indiana (Air Raid)
Last season, it was a surprise when Oklahoma State took the Indiana playbook for the first time in the Revamped era. Now, with the Cowboys fresh off another National Championship appearance, it is much less of a surprise someone else wanted to check out this book. We saw what a contender could do with this pass-happy book. Now, Oregon will hope the book holds up on a roster that will be a bit differently built. However, Oregon under AD Neal Mason is no stranger to this kind of Air Raid book, taking Southern Mississippi last season as well. There does seem to be a plan and preference in Eugene, and you have to think QB Brantley Guaci is all for it.
Pick 7 – Auburn – Auburn (Spread)
Auburn selects a playbook that has been absent for a few seasons from the CFSL. The last time we saw this playbook was in Season 12 by Florida State. The Seminoles had a successful season, but they did switch from this book mid-season. Auburn fits the profile for a balanced spread offense and that seems to be the idea for AD Cole Mantell. However, if things don't work out, the spread family might be the best family year after year to find books to switch into. Mantell has switched playbooks midseason in both of his seasons as an AD, so that might be a factor in this selection as well.
Pick 8 – Florida – Air Raid (Generic) (Air Raid)
Picking a generic playbook will always get a reaction in the board room, and this selection is no different. Florida AD Justyn Veneklasen has a successful history both at Michigan and Florida with the Air Raid, and the thinking is that he likely takes the purest form of the book here. This is the first time in the Revamped Era the playbook has been taken, however, probably out of fear of too heavy a reliance on the past. This is a risk for Florida, but their roster seems to have been built for this selection, so no one is fooled now on what the plans are for the Gators on offense this season.
Pick 9 – Notre Dame – BYU (Air Raid)
A few seasons ago BYU might've been the most popular Air Raid playbook around. This book is pass-happy and has some great options to trick opposing defenses on some of the route trees. The biggest surprise isn't where the playbook was taken, but who took it. Notre Dame does not have a history in the Air Raid. If anything historically AD Josh Claydon prefers a strong running game. This might be a case of a new identity on offense for the Fighting Irish, especially after a season where there were inconsistencies on offense. This should be another selection to keep a close eye on this season.
Pick 10 – Illinois – Colorado (Multiple)
Ever since Texas flattened defenses with this book in Season 12, the Colorado playbook has been the most popular Multiple playbook in the CFSL. It has been taken every season since, including being the first playbook off the board in Season 13. For Illinois, this is the second time they have had the book in as many seasons. Look once again for the tight ends to flourish in Illinois. Even better for Illinois, only five teams took a Multiple playbook this season. If things go wrong switching shouldn't be too difficult.
Pick 11 – Ohio State – UCF (Multiple)
If Colorado is the most popular Multiple playbook, we follow it up with a selection out of the left field. Similar to West Virginia taking the Cincinnati playbook, Ohio State AD TJ Hayes sees something in this book others in the past haven't. This is the first time in the Revamped Era the book has been taken. While switching in this family should be easier if things go wrong, going by recent history Ohio State seems to have a foothold on how this experiment should go. Just last season the Buckeyes took another Multiple playbook in Arkansas State. While it wasn't a popular pick beforehand, it still worked out pretty well for them.
Pick 12 – Oklahoma – Alabama (One Back)
Talk about a stylistic rollercoaster for the Sooners. After going Triple Option in Season 15, then Air Raid last season, Oklahoma takes the One Back Alabama book this season. This is the first time the book has been taken in the initial playbook selection draft since Oregon took the playbook in Season 13. Inferred by the name, One Back playbooks are books where the Running Back is all important. Oklahoma has two Elite HBs in Cedric Yardy and Ike Porter, so it isn't difficult to tell what the idea is with this pick.
Pick 13 – Alabama – Southern Mississippi (Air Raid)
No team relied on the passing game more than Alabama last season. Their choice last season was SMU, which was still available. The Crimson Tide are adjusting a bit this season. This is the second season in a row the playbook has been taken (Oregon took it last season). This also is the earliest the playbook has been drafted since LSU took the book fourth in Season 11. Oregon had success running the ball as well as passing in this book last season. With new talent at the HB position, that could be a major factor in why Alabama took this book.
Pick 14 – Georgia – Wyoming (Spread)
Welcome back to the surprise pick territory. For Georgia, it is both on offense and defense that they went outside expectations with their playbook selections. Wyoming was selected in Seasons 12 and 14 (including 3rd overall by Miami in Season 14). However, since the Hurricanes switched out midseason from the playbook, no one has taken it since. Georgia has a new AD, so a new perspective might have been expected. This goes to the defense as well, as Georgia is the only team in the CFSL who took the 3-4 Multiple defenses this season as well. It is the first time since Boise State in Season 15 that the defense has been selected and 4th time overall in the Revamped Era of the CFSL.
Pick 15 – Florida State – Arizona (Spread)
Speaking of Season 12 throwbacks, Florida State AD Tom Pence returns to the playbook he switched into that season after originally taking Auburn. Arizona is another spread playbook with both balance and good options for a coach. Not only that, but the Seminoles have a history of success using it. The interesting part here isn't what playbook FSU took, but of which family. This is the first time Pence has taken FSU into the Spread family of playbooks since Season 12. A return to the past for FSU? Keep an eye on it.
Pick 16 – Texas – Texas A&M (Air Raid)
We've had teams select the playbook corresponding with their own. Now we get a team taking a rival's corresponding playbook. Texas A&M at one point was maybe the most popular Air Raid playbook. It is known for its good running ability within a heavy passing scheme. Last season marked the first time in the CFSL Revamped Era the playbook was not taken in the initial draft. However, Bowling Green would switch to it late last season. Guess who that Bowling Green Head Coach was? New Texas AD Justin Duke.
Pick 17 – Michigan – Virginia Tech (Multiple)
For a league well known for switching styles often to get ahead, it is notable how dedicated Michigan is to this playbook in particular. It's a great Multiple playbook as well, as evidenced by the success Michigan saw with it last season. That doesn't always guarantee future success, but if Michigan has another great season, this playbook likely isn't available in Season 18 when the Wolverines draft. Ike also took the 4-3 defense for the second season in a row.
Pick 18 – Miami – Notre Dame (Spread)
These last few picks for the Power Two teams are all about roster management and what these experienced ADs think will work now that the more popular playbooks (mostly) are gone. Here, Miami follows Kentucky in the past in taking the Notre Dame playbook. Interestingly, Notre Dame is usually taken around this range when it is taken at all. It is another balanced spread book that has a knack for going under the radar. That is just what Miami AD Jay Gates hopes helps him get over the hump this season.
Pick 19 – Oklahoma State – Iowa State (Spread)
Again, Iowa State is a popular Spread playbook that often will go under the radar compared to higher profile books. While the playbook was taken first overall (by WVU in Season 14) the playbook has a knack for falling outside the Top 10 in the Revamped Era. However, the right system and adjustments can make this playbook deadly. Oklahoma State has a lot of returning talent and will join the Spread playbook teams after a long history of running Air Raid systems.
Pick 20 – Kentucky – Utah State (Spread)
The prize for winning it all, Kentucky gets the last selection among Power Two teams this season. Utah State is very similar to both Notre Dame and Iowa State, though maybe a tad more well-known among ADs. For his first choice as the new AD of Kentucky, Derek Hawkins selected a playbook that has now been taken four seasons in a row. There is a good reason for this, including Boise State's incredible run with the playbook in Season 15. Not a bad team to try to emulate the Wildcats in their first-ever title defense campaign.
Pick 21 – Northern Illinois – Run N' Shoot (Spread/Air Raid)
The MAC always takes picks 21-26, and now we get to see what the up-and-coming CFSL minds have planned for their teams. For a conference known to take chances on playbooks, this certainly qualifies. Northern Illinois HC Andrew Brandt takes the Run N' Shoot for the first time since Season 11 when Oklahoma State under legendary AD Houston Freeman took the playbook. As implied, the playbook is a mix of Spread and Air Raid systems and features some really fun passing concepts. No one has perfected the playbook yet, but Brandt is betting here he can be the first.
Pick 22 – Kent State – Memphis (Spread)
The MAC experimentation continued with Kent State's selection. While this selection isn't quite as 'out-of-the-box as NIU's, it still takes an interesting playbook choice. Memphis' only other selection in the Revamped Era was by Florida in Season 13. In a similar vein to Notre Dame, Iowa State, and Utah State, this playbook is a balanced Spread with options for a coach to switch well depending on the opponent. A good tool to have in the wild world of the MAC. This should be another fun playbook to watch.
Pick 23 – Toledo – Louisville (Multiple)
What is most interesting about this selection isn't that it has now been taken four seasons in a row. No, it's that the selection makes Toledo the only Multiple playbook team in the MAC this season. Of course, Toledo HC Vinny Mixon will need to maximize this selection against different teams in the Power Two and MAC this season. However, if he needs to change mid-season he will benefit from his choice. Only five teams are in the Multiple playbook families this season.
Pick 24 – Ohio – USC (Pro Style)
For the first time in CFSL Revamped Era history, the USC playbook will not belong to Tom Pence and the Florida State Seminoles. Long-time viewers know just how dominant this playbook can be in the right hands. It was the engine powering Florida State to a National Championship in Season 14. Ohio also gets the bonus of being the only team in the Pro Style family in the CFSL this season, another huge shock. Of course, there is a big reason for this. For right or wrong, the Pro Style is seen as maybe the most finicky of styles used today in the CFSL. You are going to spend a lot of time trying to perfect this, or you could be in trouble fast. Can Ohio be the next team to find success here? It certainly might be one of the best stories to watch in playbook planning this season.
Pick 25 – Bowling Green – South Alabama (Spread)
While South Alabama has potential and has been switched into midseason twice in the Revamped Era (Tennessee Season 14, Ohio State Season 16), this is the first time the playbook has been selected in the initial playbook draft. While on the surface the playbook is similar to many other later selections of the Spread family, this one can be a bit tougher to get a handle on. New Bowling Green HC CJ Furman will have his hands full in this playbook, but it is another fun experiment to watch in the MAC this season. Also notable, Bowling Green is the only MAC team this season to select the 3-3-5 defense, alongside Pittsburgh and Auburn in the Power Two.
Pick 26 – Eastern Michigan – Texas Tech (Air Raid)
Last, but certainly not least, we get to the triumphant Eastern Michigan Eagles. After their incredible run last season, EMU takes another fiery selection to finish out this playbook draft. The last time we saw this playbook in action, Washington under AD Cole Mantell threw 92 times in one game against Michigan in Season 15. Arguably no book is as pass-heavy as this one, meaning it will be a challenge all season for EMU to find any running at all. The playbook might be the most fun to watch in all of the Air Raid system, but like a wild horse, taming this beast might be one of the biggest challenges around.
Notable Non-Selections
Every season, a few popular playbooks fall out of favor and end up not being selected. Each team can switch their playbook twice per season, however. This allows these books and others to be popular pick-ups to try to shake up an offense. A team can only switch inside their playbook family, however. In Air Raid, popular playbooks such as SMU, Kentucky, and Washington State pop out as possible switch targets. The Multiple and Pro Style families seem to have most of their most popular selections gone (with the notable exception of the Pro Style playbook Hawaii). Finally, in Spread we have a few notables including Utah, Spread (Generic), and Arkansas State, among others. Utah is notable in that this is the first time in the Revamped Era the playbook has not been taken. Keep an eye on all of these playbooks to maybe get a spotlight mid-season.