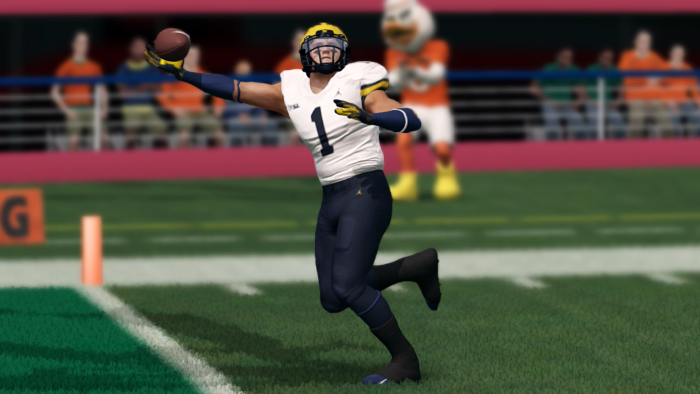 By: Ryan Moreland (@ryanmoreland)
Season 17 started with enough craziness to fill a page (and then some). Let's dive into the things I noticed this week.
My Ann Arbor Apology
If you tuned into the Inside the Blitz Podcast on Monday then you saw me say that I didn't think Michigan was a top-end contender in the B1G. Well, I am still pulling feathers out of my teeth from the crow I have been eating. But it felt right when I said it. I mean, the Wolverines were eight-and-a-half-point underdogs. They were playing a Miami team that they had never beaten. The same Miami team that was a missed field goal away from being in the championship game last season. The Hurricanes had to win, right?
Aaron Ike and his team had other plans. The Wolverines jumped out to an early lead and held off Miami's comeback efforts to win by two. This was truly a team win and more than enough proof that Michigan is a serious contender in the B1G. I will not make the mistake of overlooking them again. My apologies to the powerhouse in Ann Arbor.
Closing the Gap
We saw massive changes in the CFSL during the off-season to bring more parity to the league. It will take time to see exactly how this works out, but I figured there was no harm in comparing this week to Week One of last season. In the opening week last season, the average margin of victory was 21.3 points. The opening week this season was slightly higher, at 22.2 points. However, an important thing to remember is that the MAC didn't play against Power Two teams in the regular season in Season 16. This is important, as many of the largest point differentials we saw this week were from the games that involved MAC teams. To make a more far comparison, we have to remove these games from consideration. If remove those games, the gap closes considerably. An average of 15.6 points separated the Power Two teams in the opening week.
Now, one week is not nearly large enough sample size to make any conclusions. However, so far, it appears as if the changes are working.
The Boise State Question Marks
North Carolina vs Boise State was one of the most intriguing games this week. Not only was it a razor-thin game, but it ended in an upset that not many saw coming. That is, not many outside of North Carolina. AD Daniel Gunn came in with a fantastic game plan and his players executed. This was a statement win for the Tar Heels, perhaps the biggest in school history. But what does the loss say about Boise State?
Every time I feel like I know what this team is, they fool me. Boise State has been an enigma the last two seasons. In Season 15 they played for a championship. Coming into Season 16 I had them as one of my true championship contenders. The loss to Kentucky didn't mean much in Week One (Kentucky was also one of my contenders). They followed up with a win over a talented Florida State team. They were back on track to be great.
Then three straight losses happened. Ok, they aren't who I thought they were, right? Wrong. The following week they beat the top-ranked Oklahoma State Cowboys. Boise must be great. It was an impressive win. They will turn it around here.
Wrong again. Boise would finish off their season with three straight losses, including a loss to Eastern Michigan in the first round of the playoffs. I picked them to go on a deep playoff run.
But then came this off-season. The Broncos loaded up with talent (on top of an already talented roster). Now I know for sure that this team is a contender and that they are ready to get back to their winning ways. And that brings us up to this week. Look, I don't think this loss to UNC means Boise isn't a contender (I think you are fooling yourself if you think they are not). But it was a loss to a team that most expected them to beat. The Tar Heels are rising and have put together an impressive team. Perhaps I just overlooked them. Perhaps this was just a stumble on the road to greatness for Boise. Or maybe I should just give up trying to figure out this Boise State team.
Boise will head to Athens, Georgia to take on the Bulldogs next week. I have no idea what the final score of that game will be, but I do know this: no matter what happens, it will still confuse me.
The Rise of the SEC
Last season, I noted the apparent separation between the Power Two conferences. The B1G had a clear advantage over the SEC. Well, that advantage seems to have disappeared. In games between the two conferences, the SEC came out on top, winning four of the seven matchups. This will be something to keep an eye on in the second (and final) week of inter-conference games.
Who Impressed Me This Week
Last season I used this section to write about games I was excited about in the coming week. However, I decided to change it up this season and write about the players, coaches, position groups, and teams that impressed me the week before. Let's dive in.
John Paul Smith, West Virginia HB
The Mountaineer tailback had an unreal week. Smith's 267 rushing yards against Eastern Michigan is the second most ever for a West Virginia player. Smith also had three rushing scores, which tied the WVU record for most in a game. It may have been a mismatch, with EMU's numerous holes on defense, but this was still an incredible performance by the junior tailback.
Aaron Ike, Michigan AD
Sometimes it is easy to forget that Ike is just in his second season as an AD. This week was one of those times. The young AD put together a brilliant game plan and beat a team that many suspected Michigan to lose against. This makes Ike 2-0 in season openers as an AD.
Lincoln Griffin, Florida CB
Griffin started his senior year as the CFSL's all-time leader in interceptions, with 18. However, the record has not led to complacency. The ballhawk snagged two interceptions this week in Florida's game against Illinois. This not only makes him the league's current leader in interceptions but also the first player in league history to get 20 career interceptions. This is a truly remarkable accomplishment.
Loki Gunderson, Clemson QB
Gunderson had a sophomore slump last season, but the now-junior started his season off with a bang. Gunderson threw for 468 yards and eight touchdowns (yes, eight!) while completing 75% of his passes. Like John Paul Smith, this performance did come against a defense that isn't complete yet. However, you don't see eight TD passes in a game often and it deserves to be recognized.
Ezra Rogalski, Oklahoma State DE
Last season Rogalski put up the second-highest sack total the league has ever seen in a single season. It is safe to say the junior is still hungry for more. Rogalski had three sacks and five tackles for loss against Kentucky this week. That is the most TFLs and tied for the most sacks in the CFSL right now.
Toledo
That's right, I am highlighting the entire team. This was truly a great team win for the Rockets. They are the only MAC team to start the season 1-0. Now the question becomes, can they do it again this week against Auburn?
The Adieu Haiku
Down go One and Two,
One MAC team above them all,
What is up, Boise?