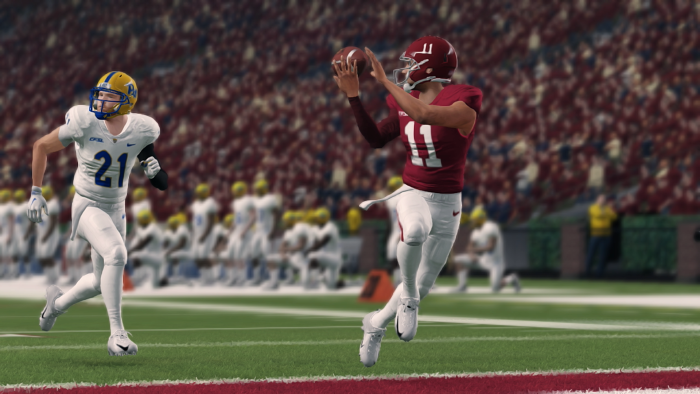 By: Ryan Moreland (@ryanmoreland)
The Curse of First
Everyone wants to be on top, but this season it may not be in your best interest to be ranked number one. The CFSL's highest-ranked team has lost three straight weeks. This makes me wonder: Is there a first-place curse?
This streak started in Week One when the defending champion Kentucky Wildcats lost in a close game with Oklahoma State. They would drop from first to third and the Cowboys would take over the top spot. This too was a short stint as the Cowboys fell to the Miami Hurricanes with a last-second field goal. The Cowboys would fall to fourth a new team would take over.
That new team was none other than the storming Michigan Wolverines. Aaron Ike's team started the season red-hot with wins over Kentucky and Miami. They entered Week Three looking to lock down a firm grip on the top spot. However, the Orange Crush defense in Stillwater had other plans. Michigan would go on to lose 29 to 12.
This week we will outrank the rest and we won't know who that is until the rankings come out on Monday. Perhaps the few teams in the running for the top spot might not be too eager to take over the jinxed throne.
Note: I don't believe in curses, but I did find this interesting. I believe the real reason behind this wild start is more parity amongst the top teams in the CFSL. The new system appears to be working well.
Heavy Weighs the Crown
Last season Kentucky dominated the competition and finished off a perfect season with their first championship. The Wildcats came into the season looking to repeat. However, the defending champs now found themselves 0-3 after three weeks. This has led many (including myself) to wonder exactly what is happening in Lexington.
First off, the start of the season has been a gauntlet for the Wildcats. They started the season with a Championship rematch with Oklahoma State. They followed that up with a game against a surging Michigan team. This week they started conference play with a game against a tough Georgia team. And while they are 0-3, that doesn't tell the whole story for Kentucky. Kentucky AD Syrok points out that even with one of the toughest starting schedules in the league, "We are 3 points away from being 2-1." And his isn't wrong. Kentucky played Oklahoma State and Georgia down to the wire.
When I talked to Syrok he was quick to take responsibility for the slow start. "It's really coming down to me adjusting to the AD role. Figuring out what this team Identity is," he said. The start wasn't great, but the finish is how this season will be remembered. There is a lot of season left; plenty of time for Syrok and company to get their team figured out. And they know it. "We have the talent to be champions," Syrok said. "We will get it right when we do [the]only people that won't be surprised is us." My advice: Don't overlook this team.
Cece Has Range
This will come as a shock, but Alabama likes the deep ball. Well, maybe that isn't shocking. The Crimson Tide has a long (and successful) relationship with the hail mary and Season 17 is no different. This past week Alabama mercy-ruled the Pittsburgh Panthers early in the third quarter. They achieved this by taking the top off the defense. Alabama QB Cece Range had 535 yards and six touchdowns in this performance. All, but one of his touchdowns came from 30 yards or longer. Half of them were 49 yards or longer, including a 73-yarder on the first play of the game.
As great of a game that Range had, the game ball went elsewhere. Junior WR Titus Price had a career game. He caught five of Range's six touchdowns (all of them except the 73-yarder). That is tied for the most touchdowns in a single game in CFSL history. Price also had 245 receiving yards, which is the third most in a single game in Alabama history. He is only behind two other great games he had.
As I said, Alabama has always loved the deep ball. But this group of players might just be the best Alabama offense to do it. Defenses beware.
Who Impressed Me This Week
Jeff Johnson, Oregon CB
What's better than a one-handed interception? Two one-handed interceptions on back-to-back drives. That is exactly what Jeff Johnson did in Oregon's game against Clemson. Johnson also added eight tackles and one TFL. His performance may not have been enough for Oregon to come out on top, but it was more than enough to catch my eye.
Del Toro, Ohio QB
The Bobcats started MACtion with a big win over Kent State and Toro was a big reason for that success. The Waco Bull threw for 596 yards and eight touchdowns. That is the most touchdowns and third-most yards ever achieved by a Bobcat. Toro will look to repeat this performance against the MAC-leading Bowling Green Falcons next week.
Auburn's Defense
Auburn stayed undefeated with a massive upset over fifth-ranked Florida. While there are plenty of individuals you could point out from this game, it is the defense as a whole that made the difference. Auburn forced Florida to be one-dimensional by holding the Gators to -22 rush yards. Once the defensive front stopped the run, the defensive backs decimated the pass. The Tigers snagged four interceptions from Florida QB Beau Dale. Florida only converted one of their 14 third down attempts. This Tiger defense put themselves on the map with this unreal performance.
Mo Hart, Boise State DT
The Broncos started conference play with a bang! Boise State beat Texas by 39 points in a game that featured little defense. However, one key defensive standout was Mo Hart. Hart was responsible for four of Boise State's five sacks. This was the best game in the junior's career. And I am sure Texas QB Avery Ware is still feeling it.
Joshua Sims, Georgia WR
Sims is a hero in Athens this week. In a close game against Kentucky, Sims was a difference maker. The sophomore caught eight passes for 168 yards and a pair of scores. And this is nothing new. Sims had 193 yards and a pair of scores in Georgia's first game against Ohio State. If Sims isn't a household name after this performance he will be very soon.
Oklahoma State's Pass Rush
Kyle Tolbert, Ben Sapp, Ezra Rogalski, and Hamish McAndrews make a fearsome foursome that makes up the defensive front in Stillwater. This week they combined for a staggering eight sacks in a win over Michigan. Right now Oklahoma State has the most sacks of any team in the CFSL and two of these pass rushers are in the top four in sacks (Rogalski and Tolbert). Now would be a good time to take out a life insurance policy on the rest of the QBs they play this year.
Ike Porter, Oklahoma HB
Oklahoma may have had a slow start to the season, but they entered conference play ready to turn some heads. And no sooner did that more this week than running back Ike Porter. Porter rushed for 153 yards on 26 carries (that's 5.9 yards per carry) in what was an easy win for Oklahoma. This was the best game of the sophomore's young career, but I don't expect this to stay the best for long. Keep an eye on this bone-crushing power back.
The Adieu Haiku
Familiar foes
Coming from your conference,
Anger in their eyes.