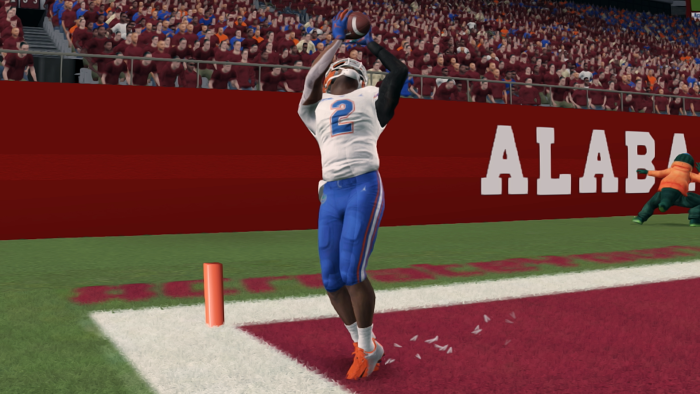 By: Ryan Moreland (@ryanmoreland)
The Gainsville Rollercoaster
This season has provided us with no shortage of intriguing storylines. However, there is one story developing in Gainsville that needs more attention.
Let's go back to the start of the season. After a disappointing record the season before, the Gators reloaded with plenty of talent. They looked poised to get back to their winning ways. And they did. They started the season with two dominant wins over Illinois and Oklahoma. They went into week three as the fifth-ranked team in the country. That is where the story takes the first twist.
The Auburn Tigers shocked Florida in a 26-17 upset. Florida had come into that game as a ten-and-a-half point favorite. Around the CFSL the doubt crept in. Maybe they weren't as good as we thought. Perhaps next season will be their year. Are you sensing the twist coming? Well, here it is: the Gainsville Rollercoaster shot right back up (to its new highest point). This week the Gators dismantled the top-ranked Crimson Tide to the tune of 54-24 (#1 is still cursed). Alabama came into this game favored by nine-and-a-half points.
This win will push Florida up the rankings and silence the doubters. That is, for now, for no one knows where the Gainsville Rollercoaster will go next.
And Then There Was One
There is only one undefeated team left in the CFSL and no one outside of South Bend, Indiana saw this one coming. The Fighting Irish have started the season a perfect 4-0. Now, I know what you are thinking. Notre Dame hasn't played a very difficult schedule yet. And that is more than fair. Wookie's crew started the season by beating two MAC teams. Since then they have beaten a team whose only wins have come against the MAC and a team whose only win was against a team that lost to a MAC opponent.
To say Notre Dame hasn't played the cream of the crop is an understatement. However, you don't get to pick your schedule. All you can do is show up and take care of the teams in front of you. And that is exactly what the Irish have done.
Next week Notre Dame will host 1-3 Illinois. Not only will they be looking to stay undefeated, but they are searching for their 99th victory in team history. If they win this one things will get more interesting. After Illinois, Notre Dame will have the Broncos of Boise State coming to town. Can Notre Dame be the first CFSL team to get 100 wins in their first major test of the season? First, they have to take care of the Illini.
Most Wins in CFSL History
If you are like me, then this last section had you wondering what schools were behind Notre Dame in all-time wins. Well, I'll save you a click. Here are the ten teams with the most wins in CFSL history.
| | |
| --- | --- |
| Team | Wins |
| Notre Dame | 98 |
| Texas | 90 |
| Ohio State | 84 |
| Auburn | 83 |
| Oregon | 81 |
| Clemson | 69 |
| Michigan | 66 |
| Florida State | 63 |
| Alabama | 62 |
| Miami | 58 |
Extra Innings
If you missed the action (or should I say MACtion) last night then you missed out on an unreal game. Bowling Green came in as a ten-and-a-half-point favorite over Ohio. However, it was the Bobcats that got out to an early lead. At the end of the first, they were up 21-7.
Then mistakes started to happen. Ohio turned the ball over on downs near the goalline early in the second quarter. The next drive for the Bobcats ended with a missed field goal. These miscues kept the door open for the Falcons, and they took advantage. They scored back-to-back touchdowns to tie it up. A late Ohio field goal would give the Bobcats a three-point lead heading into the half.
Ohio would score two touchdowns in the third quarter. Unfortunately for them, BGSU would score three. The score heading into the final (or perhaps not) quarter was 42-38. A Falcon field goal and a Bobcat touchdown would knot the game at 45. Then the unthinkable happened. With all six timeouts left (three for each team), Ohio let the clock run out with the ball at the Bowling Green five-yard-line. This poor clock management was yet another mistake for Ohio.
The game would go into OT. And then more OT. And some more. Finally, in the fourth overtime, Bowling Green QB Kyson Carey found James Freeman in the front of the endzone for a game-winning touchdown. The final score was 69-66. This one was an incredible game and one that neither team will soon forget. (If you missed it I highly recommend watching it). The win kept Bowling Green undefeated in MAC play as they keep their sights set on a playoff birth.
Who Impressed Me This Week
McKade Alber, Toledo QB
Alber set a new single-game CFSL record with 744 passing yards this week against Eastern Michigan. This beat the previous record (set by Kentucky's Moses King last season) by six yards. He also doubled the former school record for passing touchdowns as he found the endzone eight times through the air. He also added a rushing touchdown, for good measure. This was an unreal performance.
Preston Rhude, Oklahoma State K
You won't see many kickers on this list, but this performance deserved a shoutout. Rhude went seven for seven on his field goals against Boise State. This tied the CFSL record for field goals made and field goals attempted. His quarterback's failure to finish off drives put Rhude in the record books.
John Paul Smith, West Virginia HB
It again wasn't the Mountaineers' week, but their HB played an impressive game. Despite being down by a lot (which we all know is horrible for HB stats) JPS still shined. He had 118 yards on 23 carries (over 5 yards a clip) against one of the best defensive fronts in the league. This was an impressive performance and the second time his name has appeared on this list.
Laci White, Michigan DT
White is a household name because of her ability to shut down offenses. This is exactly what she did this week. White had nine tackles, five TFLs, two sacks, and a forced fumble in Michigan's dominant win over Illinois. I am sure this won't be the last time we see her name on this list.
Lincoln Griffin, Florida CB
The best ballhawk in CFSL history just keeps impressing this season. Earlier this season Griffin became the first player in CFSL history to have 20 career interceptions. This week he added three more to what now feels like an unbreakable record. Hats off to an all-time great.
Damian Jones, Oklahoma WR
I know this was a losing effort for the Sooners, but it may have been a blowout without Jones. Jones caught only seven passes in this game, but somehow turned that into 280 yards and four touchdowns! Both were the second most in a single game by a Sooner. Defenses may want to just leave a guy in the endzone at all times when you play Oklahoma.
The Adieu Haiku
South Bend Unbeaten,
But they remain untested.
Where will they be ranked?