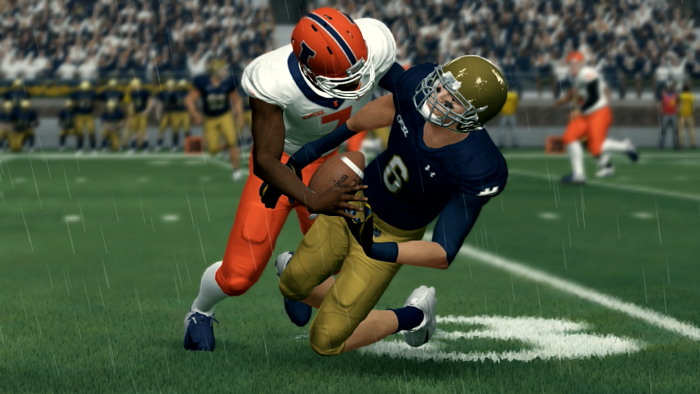 By: Ryan Moreland (@ryanmoreland)
How are we already past the halfway point of the season? This season is flying by so you might have missed some great storylines. Here are a few that I noticed.
And Then There Were None
Coming into Week Five Notre Dame was the only remaining unbeaten team. This past Tuesday night Illinois went into South Bend and took down the Irish. Now there are no unbeaten teams left in the CFSL.
Having no unbeaten teams left after Week Five is something the CFSL hasn't seen in a long time. The last time this happened was in Season 6. In CFSL history only one season saw the last unbeaten teams fall faster (Season 4). Below is a breakdown of how far the last unbeaten team got in each season.
| | |
| --- | --- |
| Season | When the Last Undefeated Team Fell |
| 17 | Notre Dame lost in Week Five |
| 16 | Kentucky was Undefeated |
| 15 | Florida State lost in the Second Round of the Playoffs |
| 14 | Florida State lost in Week Six |
| 13 | Alabama and LSU lost in the Second Round of the Playoffs |
| 12 | Notre Dame was undefeated |
| 11 | Oregon was undefeated |
| 10 | Boise State and Oklahoma State lost in Week Six |
| 9 | Oklahoma State lost in Week Six |
| 8 | Texas lost in Week Six |
| 7 | Auburn lost in Week Seven |
| 6 | Alabama lost in Week Five |
| 5 | Ohio State lost in the Second Round of the Playoffs |
| 4 | Clemson and Auburn lost in Week Four |
| 3 | Oregon lost in Week Five |
| 2 | Auburn lost in Week Six |
| 1 | Hawaii lost in Week Six |
A special thanks to Tony Papol for pointing this out to me.
The Race to 100
Last week I noted that Notre Dame is only two wins away being the first team in CFSL history to get 100 total wins. With the Irish's loss this week they remain two wins away. However, the next closest team to 100 (Texas) did get a win this week. This could build toward an exciting race to be the first team to hit triple digits.
Now, don't get me wrong, the Irish still have a sizeable advantage. Texas notched its 91st win in school history last night over Oregon. That means that Texas needs to win nine more games before Notre Dame gets two. However, this might not be quite as far-fetched as it sounds.
The Irish have an impressive 4-1 record right now, but they have yet to play a Power Two team with a winning record. That will change this week. Notre Dame will play Boise State, Michigan, and Texas to finish out the season. If the Irish struggle down the stretch not only will they leave Texas with an opportunity to close the gap, but they might play themselves out of a playoff spot as well. That could be key as Texas seems like a playoff lock at this point.
As for the Longhorns, they will finish off the season with games against Michigan, Oklahoma State, and Notre Dame. The first two will be very difficult games against two of the top three teams. If Texas can somehow win one of those two and beat Notre Dame in the final game of the season, they would have 93 wins going into the playoffs.
This would still leave Texas with an uphill battle. However, if the Longhorns could put together an impressive playoff run, then they could close the gap considerably. If they don't Notre Dame would have to completely fall apart next season for them to not be the first to 100 wins. The path is clear for Texas, but the road will be very difficult to navigate.
MACtion is Heating Up
The race for the last playoff spot is going to get interesting in the final few weeks. Right now Bowling Green has set the pace. The Falcons have won four of their five games (including one over West Virginia) and are the only MAC team that is undefeated in conference play. However, there are a few hungry teams behind them that have a chance to spoil the Falcons' dreams.
Right behind Bowling Green is the only other MAC team to notch a win over a Power Two team, Toledo. The Rockets sit at 3-2 and 2-1 in conference play. They must take care of business this week against Kent State to keep their playoff hopes alive, but if they do it will set up a fantastic final week of MAC play. Toledo ends their season with a trip to Bowling Green and a chance to be the MAC Champion. However, there is still one more team that can play spoiler.
The Huskies of Northern Illinois haven't had the season that they hoped for. However, they are still in the running. They are 2-1 in conference play right now and that includes an impressive win over Toledo in Week Three. This week the Huskies travel to Bowling Green. If they can pull off this win they would hold the tiebreaker over both Bowling Green and Toledo. Then all they would have to do is beat Ohio in their final game and their ticket will be punched.
Who Impressed Me This Week
West Virginia's Defense
The Mountaineers didn't come up with a win this week, but the defense still played lights out. Alabama came into this game as the second-highest-scoring team in the country with an average of 46.3 points per game. WVU held them to just 20 and only allowed a 25% third-down conversion rate. This was a strong showing, even in the loss.
Topher Foreman, Michigan QB
Michigan was caught in a tighter-than-expected game against Oklahoma this week but came out the victor. Foreman was a big reason why the Wolverines won. He completed 84% of his passes for 330 yards and four touchdowns. Those four touchdowns were the only four Michigan would score. This was a big-time performance for the sophomore standout.
Demetrius Reese, Miami WR
This week Reese came up with play after play in a great win for Miami. Reese had 12 receptions for 136 yards and a score. That was double the number of receptions for the next closest Hurricane this week. His yardage total also set a new career high for the junior. There is no question that his performance was paramount to Miami's success against Georiga.
Israel Jordan Ward, Kentucky DT
Kentucky needed a win badly this week and their star defensive lineman came up huge for them. Ward had three of the team's four sacks this week. This isn't a mind-blowing number, but he kept consistent pressure on Beau Dale all game long. That kind of pressure on the freshman QB proved to be just enough to ensure the Wildcats win.
Jay Gates, Miami DT
It feels like every week there is a Miami defensive lineman that goes off. Well, this week it was Gates' turn. The junior had eight tackles, five TFLs, and three sacks this week. Shockingly, this was the first multi-sack game for Gates this season. Although, I am sure it won't be the last.
JW Eibeck, Illinois LB
Not only did Eibeck lead his team in tackles this week, but he also forced a fumble and caught an interception. The Illini standout had a huge game and made life difficult for the Irish. Thanks to Eibeck's play Illinois got their second win of the season.
Tatiana Hoops, North Carolina WR
It isn't often that you will see someone with only three catches make this list. Hoops took the top off the Auburn defense this week as two of her three catches would go on to score. She also added 122 yards in this game. This Moss-like performance helped her team come out on top, 59-21 this week.
The Adieu Haiku
The curse is broken!
The top team finally won.
How long will this last?