By: Brandon Vierya (@beatitdownb)
Throughout Season 17 there have been many players that have continued to dominate the CFSL. Whether they be freshman phenoms or veteran players that have found their spark. While there's no "I" in team there certainly are stand-out players for each squad. In this article, we'll talk to the CFSL's Athletic Directors and game planners to find out which players are the toughest to game-plan for, on both offense and defense.
Oklahoma State Cowboys
Offense: Ryan Moreland, Quarterback
I think it's a safe bet that all signs point to Moreland as the Cowboys' X-factor on offense. In his freshman season, he brought Stillwater their first National Championship. He followed it up with a second championship appearance in his sophomore season. As the Cowboys currently sit #1 in the CFSL, it's easy to say that the Cowboys are on track to make it three seasons in a row! Miami AD Joe Gates believes that Moreland's "freak athleticism" allows him to utilize his speed to break off 50-yard runs, run over defenders, and sling it like no other. "There's no perfect gameplan that stops him, all you can hope is that you just slow him down," Gates said.
Defense: Ezra Rogalski, Defensive Tackle
If you watch games regularly, this is a name that stands out like a sore thumb. An all-around amazing athlete with the size of a truck, and the speed of a Jaguar. Rogalski seems to be involved in just every single play that the Cowboys make. In just two and a half seasons, Rogalski has already logged 137 tackles, 98 of them in the backfield, 55 sacks, and six forced fumbles. An absolute menace on the defensive side of the ball, Kentucky AD Syrok specifically described Rogalski as the "nucleus of the defense."
Notre Dame Fighting Irish
Offense: Charlie Sammons, Quarterback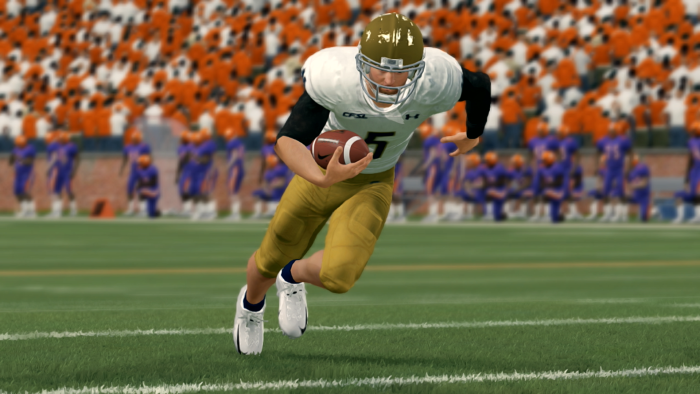 There's no surprise that we see sophomore QB Charlie Sammons on this list, especially when you look at his older brother's success in the CFSL. The Sammons name is becoming one to fear throughout the CFSL. Clemson AD Steven Crosier described Sammons as a menace on the field, adding that "his running ability is a problem." Crosier also said that his running ability is equally as dangerous as his ability to get the ball into his playmakers' hands. In five fewer games this season, Sammons has already reached the same amount of touchdowns that he threw for last season. An impressive start to his sophomore season, to say the least.
Defense: Zackary Babineau, Linebacker
Senior linebacker Zackary Babineau found his way to South Bend through the transfer portal this off-season. He has undoubtedly been the anchor on the Irish defense that started on an impressive four-game win streak that included making them the last undefeated team in Season 17. In just five games this season he has gathered 47 tackles, five TFLs, a sack, an interception, and two forced fumbles. He also takes snaps at running back and has run for 120 yards and two touchdowns. His athleticism allows him to make plays wherever he finds himself on the field, and his senior campaign is on track to be his best so far.

Michigan Wolverines
Offense: JaMarr Carr, Wide Receiver
The name Carr will bring back some flashbacks to all those that were around through the Jim Carr era. The younger brother's arrival in Michigan has been nothing short of impressive, but that's no surprise. Carr had a 1200 receiving-yard freshman season with 11 scores. And his sophomore season is on pace to be just as impressive. However, he does a lot more than just catch passes. His ability to block defenders to open space for the running backs is the best of the league. So much so that he set the single-season pancake record as a freshman. Oklahoma State AD Adam Smith explained that "Anytime you're going against an offense that has a player named Carr, that guy's going to draw a lot of your focus. You have to figure out a way to shut him down without compromising the rest of your secondary."
Defense: Maverick LeBlanc, Safety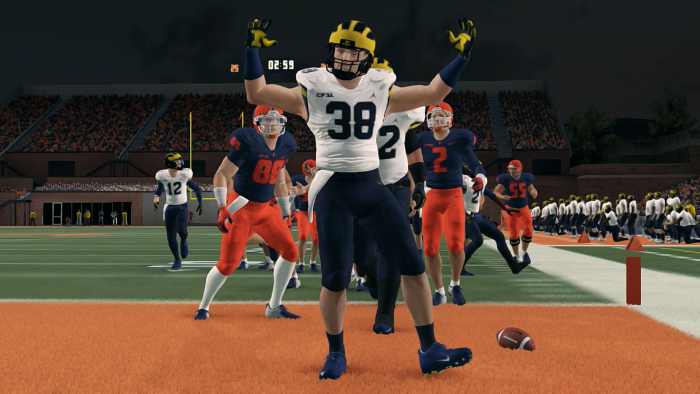 Senior safety Maverick LeBlanc found himself as one of the hottest recruits coming out of the MAC after an impressive season with the Ohio Bobcats. Ultimately landing with the Wolverines, LeBlanc is putting in the work both on and off the field to achieve his best season yet. This season, he's snagged four interceptions, one of which was returned for a touchdown. Kentucky AD Derek Hawkins used the term "different breed" when describing him. LeBlanc is on par to break several of his own personal records this season and will continue to be a playmaker on this scary Michigan defense.
Boise State Broncos
Offense: Sam Dobbins, Quarterback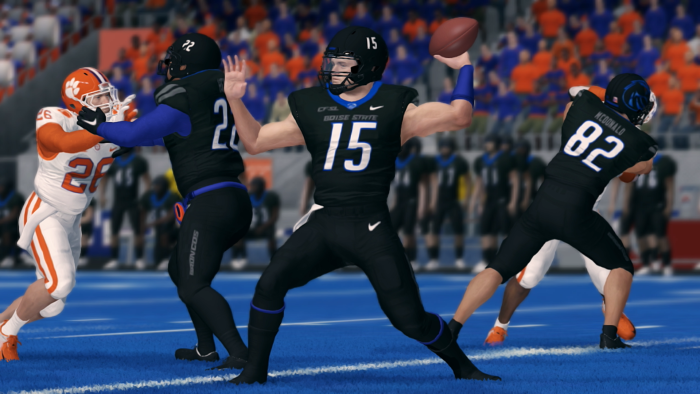 The sophomore quarterback found himself in the portal after a frustrating freshman season and landed in Boise with full reign of the offense. A serious dual-threat quarterback, Dobbins has struggled a bit out of the gate on a new team, with a new scheme, but has ultimately put Boise on the right track following their disappointing outing in Season 16. Nearing 1,900 passing yards in just five games, he has thrown 14 touchdowns and rushed for six on the ground as well. Dobbins was described as a "dual-threat quarterback [who] can make your life miserable if you don't gameplan your defense around him" by UNC AD Daniel Gunn. Boise State seems to be back to competitors this season. The pressure is on Dobbins though. If they want to keep seeing success he'll have to limit his turnovers on the season.
Defense: Silus Riggs, Cornerback
For the second season in a row, I find myself having to gameplan for Silus Riggs. And I was not very thrilled when I saw Boise on our schedule this season. An absolute lockdown corner, Silus Riggs has proved time and time again that he puts in the work to get better each game. You've got to prepare your quarterback when you face Riggs because whoever he is lined up on will be unavailable 99 times out of 100. In just five games he's already broken his tackle records from both his freshman and sophomore campaigns. He has also added two interceptions and eight pass deflections. If anybody can be classified as a lockdown corner, this is the guy.
Texas Longhorns
Offense: Killian Dunn, Halfback
It should come as no surprise that the senior running back finds himself as the man of the hour. With 30 career touchdowns, and quickly approaching 3000 rushing yards, he has been one of the best at his position since he transitioned into the CFSL. When Texas made the transition to the air raid this season, most would have thought that he'd see a dip in production, but he has made up for his lack of rushes by becoming a huge asset to their passing attack. Alabama AD Tavian Tyree describes Dunn as having "the perfect build." Dunn has made a name for himself by using his speed and strength to bounce off of tackles and keep fighting forward.
Defense: Buck Michaels, Cornerback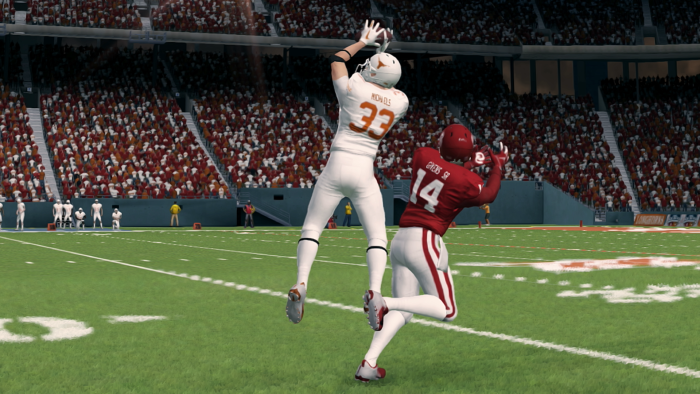 Another senior on the Longhorns, Buck Michaels finds himself as the lead man on this defense. His presence in the secondary changes games. Michaels has 128 tackles and 11 INTs in his career. While he may struggle to catch the balls that are thrown in his direction, he has no problem being there to swat them away seeing as he has almost triple the amount of deflections as he does interceptions. If you find yourself watching a Texas game, be sure to watch out for his ability to continuously get the ball back into the hands of his playmakers on offense.
Illinois Fighting Illini
Offense: Conner Stephens, Tight End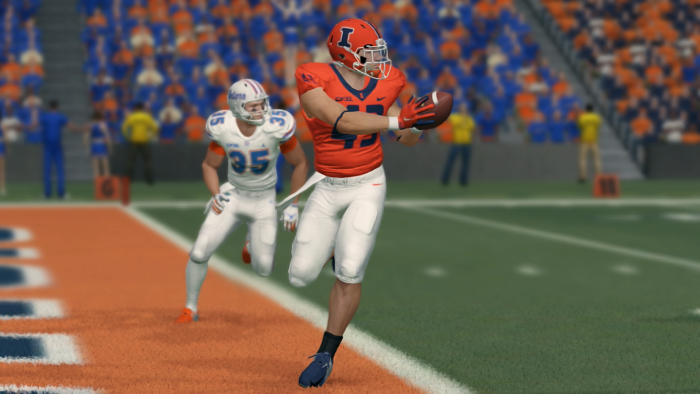 The man that some would say was robbed of an All-American finds himself as the Fighting Illini weapon of destruction. Senior tight end Conner Stephens is the only tight end to be listed from either Power Two conference. That says something about his abilities to make plays. With almost 2,000 career receiving yards, and 15 trips to the end zone, he is a crucial part of this Illinois offense that has improved each season since their addition to the league. Michigan AD Aaron Ike said that he knew the way to ensure a victory over the Illini was to neutralize Stephens. "You have to try and limit his touches, or he will get you," Ike stated.
Defense: Brandon Catchings, Safety
We haven't had many safeties mentioned as the guys to plan for, but Brandon Catchings is just an animal in his position. While the junior often finds himself there to make plays in coverage, his true playmaking comes when he finds himself in the backfield to stop plays from developing and blowing up the run. In five games this season, he has 40 tackles, seven TFLs, and an interception. Catchings is on track to have one of his best seasons yet. Oregon AD Neal Mason made it known that during game planning, he knew Catchings would be a problem, just as he has been all season long.
Oklahoma Sooners
Offense: Damian Jones, Wide Receiver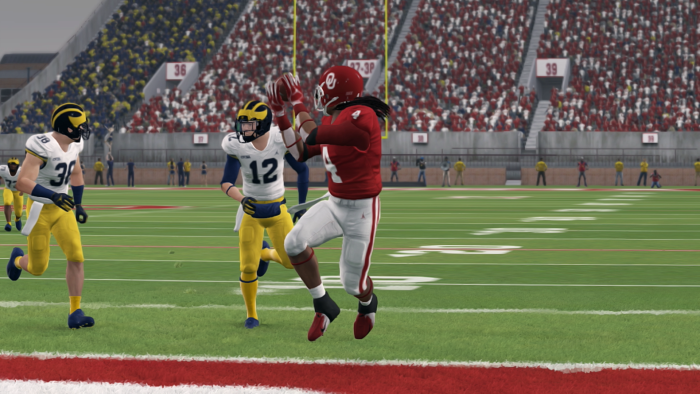 Jones is yet another name with a strong CFSL lineage. The younger brother of Dane Jones, and Badger legend De'Anthony Jones, Damian has shown that his play is at the same level as his older brothers. While the 1-4 record for the Sooners doesn't even begin to show the amount of talent that this team has, Damian Jones has easily been the brightest light on an explosive pistol offense. Already racking up 1,532 receiving yards and 17 TDs in just 14 games is an incredible feat. This season he's already reached his yards from last season and added an extra 7 touchdown catches in four fewer games. Clemson AD Steve Crosier believes that Damian Jones is one of the best in the nation at finding himself open deep.
Defense: Shane Lloyd, Defensive End
Premier pass rushers have become a pretty common sight in the CFSL. Impact players on the defensive line are crucial to every game, and can oftentimes be the deciding factor on who walks out on top. Now a junior, he sits with 30 sacks in just two and a half seasons. Describing him as an absolute beast, Aaron Ike believes that his abilities to get to the quarterback and disrupt every single passing attack make him the guy to be on the lookout for on this Sooners' defense.
Ohio State Buckeyes
Offense: Rocco Rambo, Halfback
The Kent State transfer is the man to watch for on what's been a struggling Buckeyes offense. Despite splitting snaps in his freshman season, he was still able to muster up almost 450 total yards with four trips to the end zone. In 3 fewer games this season, he is approaching that number quickly and finds himself as the guy to lead the rushing attack. When game planning for Ohio State, I knew that the outcome of the game would be dependent on finding ways to neutralize Rambo. He can kill you with a deadly combination of speed, catching, and the ability to lower his shoulder and finish through contact. I expect us to see more and more out of Rambo as the season progresses.
Defense: Ky Williams, Cornerback
The younger brother of two-time CFSL champion KyShawn Williams, it's no surprise that Ky finds himself on this list as well. Williams has eight career interceptions and a forced fumble in just a season and a half. He is also approaching 60 career tackles. Notre Dame AD Josh Claydon, who had the pleasure of coaching older brother KyShawn, believes that Ky is just as talented. Claydon described him as a "true lockdown cornerback who can change a game at any given time."
Clemson Tigers
Offense: Loki Gunderson, Quarterback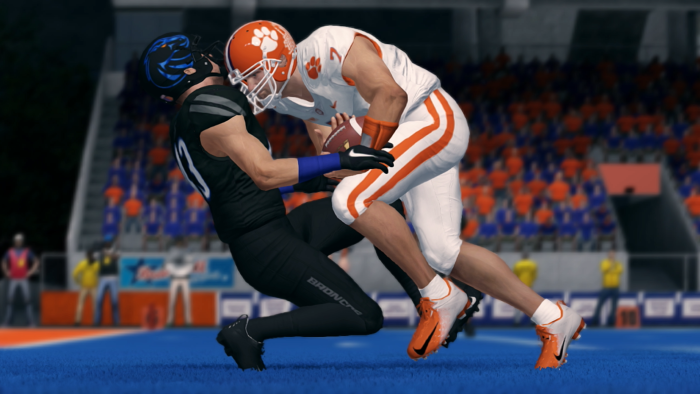 We haven't seen many impact playmakers at the signal caller position on our lists, but Loki Gunderson has fought his way into the list by playing significantly better than his previous seasons. Starting the first two games with massive wins and incredible performances, he caught the eye of the league. His 22 touchdowns this season are already more than his season total from both his freshman and sophomore seasons. Notre Dame AD Josh Clayton described Loki as "an absolute terror" and followed it up adding that "stopping him should be every team's priority when planning for Clemson."
Defense: Holly Jax, Linebacker
The cat man finds himself as one of just a few freshmen to make these lists. Describing himself as a reliable tackler in the off-season, he has certainly backed it up on the field. He has done it all this season, whether it be getting home to the quarterback, shutting down a run game, or dropping back into coverage. With nearly 40 tackles, 10 for loss, 3 sacks, and a deflection, he has developed into the focus of this Tiger defense.
Oregon Ducks
Offense: Brantley Gauci, Quarterback
Sophomore QB Brantley Gauci has found himself leading a struggling Oregon team the last two seasons, but most would describe him as a bright spot and beacon of hope for this Oregon squad. They've relied heavily on his arm in his first two seasons as they've run an air raid offense both seasons. With almost 4,300 passing yards in just a season and a half, the young signal-caller has thrown 26 touchdowns. Texas AD Justin Duke pinpointed his ability to sling the ball and remain unfazed after making an error. "He is tough because he has ice in his veins. Their offense runs through him."
Defense: Drew Caleb, Safety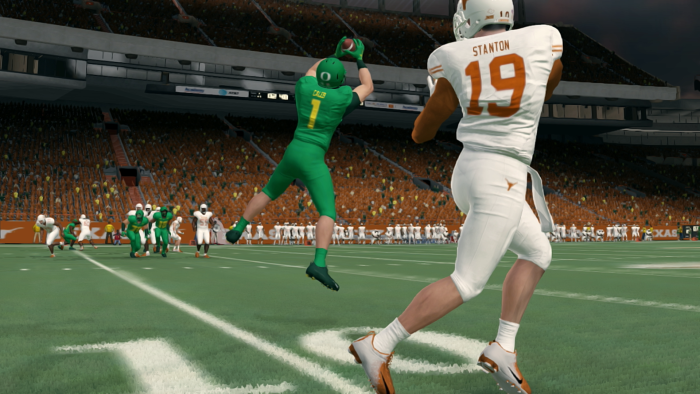 #1 finds himself sitting at #1 on the Oregon defense according to Toledo HC Vinny Mixon. Sophomore safety Drew Caleb has found himself stepping into a lead role on this Ducks defense after both playmaking safeties Benny Trill and DJ Sutton left in the transfer portal. He had big shoes to fill and has done an exceptional job in continuing to make plays despite their exit. In just five games, he's already approaching the number of tackles from his rookie campaign. He also had his first three interceptions of his career this season, including one returned for a score. "Oregon does a great job of not only moving him around but also letting him play with instincts and he's having a great sophomore campaign because of it. He's someone you have to identify where he is pre-snap or he can make you pay," said Mixon.