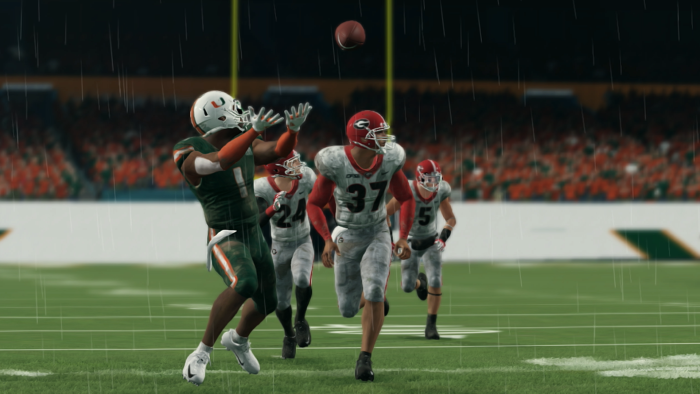 By: Brandon Vieyra(@beatitdownb)
Throughout Season 17 there have been many players that have continued to dominate the CFSL. Whether they be freshman phenoms or veteran players that have found their spark. While there's no "I" in team there certainly are stand-out players for each squad. In this article, we'll talk to the CFSL's Athletic Directors and game planners to find out which players are the toughest to game-plan for, on both offense and defense.
Miami Hurricanes
Offense: Deuce Bolden and Tyson Steele, Wide Receivers
You could spin a wheel, and just about any player it lands on could have an argument as the hardest player to gameplan against for Miami. According to Pitt AD James Bayse, the two that are the hardest to prepare for is the WR duo of Steele and Bolden. Five weeks into action, the two have a combined 1,041 receiving yards and nine receiving TDs. "Both WRs have had spectacular games all season so I knew that either one could go off," Bayse said. Bayse also added that regardless of where you line those two up, and regardless of who is covering them, one of them will almost always find a way to get open.
Defense: Daniel Winston and Jay Gates, Defensive Tackles
Miami has been DLU (is that a thing?) for the last three seasons. With an insane line filled by a superstar at each position, it's almost impossible to pick somebody outside of those four. However, within those four, the two toughest to plan for are the inside guys. With a combined 52 tackles, 16 tackles for loss, and seven sacks, these two are a lethal combo. CFSL legend Tom Pence believes that planning against skyscraper-sized men moving at the speeds of a train leaves the offensive guards with the hardest job in the league.

North Carolina Tar Heels
Offense: Gunny McGuire, Wide Receiver
The Tar Heels made a lot of off-season changes to not only their coaching staff but the team as a whole. This season the Tar Heels have been perhaps the most improved team in the CFSL and are ready to compete for a title. With a new scheme, a breakout season for junior quarterback Ayden Martinez, and the addition of some talent to the receiving corps, they are making a legitimate title push this season. The addition of veteran wide receiver Gunny McGuire has been a huge addition to the offense. He has racked up 633 receiving yards and four TDs while playing a tough schedule. As somebody who had the privilege of game planning against him, I know just how important locking down Gunny is to securing a victory.
Defense: Trevor Austin, Cornerback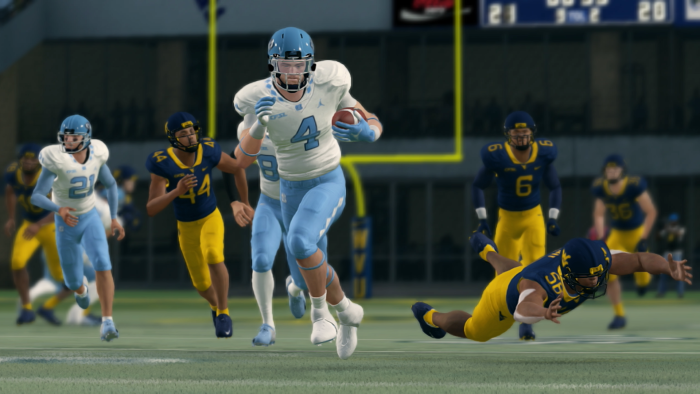 A name that should be familiar to those that regularly partake in CFSL action is none other than Trevor Austin. He is an absolute menace anytime he is on the field (whether it be at corner or in the return game). Time and time again, he has shown that he is one of the greatest players in his position. He has 140 tackles, 20 TFLs, four sacks, nine INTs (two returned for touchdowns), and 14 deflections in just two and a half seasons. When asked what's so difficult about planning for Austin, Auburn AD Cole Mantell noted that Austin set a single-game tackle record against them last season, and managed to shut down their passing attack in their Week Five matchup.
Georgia Bulldogs
Offense: Toby Knerr, Halfback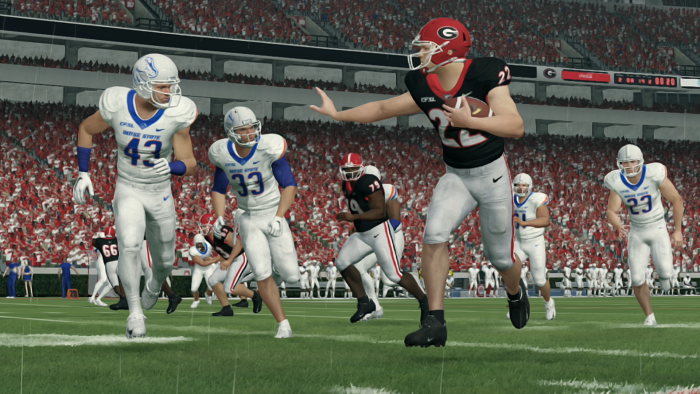 After a stellar off-season, Georgia had a strong start to Season 17. Currently sitting at 3-2, there is a lot to gameplan against when preparing for the Bulldogs. However, one key piece to this offense stands out. That is sophomore running back Toby Knerr. Achieving an all-American award in your freshman campaign is no joke. And while he hasn't been as featured in the offense this season, that doesn't take away from what he's capable of. Utilized primarily out of the backfield this season, he's already reached the amount of receiving yards he had last season in six fewer games. He has also added 226 rushing yards. "He's a dynamic HB that doesn't get used as often as he probably should. Yet, when he is used he makes an impact" said Kentucky AD Derek Hawkins.
Defense: Kirby Sierra, Linebacker
You couldn't write a list of the best defensive players throughout the conference and not expect El Presidente's player to make an appearance, right? Of course not! Kirby Sierra has been an absolute unit for the Bulldogs! He led his team in tackles as a freshman, going over 100. This season is no different. Kirby Sierra once again leads his team in tackles. He is closing in on the 50 mark after just five games. When asked, UNC AD Daniel Gunn described Sierra as a "superstar that will shut down the run lanes and clog the passing lanes." Gunn also noted that Sierra "puts a ton of stress on the opposing coaching staff."

Florida State Seminoles
Offense: Ronnie De La Rocha, Halfback
When RDLR signed with an already stacked Florida State team it gave the league something new to worry about on the already dangerous Seminole team. While he didn't have much production in his freshman season, he is having a breakout sophomore campaign. In five games this season, he's only 49 yards away from passing his total rushing yards from his 11-game rookie year. De La Rocha accounts for 575 total yards for FSU this season and has five scores. He has proven that he is the weapon that FSU needed to take some of the pressure off of Quarterback Ryan Ravenhill. Ohio State AD TJ Hayes admitted that while preparing for the Seminoles, he knew what the second-year back was capable of. Despite game-planning for him, he just came out and dominated the Buckeye defense.
Defense: Jarod Cook, Defensive End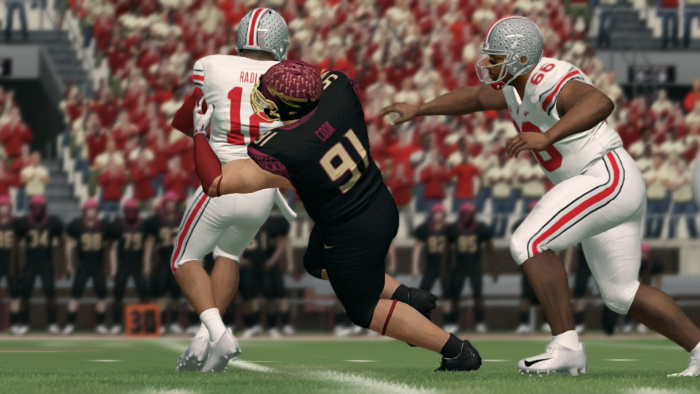 Florida State has been a team known for getting after the quarterback. So when Miami AD Joe Gates answered that Jarod Cook was the guy to look out for when preparing for FSU, it was not surprising. Cook has 62 tackles in the backfield and 43 sacks through 37 career games. Cook describes himself as "big and mean" and his play backs that up. "Players like Cook don't come around often," Gates said. "He is a game wrecker and seems to be involved in every play."
Kentucky Wildcats
Offense: Moses King, Quarterback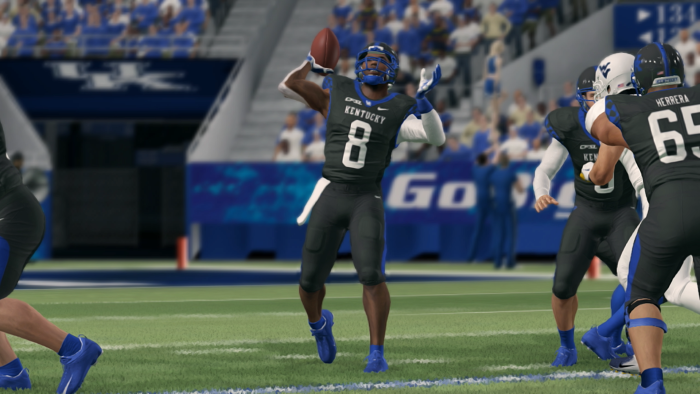 It's no surprise that the monarch found himself on this list. The National Championship that he added to his locker along with his record-breaking season speaks for itself. The Wildcats started 0-3 this season which shocked the whole league. However, only 3 points separate them from 2-3 and being undefeated on the season. Moses King has proven time and time again that he is as good as they come. Oklahoma State AD Adam Smith further backed that up when adding that if you make it a hard night for Moses King, the whole offense struggles. That's easier said than done though, and why's that? "The problem is, he's Moses King!"
Defense: Jameson Weinrich, Linebacker
Looking at the Wildcats' defense, not only do we have a huge contributor to last season's national championship run, but a player that's gunning for the defensive player of the year this season. Now in his sophomore season, he's only 12 tackles away from meeting last season's total (in eight fewer games!). To top that off, he's added an interception, and three forced fumbles so far this season. West Virginia was one of the unfortunate teams that were scheduled to play the defending champion this season, and when asked about Weinrich, Athletic Director Nate Murphy described him as "disruptive in both the passing and running game." Murphy continued, "He runs from sideline to sideline hitting everything that moves."
Alabama Crimson Tide
Offense: Garrett Warner, Wide Receiver
Once again, Cece Range is leading one of the most explosive offenses in the CFSL. Alabama has one of the most talented WR corps in the CFSL. The one that stands out the most to Florida AD Justyn Veneklasen is Garrett Warner. Perhaps that's because he leads this team in receptions with 46 catches. Nearing 500 yards in five games is no easy achievement in a league stacked with competition. While he's only found the end zone twice, he kills you with his route running and makes tough catches through contact. Regardless of where he's lined up, he "always finds a way to get open and make plays when they need it," Veneklasen said.
Defense: Hiro Nakajima, Defensive Tackle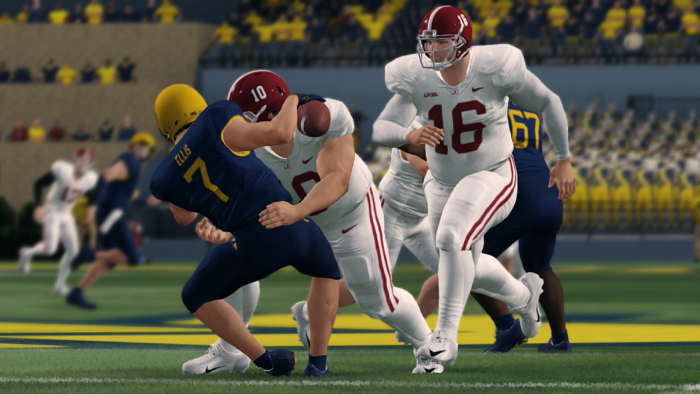 Crimson Tide, please don't crucify Murph for his answer, and don't shoot the messenger. I'd like to make it known that the honorable mention goes to Ryan Schultz, who Murph says giving him as the answer would be too easy. "If you look up front at Nakajima, it is easy to see why you have to gameplay for him. If you can't lock him up at his point of attack, then your offense goes nowhere," Murphy said. Now in his third season (second with the Crimson Tide), Nakajima has 42 career sacks. An absolute unit on this line, he is tied for the single-game sack record at Alabama, and second place in single-game tackles for loss record as well.
Florida Gators
Offense: JT Cass Jr, Wide Receiver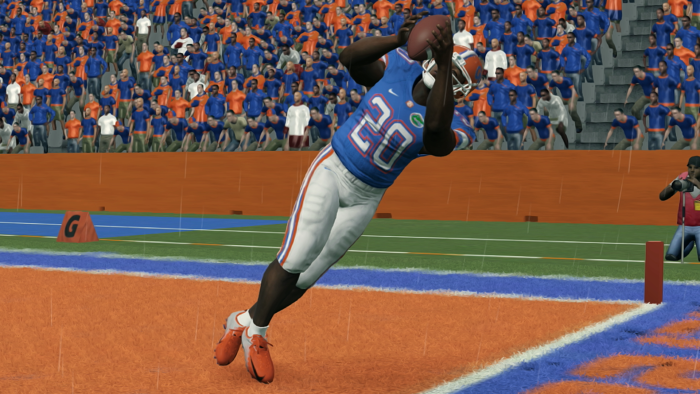 JT Cass Jr is one of the most well-known names in the CFSL, and that's because he is arguably the most dominant offensive player within the entire CFSL. He raked up over 1,000 yards in both his freshman and sophomore campaign and he is not showing any signs of slowing down with a new team, new quarterback, and new scheme this season. With almost 600 yards and five TDs on the season, he is once again proving why he needs to be feared. Alabama AD Tavian Tyree described Cass as "as fast as they come with very good ball skills, and on top of that he's built like an offensive lineman."
Defense: Tymundus Bell, Linebacker
The opposite side of the ball for Florida is another transfer from Oklahoma State. His production took a huge leap following an average freshman season. Now he is looking to improve on an outstanding sophomore campaign in which he gathered over 100 tackles and over 30 TFLs. Standing at 6'5, and 279 pounds he has crazy speed that you wouldn't expect for a man of his size. Cole Mantell, Auburn AD says that when it came to game planning for Bell, the plan was to keep the ball away from the middle of the field. "He might be the best linebacker in the country right now at stopping the pass," said Mantell.
Auburn Tigers
Offense: Storm Odie, Halfback
Earning the starting role on the Tigers' offense this season, Odie had big shoes to fill. So far he is showing no signs of falling short. The sophomore halfback has been a key member of Auburn's ability to move the ball. Coming from a football family, it's no surprise seeing that he's on track to achieve the same success as his older cousin and Miami great, DaShawn Odie. In five games this season, Odie has racked up 480 rushing yards. He also added another 105 through the air and five total TDs. When Toledo Rockets HC Vinny Mixon was asked, he chose Odie on the fact that "Auburn does a great job of getting the ball in his hand in several different ways. If you want to try and load the box against them they'll swing it out to him in the flats… or if you go with a lightbox he can navigate very well through the holes created by his lineman."
Defense: JJ Smoke, Cornerback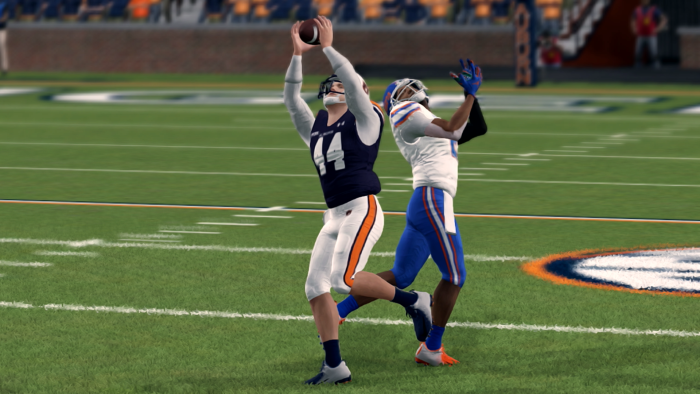 The Season 17 Tigers have shown flashes of climbing back up to the ranks of competition that they were once known for. Cole Mantell has added some absolute weapons to both sides of the ball, and a great staff to aid him. With multiple weapons on this defense, the one that Florida AD Vennom chose was JJ Smoke. Very rarely does a player come around that can play multiple positions and dominate at both of them. With Smoke in your secondary, regardless of if he's playing safety or corner, he is going to make plays. So far this season he has two interceptions and four deflections, with the majority of them coming in Auburn's huge upset over the Florida Gators.
Pittsburgh Panthers
Offense: Helix Myers, Quarterback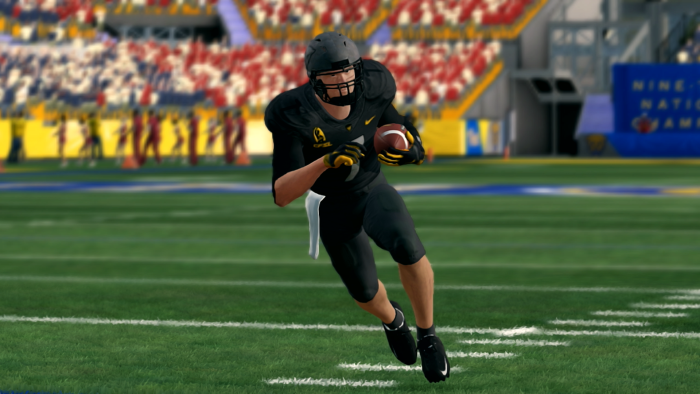 In a league that has seen the ability to run the ball in general decline throughout 17 seasons, it's even more surprising to see a quarterback with the ability to run it as well as (if not better than) some of the premier running backs in the league. A true dual-threat guy, Helix will without a doubt find his way into the end zone whether it be through the air, or with his legs. While 1,256 passing yards in five games is on the lower side of the CFSL, adding his 554 rushing yards showcases his explosive ability to create plays in all situations. Ohio Bobcats HC Kyler Smith described Myers as not a pass-first, run-second guy, but "a true 50/50 guy that can gash your defense in every way."
Defense: Jordan Lyall, Safety
Pitt started with a strong 2-0. And yes, the argument could be made that they played two MAC teams to start, but let it be remembered that they played Florida State down to the last second. In what Ohio Head Coach Kyler Smith calls a "super underrated defense", he struggled to choose just one but ended up naming Jordan Lyall as the man to plan for. Lyall is in his junior season and at his third different school. He may have found his fit in Pittsburgh. He leads the Panthers in tackles, while also racking up an interception and a deflection. Kyler also wants it to be known though, that over-planning for Lyall will allow fellow safety Kaz Allen to step into the spotlight and make the necessary plays to help his team succeed as well.
West Virginia Mountaineers
Offense: John Paul Smith, Halfback
West Virginia has seen their fair share of struggles through their time in the CFSL, but one thing for certain is their ability to develop dominant running backs. Filling the shoes of Jerry Filbin was no easy task, but Smith took that as a challenge and has been excelling in the position. With 528 rushing yards on the season, he's already beating his rushing yards from last season in five fewer games. Bowling Green HC CJ Furman focused his whole gameplay on neutralizing Smith. "I knew we had a great secondary, it was just making sure my linebacker core stayed home on the run plays."
Defense: Valentino Villarreal, Defensive End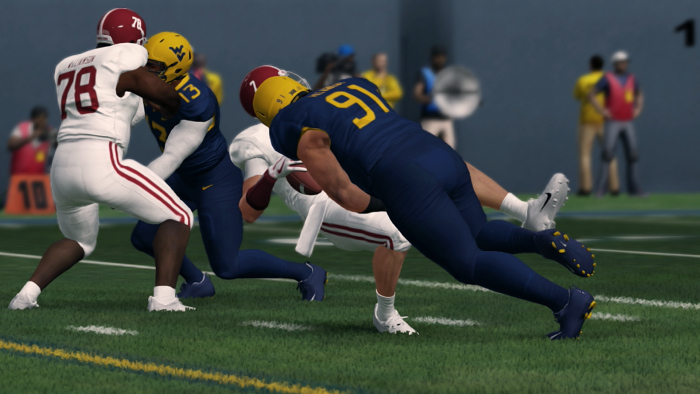 Hear me out, I understand that when you've been watching the West Virginia games this season that this probably hasn't been the name you've heard much of. However, that's no fault of his own. Villarreal has appeared in only 2 games for the Mountaineers this season, but if you look at his resume the stats don't lie. The junior spent his previous two seasons playing for the Buckeyes. In that time he got 90 tackles, 50 for loss, with 37 sacks and three forced fumbles. A huge and key addition to a mountaineer defense that has struggled to get pressure on opposing quarterbacks. I can honestly say that I knew that game planning for West Virginia got a whole lot harder when they added Villarreal to their locker room.