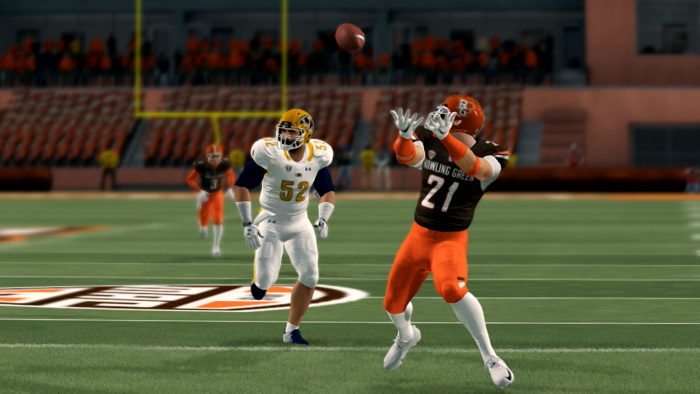 By: Brandon Vieyra (@beatitdownb)
Throughout Season 17 there have been many players that have continued to dominate the CFSL. Whether they be freshman phenoms or veteran players that have found their spark. While there's no "I" in team there certainly are stand-out players for each squad. In this article, we'll talk to the CFSL's Athletic Directors and game planners to find out which players are the toughest to game-plan for, on both offense and defense.
Bowling Green Falcons
Offense: James Freeman, Wide Receiver, and Jordan Tank, Tight End
Similar to last season, the Falcons find themselves as a favorite to walk away with a conference title following the end of Season 17. First-year Head Coach CJ Furman has developed an impressive team of young talent and has been rolling through the season seeing a lot of success. Two of the best players on this offense are Quarterback Kyson Carey's two favorite targets. With a combined 1,041 receiving yards on the season and eight touchdowns, these two are a dynamic duo that can seemingly find holes in any defense they line up against. Toledo HC Vinny Mixon believes that with Freeman's size, and flexibility he can create mismatches regardless of where he's lined up. As for Tank, he's a "very valuable safety valve for his QB but also has high-level skills as a ball carrier to gain extra yards after the catch."
Defense: Willie Walker III, Cornerback
Let me make this clear, while not always the case, fewer tackles are a good thing at the cornerback position. Freshman CB Willie Walker may only have 19 tackles this season, but 3 of those tackles have come in the backfield (which ranks third on the team). He is also leading the team in deflections (3). A stacked secondary for a young Falcons defense has proved key to their success in the early stages of Season 17. The Falcons are 4-1 on the season and a large part of that is thanks to Willie Walker III and this BGSU secondary.
Toledo Rockets
Offense: McKade Alber, Quarterback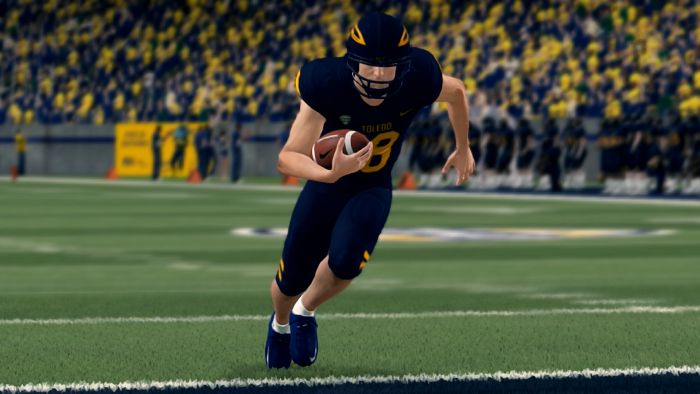 Now in his sophomore season, McKade Alber is coming into his own with new Head Coach Vinny Mixon. He has played outstanding with the new scheme, and already etched his name into the record books. Alber threw for 744 passing yards setting the CFSL single-game passing record while tossing eight passing touchdowns, a rushing touchdown, and no turnovers. Whether it be the increase in talent at the receiving position this season, a new head coach's ability to help him develop, or a scheme that best utilizes his talents, Alber has hit a whole new level. I fully expect to see McKade Alber making a transition to the Power 2 next season.
Defense: Benny Trill, Safety
It's not every day that you see players step away from their position at a Power Two school. Especially coming off an All-American season. However, the Oregon transfer packed bags and headed east. His arrival at Toledo has solidified a Rockets defense that struggled all season long just last season. Now they are making a serious push for the MAC championship. With almost 50 tackles, five of them for loss, and nine deflections, Trill flies all over the field making play after play and always ensuring he's at the right place at the right time.
Eastern Michigan Eagles
Offense: Greg Cooksey, Quarterback
Just one season following the Eastern Michigan Cinderella run, the Eagles' start to Season 17 is not what anybody expected. Perhaps losing 90% of their team in the transfer portal played a part in that. Nw HC Trellis Blanton had his hands full in rebuilding this team. Freshman Quarterback Greg Cooksey found himself as the starting quarterback for the Eagles with big shoes to fill. The previous EMU QB Ludwig Friedman was named Season 16 Freshman of the Year. Cooksey is showing the league that despite the loss of talent, he can still keep the Eagles competing. Utilizing both his arm and legs in the air raid system, he has managed to put up points and impressive numbers in every outing this season. He is currently sitting 20 yards away from 2000 yards in just five games. Watch for him to continue slinging the rock and doing everything it takes to keep his team in games.
Defense: Axel Holgersen, Linebacker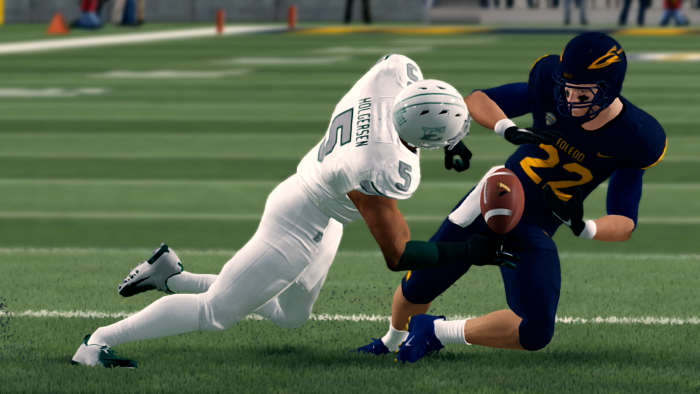 One of the very few leftover Eagles from the deep playoff run is middle linebacker Axel Holgersen. Last season he was given the name "Axe Man" for his ability to crush any players in his line of sight. That season he had 91 tackles, 18 tackles for loss, two sacks, and 1 forced fumble. This season he has shown no signs of slowing down. In five outings this season, he has 47 tackles, ten in the backfield, with three sacks, an interception, and a forced fumble. The numbers don't lie, and if Axel puts his name into the portal following another outstanding season, look for him to be one of the most sought-after transfers.
Kent State Golden Flashes
Offense: Shaker Mayflower, Quarterback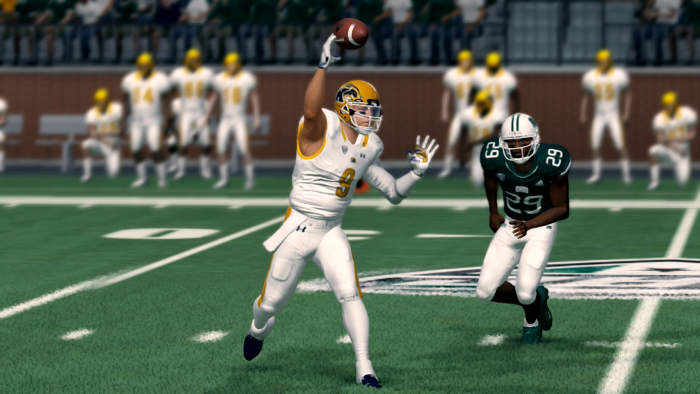 One of the few players making his transition from the P2 to the MAC this season, the former Gator leads a new team this season with the new Kent State HC Logan Mitchell. After a rough freshman and sophomore campaign, Shaker found himself in Bowling Green in search of a fresh start. And the Flashes have proved him just that. Through five games, he sits at a 73% completion rate (his best so far) on 249 attempts. His ability to throw accurate passes and use his legs to escape collapsing pockets makes him one of the best dual-threat quarterbacks in his conference. Bowling Green HC CJ Furman stated that the whole defense was prepared to keep Shaker from getting into a rhythm, or they knew that it could spell trouble.
Defense: Maverick Rivers, Linebacker
The former Florida State standout and All-American found himself gearing up in the blue and gold to start his junior season. In his first two seasons, he totaled 206 tackles, 31 TFLs, four sacks, an interception, and three forced fumbles. The reign of terror continues this season. He is on track to have his best season yet (he already has 60 tackles!). His elite ability to blow up the run and drop back into coverage is unmatched. His ability to force turnovers can be a total game-changer for a team that struggled in all departments just a season ago.
Northern Illinois Huskies
Offense: Damari Breeze, Wide Receiver
Veteran wide receiver Damari Breeze is having a bounce-back season in his senior year. He has seen his Huskies take a considerable leap forward from a disappointing Season 16. He is just 13 yards off his total yardage from the previous season. Since landing at NIU, he has stacked up 1,115 receiving yards and ten touchdowns. Clemson AD Loki Gunderson praised Breeze and highlighted his ability to get open seemingly every play.
Defense: Drew Brandt and Anthony Keuhler, Defensive Line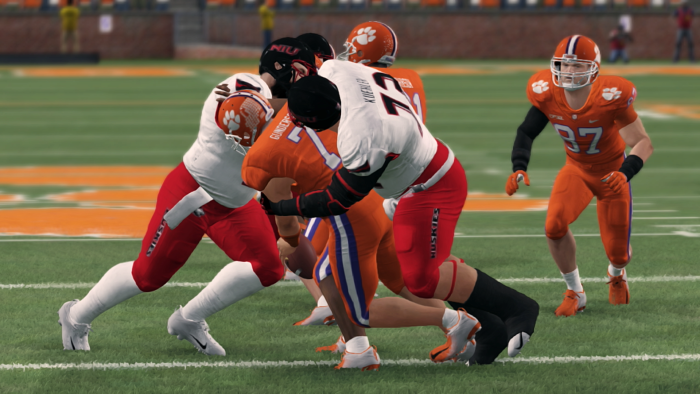 One of NIU's biggest struggles was corrected in this most recent off-season when HC Andrew Brandt stacked his defensive line with extremely talented pass rushers. Disrupting the pass is perhaps one of the most important keys to winning football games. NIU has seen a lot of success from the much-improved front four this season. DE Drew Brandt and DT Anthony Keuhler have a combined 46 tackles, 27 tackles for loss, 14 sacks, and two forced fumbles so far this season. Toledo HC Vinny Mixon had to gameplan against them early on this season and described the duo as a "rare combination of size, strength, and speed."
Ohio Bobcats
Offense: Maalik Henderson, Wide Receiver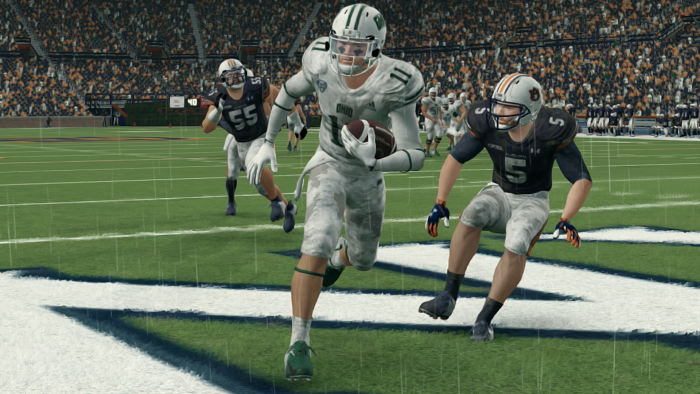 Ohio had an impressive Season 16 but ultimately fell short of their conference title opportunity. Second-year HC Kyler Smith shocked the league this season by becoming the only team running a pro-style offense this season. Second-year QB Del Toro has struggled to adjust to this new scheme. However, sophomore wide receiver Maalik Henderson has surely remained a reliable target and consistently puts up big numbers every game. Racking up 1,284 yards and 13 TDs on 89 receptions in just 12 games is quite an impressive feat. Auburn AD Cole Mantell gave praise to the MAC wideout. He noted that despite the talent difference between Auburn's secondary and Ohio's receiving core, Henderson still managed to pull in seven catches for over 130 yards in a crushing loss.
Defense: Isabella DeJesus and Jon Lee, Linebackers
The offense wasn't the only big change made this off-season for the Bobcats, as the defense has shifted defenses from the 3-4 to the 4-3. Isabella DeJesus had a stellar freshman season on the Bobcats' defense. He had 54 tackles and added 2 interceptions. Another player returning to this new scheme for the Bobcats is linebacker Jon Lee. While he also had a great freshman season, he has also seen an increase in production following the scheme change. With Lee and DeJesus playing in the middle of the field, you don't have to worry about anything getting through whether it be through the air or on the ground. "Any defense needs their LBs to drive defensive play. Together in Ohio's 4-3 scheme, they can deploy them either as punishing pass rushers or great run stoppers, depending on the opponent. That versatility makes them and the rest of their defense dangerous" said Auburn AD Cole Mantell.