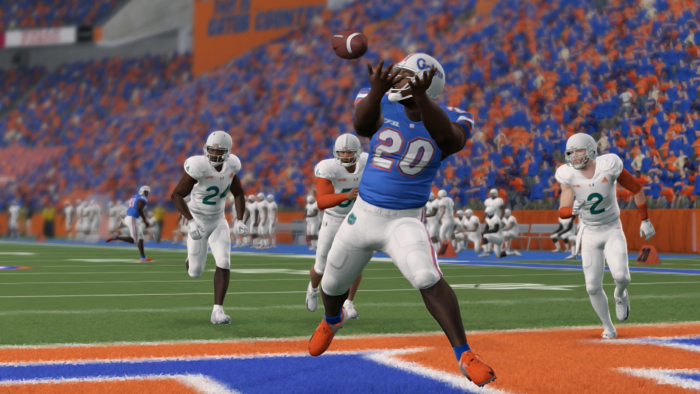 By: Ryan Moreland (@ryanmoreland)
The Curse Lives On
In this column, I have talked a lot about the First Place Curse (so much so that you are likely tired of hearing about it). Well, I thought the curse had finally been lifted in Week Five. Oklahoma State, the then-#1 ranked team, handily beat Ohio State 50-7. It was the first time the top-ranked team had won a game this season.
However, despite the Cowboys' win over the Buckeyes, they did not hold on to the top spot. Miami's impressive win over Georgia was enough to vault them over the Pokes. Then the curse reared its ugly head again. The Gators swamped Miami on Monday to the tune of 55 to 34. This made me rethink the curse. Oklahoma State proved that the curse isn't that the top team will lose. However, we have yet to have a #1 ranked team stay in that spot for consecutive weeks. The top spot cannot be tamed.
This sounds like great news for a different orange team. Oklahoma State seems like the obvious choice to take the top spot in this week's rankings. This week the Cowboys will travel to Austin, Texas to take on the Longhorns. Can Texas keep the curse alive by upsetting Pokes? Only time will tell.
The Tale of the Curse
It has been a long season and you may not remember exactly what happened to each #1 ranked team this season. So, I included this handy guide to how the curse has affected the CFSL's best team each week.
| | | |
| --- | --- | --- |
| Week | Top Ranked Team | Result |
| 1 | Kentucky | 24-23 loss to Oklahoma State |
| 2 | Oklahoma State | 44-41 loss to Miami |
| 3 | Michigan | 9-12 loss to Oklahoma State |
| 4 | Alabama | 54-24 loss to Florida |
| 5 | Oklahoma State | 50-7 win over Ohio State |
| 6 | Miami | 55-34 loss to Florida |
The Fight for 16
This week we saw some more stellar action in the MAC. If you haven't been sticking around late in the week to see MACtion then you have been missing out. The race for the final playoff spot heated up this week and a new team emerged as the favorite to win it. Northern Illinois started the season by being wrecked by Clemson and Notre Dame in out-of-conference play. Despite their depth (which is very good) they were 0-2 and looking for answers.
However, things started to change quickly they beat MAC title contender Toledo to open conference play. After a hiccup against Kent State (the Flashes beat them by three in a brilliant upset), the Huskies dominated winless Eastern Michigan. That set up what felt like a de facto MAC championship game against Bowling Green.
The Falcons have been the team to beat in the MAC since the preseason. They took that hype and proved it to be correct. CJ Furman's squad tallied a win over West Virginia in one of only two MAC wins over the Power Two. They also played a tight game against Notre Dame. They followed a great out-of-conference schedule with a flawless record in MAC play.
Or, at least, it was flawless. This week NIU silenced the BGSU hype with an impressive 48-14 win over the Falcons. Now NIU, BGSU, and Toledo are all tied with a MAC record of 3-1. The Huskies break the tie with head-to-head wins over both teams. All they have to do is win this week in the final game in MAC play and they will be punching their ticket to the playoffs. The only thing standing in their way is a plucky Ohio squad that is coming off a major victory. Bowling Green will play Toledo in the final game of the week on Thursday. Both will be praying for an Ohio victory. If that did happen, then the winner of this game would be representing the MAC in postseason play. The MAC drama isn't over just yet. Make sure you don't miss these games.
It is Never Too Late
There are now just two weeks left in regular season action. This, however, doesn't mean the story has already been written and this week serves as proof of that. Four teams faced higher-ranked foes this week and still got the victory. This started with the previously mentioned Florida/Miami game. The Gators came in ranked ninth, but will surely move back up the rankings with this win. But they weren't the only teams that had upset on the mind this week.
Tuesday night saw a pair of upsets. First, #10 Florida State took down #4 North Carolina 38 to 30. At the same time on Youtube, unranked Pittsburgh upset #13 Auburn 27 to 17. That was followed up on Wednesday night with what was the biggest upset of the week. Unranked West Virginia shocked the CFSL world by beating #7 Georgia 27 to 26 in what was one of (if not the) best game of the week.
I bring these up to prove a larger point. 15 Power Two schools will make it into the playoffs. Even though we are late in the season, these four teams either greatly improved their ranking or their chance to be ranked. The story of Season 17 is not yet finished and there is still time left for any team to sneak up the leaderboard with some great play. And we all know that record doesn't matter once the playoffs start. Best of luck to every team on their quest for postseason play.
Who Impressed Me This Week
Thompson Thunder, Illinois WR
The freshman had a massive game against one of the best defenses in the CFSL. Thunder had six catches for 144 yards and added a touchdown. This was a breakout game for the freshman pass catcher and one he will not soon forget.
Ike Porter, Oklahoma HB
Porter is no stranger to big games, but this week he took it to a new level. For the first time in his career, Porter went over the 200-yard mark on the ground. This was enough to push his Sooners over upset-minded Oregon this week. His performance also landed him in the record books, for third-most rushing yards in a single game in Sooner history.
Phillip Allen, Oregon WR
The Ducks fell short of the win this week, but that was not because of the play of Phillip Allen. Allen had nine catches for 191 yards and three touchdowns against Oklahoma this week. This tied him for the second most receiving touchdowns ever by a Duck in a single game. Yardage-wise, this was the best game of Allen's career.
Andrew Brandt, Northern Illinois HC
A slow start to a season can be demoralizing and, frankly, hard to get over. Not only did Bryant steer his team away from danger, but he sent them sailing toward the playoffs. This was an impressive team win. It felt like the Huskies could do no wrong last night. Congrats on the big win, Coach.
Malcolm Kemp Brown, West Virginia S
There were plenty of Mountaineers that deserve credit for the upset win over Georgia, but Brown stands above the rest. He had 11 tackles and one TFL as he prowled sideline to sideline making plays all game long. However, it is the 36-yard pick-six that stands out as the play that won this game for the Mountaineers. It was the first career touchdown for the senior and it was well worth the wait.
Florida State's Defensive Backs
The Seminoles had a big week this week with the win over North Carolina. This was a close game and it was the defense that made sure they came home with the victory. More specifically the secondary. Corners DJ Hanson, Trey Woodard, Apollo Richardson, and Chris Bryant combined for six interceptions in this game. Richardson and Bryant had two a piece. They made life hard on UNC QB Ayden Martinez and helped their team come out with a huge win. Perhaps FSU is the new DBU.
Beau Dale, Florida QB
Succeeding as a freshman QB in this league is not easy. Add the fact that Dale was playing against one of (if not the) best defense in the CFSL and that makes what he did that much more impressive. Denim Dale threw for 493 yards and four touchdowns while completing roughly 79% of his passes. I am starting to think it should be Diamond Dale instead of Denim.
The Adieu Haiku
Just two weeks remain.
How will you be remembered?
It's time to dig deep.