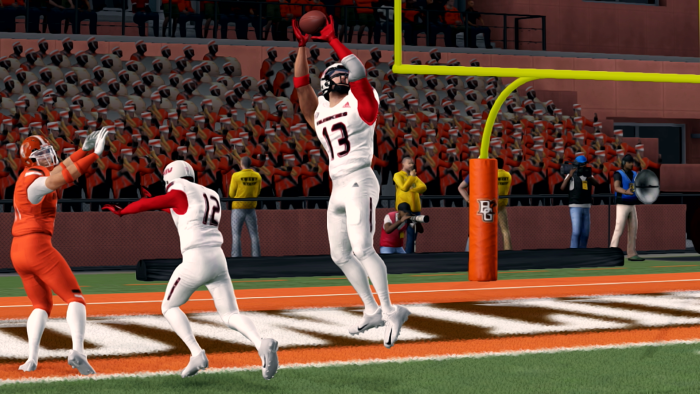 By: Ryan Moreland (@ryanmoreland)
We are only two weeks away from the beginning of the playoffs. Two final games will decide if your team makes the playoffs or starts planning for next year early. But, before we get to postseason play we must crown conference champions. Here is a preview of which teams are still in the running for a conference championship.
MAC
We will start in the MAC for two reasons. 1) it is the most straightforward conference championship scenario (the MAC finishes their regular season this week) and 2) because it has the most riding on it. Only one MAC team will be making it to the playoffs this season. So whoever wins the conference punches their ticket. The other five teams will be on the outside looking in.
Teams that still have a chance: Northern Illinois, Bowling Green, and Toledo.
The MAC scenario, as stated earlier, is a simple one. If the Huskies of NIU win their game this week over Ohio, then they will be the conference champs. All three teams that are left in contention have the same conference record, but Northern Illinois has the tiebreaking win over both Bowling Green and Toledo.
However, if the Bobcats pull off the upset this week then it will come down to our final game of Week Seven. This week Toledo hosts Bowling Green. If NIU were to lose then the winner of that game would win the MAC and the chance to play in the playoffs. Never have Toledo and Bowling Green been such big Ohio fans.
You can watch NIU take on Ohio on Thursday at 6:30 P.M. Central Time on YouTube. The Toledo and Bowling Green game will be directly after, at 8:30 P.M. CT. on YouTube. Be sure to tune in to both.
B1G
The B1G has been an exciting conference to watch, but we do have a bit more separation here than in the other Power Two conference. Let's take a look.
Teams that still have a chance: Oklahoma State, Michigan, Boise State, Notre Dame, Texas, and Oklahoma.
The B1G conference is Oklahoma State's to lose. They are the only team in the CFSL that has not suffered a conference loss. If they win even one more game they win their conference for the third straight season. Boise State and Michigan are right behind them at 3-1 in conference play, so one loss is all they need to tie the Cowboys. However, Oklahoma State holds wins over both teams, therefore holding a tiebreaker.
However, if Texas and Oklahoma can both beat the Cowboys, then things will open up. Michigan and Boise are most likely to win if the Pokes fail. These two teams haven't played each other, so the tiebreaker would then be the overall record. As of this writing, Michigan holds a one-game advantage over the Broncos in overall record. This means, Boise would need Michigan to drop a game if they want the title.
I could write all night about the playoff scenarios if Oklahoma State, Michigan, and Boise State were to lose out, but I won't. Not only is that not likely to happen, there are far too many to get into. Just know Notre Dame, Texas, and Oklahoma still have a chance (even if it is a long shot) to make it.
Note: You will notice that Illinois isn't in the teams that still have a chance, even though they are within two conference wins of the lead. They lost last week to Oklahoma State. That means that even if the Cowboys lose out and the Fightin' Illini win out, they would still be tied and Oklahoma State holds the tiebreaker.
SEC
The SEC is a bit murkier than the other two conferences. That should make for an exciting finish but does make my job of explaining the scenarios more difficult. Thanks, SEC. Let's dive in.
Teams that still have a chance: Alabama, Florida State, Miami, Florida, North Carolina, Georgia, and Kentucky.
If you look at the current standings you will notice that there isn't an SEC team that is more than two wins away from the top. However, West Virginia, Pittsburgh, and Auburn have all lost at least one of the teams tied for first. This means that even if they tied, they would still lose a tiebreaker. All three could still be in the playoffs, but none will win the SEC this year.
Three teams are currently set with only one conference loss. Those teams are Alabama, Florida State, and Miami. If the season ended today, Alabama would be the conference champs. They haven't played (and won't play) Miami or Florida State. So the next tiebreaker would be the overall record. Alabama is a game ahead of both of these Florida schools in that category. If Alabama wins out, they will be your SEC Champions.
If either Georgia or Auburn can upset the Tide, then Miami would be next in line. The Hurricanes have beaten the Seminoles (38-31 in Week Three) and hold the tiebreaker. FSU would need both teams to take a loss (and they would have to win out) for them to get in.
I will mention one other scenario, only because it is so interesting. Florida currently has two conference losses. Therefore, they need all three teams above them to lose once and they would have to win out. However, Florida beat Alabama and Miami head-to-head. They play Florida State this coming week. If they win that, then they would hold a tiebreaker over all three teams that are currently tied for first. Again, the Gators still need some help, but if they get that help they have a clear shot to be the SEC Champion.
Just like the B1G, countless other scenarios could play out, but we aren't going to dive into all of them. North Carolina, Georgia, and Kentucky need a lot to happen to get the title of SEC Champion. But don't worry, I will revisit all of these scenarios next week.