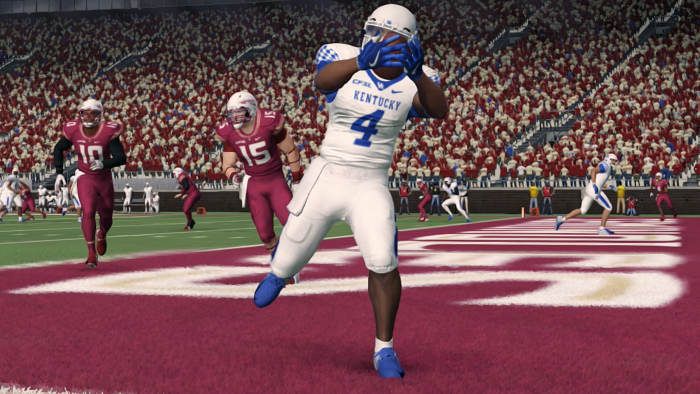 By: Ryan Moreland (@ryanmoreland)
The season is over. Ten teams are clearing out their locker rooms while 16 prepare to make a run at a CFSL National Championship. But before we get into the playoffs, let's look at what happened this past week.
Upset Wednesday
I am stealing the above phrase from my broadcast partner Jeff Melinyshyn (shout out Jeff). This was a wild day in CFSL action. The favorites in all three games would go on to lose.
This started with Notre Dame's win over Texas. The Longhorns were favored by 11.5 points in the sportsbook. The Irish made fools of the oddsmakers with a 45 to 27 victory. (And they ruined my survivor in the final week. Thanks, Wookie.)
At the same time this game was being played on Twitch, YouTube was broadcasting the Backyard Brawl. West Virginia traveled to Pittsburgh with all the confidence in the world. After all, the Mountaineers have never lost to their bitter rivals. Well, all that changed when 7.5 underdogs (underpanthers?) shocked WVU in a 24-15 upset.
The final game was perhaps the most shocking. Florida State was only favored by 3.5 points, so a Kentucky win wasn't shocking by itself. However, I think even the folks in the Bluegrass State were surprised that they won by so much. The Wildcats ran over the Seminoles 51 to 7.
This night will forever be known as Upset Wednesday (at least to Jeff and I). But perhaps an even better name is Ticket Punching Wednesday. All three underdogs were on the borderline between making and missing the playoffs. All three found themselves playing in the postseason thanks to these wins. Well-played and well-earned Irish, Panthers, and Wildcats.
The Team You Hate the Most
Rivalry week in the CFSL is never lacking trash talk, bad blood, and excitement. This season was no exception. This is the team you have wanted to beat all season long. Even if you have a down year, getting the best of them makes it a winning season. And in the CFSL, these rivalries are closer than you might think.
If you are like me then you noticed that many of the rivalry games this season ended in lopsided scores. The average margin of victory was 24.8 points. That is more than four points higher than rivalry week last season. This season there wasn't a single game in Week Eight that was a one-possession game. This might lead you to believe that these games aren't hard-fought. However, that couldn't be further from the truth.
Before I can explain how these rivalries are closer than they appear, I must explain a few things. The Power Two rivalry games have stayed mostly the same from last season. Only two games featured different match-ups than they did last year (In Season 16 Kentucky played North Carolina and Miami played Florida State.) That means that eight rivalries from last season played once again this rivalry week.
Now let's get to the good part. Of those eight, only three games were won by the same team in both Seasons 16 and 17 (Oklahoma State over Oklahoma, Illinois over Clemson, and Alabama over Auburn). The remaining five all had a different winner this season. Even though the score wasn't so close this season, the rivalry is close.
Yea, Boise State beat Oregon by 40, but they also lost to the Ducks by 18 last season. Ohio State might have fallen in The Game this season, but they shocked Michigan in Season 16. Texas handled Notre Dame before, but we all know how that worked out this year. This is what makes these rivalry games so great. So before you get too high or low on your team after rivalry week just remember: you will play them again next season.
A Note on the Postseason
I know I started this column out by saying we were ignoring the playoffs in favor of Week Eight action, but can't ignore it completely. The postseason starts in just a few days and some storylines interest me. Here are some quick thoughts on Season 17's Playoffs:
Northern Illinois is the first MAC team to make two playoff trips. I know this is pretty cheap (as everyone made it last season), but still worth noting.
Three games in the first round are rematches of games played during the regular season. Two (Georgia vs Boise State and Oklahoma vs Michigan) are intriguing because they are rematches of close games (Boise lost to Georgia by 1 and Oklahoma lost to Michigan by 7). The other rematch is Alabama vs Pittsburgh. And… Well, good luck Panthers.
Four teams will be looking to beat teams they have never beaten. Both North Carolina and Georgia lost to their next opponents (Kentucky and Boise State, respectively) in their only previous meeting. Alabama stands 2-0 vs Pittsburgh. By far the most one-sided matchup, historically speaking, is Texas vs Florida. Florida has beaten the Longhorns in their four meetings.
Two of these matchups will feature teams that have never played before. Northern Illinois vs Oklahoma State and Illinois vs Miami are both first-time meetings.
The matchup with the most history is Notre Dame vs Florida State. These two teams have met a total of nine times previously. If fact, they have met more times in the playoffs than most of these teams have met in the regular season. The last time these two teams met in the playoffs the Seminoles routed the Irish on the way to their first National Championship. That game also signaled the end of Notre Dame's dynasty.
Who Impressed Me This Week
Shaq Edwards, Illinois HB
Edwards sliced and diced his way through the Clemson defense for 144 yards on 32 carries. Edwards also added three touchdowns to his prolific day. This was an outstanding performance that elevated his team to the postseason. Well done.
Derek Hawkins, Kentucky AD
There are so many players you could highlight from Kentucky this week. Ken Dixon III, DJ Brooks, Tyler Amos, Israel Jordan Ward, and the list goes on. The entire team went off in a must-win game for the Wildcats. When that happens, you have to look at the guy in the headset. This was a tough year for the first-year AD, but the season isn't over yet and Syrok and company look like they have figured it out. Great win, Coach.
Charlie Sammons, Notre Dame QB
This has been a breakout year for the sophomore QB, but he had yet to shine against stiff competition. You can go ahead and check that box. Sammons threw for 444 yards and four touchdowns. He also added 48 yards and an additional score with his legs. Sammons did exactly what his team needed him to do to come home with a must-win game. Looking forward to seeing if he has more magic left for the playoffs.
Derek Eldridge, Pittsburgh HB
This was yet another fantastic individual effort in a must-win game. This was a game where both offenses struggled to do much with the ball. However, Eldridge could be counted on every time he got the rock. He ran for 125 yards on 20 carries (6.25 yards per carry!) and found the endzone once. Eldridge was no doubt the reason Pittsburgh finally beat their rival and punched their ticket to the playoffs.
Jaxon Bugg, Oklahoma State WR
I try to shy away from picking players from my team just so I don't get labeled a homer, but this one was too good to ignore. Bugg had 11 catches for 217 yards and a touchdown in the Cowboys win over the rival Sooners. Way to make me look like I know what I am doing, JBugg.
Phillip Allen, Oregon WR
Allen finds his name on this list yet again for an incredible performance. Allen caught seven passes for 231 yards and two scores. That isn't a typo. He averaged 33 yards per catch! His homerun ability is something that has caught my eye all season long, but this time he outdid himself. This sets a new personal best for Allen and was only three yards away from landing him a spot in Oregon's record book. Secondaries beware.
Mo Hart, Boise State DT
While Allen did have a big game, the Ducks lost to Boise State and Mo Hart was a big reason why. The 312-pound goliath had three sacks and four TFLs. Every tackle he had was in the backfield. However, what was most impressive wasn't just his hits, but how hard he was hitting. He hit so hard that Hart forced two fumbles in this game. The Duck offense didn't have an answer for Hart and that is why he made my list. Just take it easy when we meet again, alright?
The Adieu Haiku
The season is done,
Twenty-six becomes sixteen.
Who will be the one?