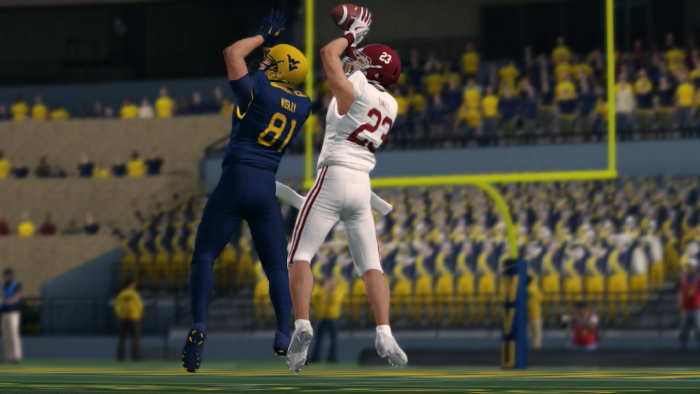 By: Cole Mantell (@lightningdragon)
Since Season 13, we have taken a look at each team and what they need in recruiting each offseason. This offseason will be no different. While needs change and teams adjust year over year, we can get a first look at what the league is looking toward as we head into Season 18!
As with previous articles in this series, we will not be taking any transfers into account. This is simply looking at the seniors on each team, and theorizing what each team will need to prioritize most once recruiting gets underway.
Alabama Crimson Tide – Cornerback
The Crimson Tide will lose three players at both Cornerback and Wide Receiver. With Cece Range having one of the best seasons in team history it shouldn't be as difficult finding new blood at that wideout. Instead, Alabama will need to replace three bastions of the defense in Shabazz Holmes Harris, Dawson Daniels, and Scott Hall. Alexander Kirsch, arguably the standout of said CB group, also enters his Senior year too. Replacing the CB depth will be what decides how far Alabama goes next season; full stop.
Auburn Tigers – Defensive Tackle
While Auburn also will need to fill depth at Cornerback (setting up a fascinating recruiting battle with Alabama at the position) that isn't their biggest need. Auburn will be looking at Defensive Tackle (and the DL as a whole) as their biggest need this off-season. Raven Remington graduates after a monster few seasons at the school and the other two guys in the position group enter their Senior season. Auburn will have to get younger at the position quickly and should be active on defense, in general, this offseason.
Boise State Broncos – Wide Receiver
Boise State will only have two Senior graduations this offseason, both at Wide Receiver. Nahreese Davis and Riley Rury both graduate and while Boise State still has four WRs in-house, the pass-happy Broncos will be looking to get one, if not two new guys in the room. Depending on the transfer market, that might be in play here as the team has a history recently in said market. However, with two of the four remaining WRs entering their Senior season as well, this also could be an opportunity for the Broncos to go younger here as well.
Clemson Tigers – Linebacker
In Season 17, Clemson only had two linebackers on the roster. Now Kyle Woods graduates and leaves only one guy remaining. That's a dangerous level of depth to not have at a key position, so it should be no surprise it should be Clemson's biggest focus in recruiting this offseason. This has the potential to be an offseason where Clemson completely reshapes their position group here, and for Clemson to take the next step in Season 18 they'll have to be sharp here.
Florida Gators – Halfback
Florida has very few open spots to graduation this offseason, thanks to one of the youngest current rosters in the CFSL. Still, there are a few spots to replace this offseason. Second-string HB Xavier Lingham graduates and first-string HB William Tree entering his senior season. While sometimes it seems Florida might never run the ball again with their Air Raid offense, that doesn't mean having good pass-catching halfbacks shouldn't be a priority for the Gators. Considering this roster will return most of what they had in their semifinal run this season, the Gators only have a few holes to fill to keep the hype heading into Season 18.
Florida State Seminoles – Safety
The Seminoles are not the Seminoles without a suffocating defense. AD Tom Pence's calling card has always been on that side of the ball, and this offseason presents the opportunity to upgrade at multiple defensive positions depending on what the staff has in mind. Florida State will be in a small group of teams looking for a new quarterback after Ryan Ravenhill graduates, but the defense is where the most work needs to be done this offseason for the Seminoles.
Georgia Bulldogs – Safety
Not only is Georgia among a select few teams without graduation this offseason, but the team as a whole has only seven juniors entering their senior season. Still, Georgia has some depth they can fill on the roster, depending on what space opens up. Their most obvious area for improvement will be safety. With just one FS and SS on the roster, as with most teams in that position the Bulldogs likely look for at least one depth guy there. With so few open spots, however, don't expect fireworks from the Bulldogs this offseason.
Illinois Fighting Illini – Halfback
Unlike Florida, Illinois is one of a select few teams looking for a new starting halfback this offseason. Shaq Edwards has been central to the identity of this Fighting Illini team since he stepped on campus, but now Illinois will have to turn the page here. Tight End Conner Stephens is the other graduating senior on this roster, so expect a few offensive targets for the Fighting Illini in recruiting this offseason. Still, there are only a few holes to fill on this roster, as Illinois is another young team.
Kentucky Wildcats – Quarterback
Kentucky has a few areas of need in recruiting this offseason, but everything starts at quarterback for this team this offseason. For the second season in a row, there are not many open spots around the league for a starting quarterback. Thus, Kentucky will have only a few select teams to compete with for their new signal caller this offseason. There is a lot of work to be done on offense, to replace leaving talent, so Kentucky should be one of the more active teams in the CFSL this offseason.
Miami Hurricanes – Cornerback
Miami will have four graduations at cornerback and safety combined, so their back end of the defense will be priority number one for AD Jay Gates this offseason. At Cornerback entering this offseason especially, there will be a big need to replenish talent. Justin Pufall and Tom Reis graduate, while Noah Shaikh also enters his senior season. That leaves very little future depth at the position and makes it Miami's biggest need this off-season cycle.
Michigan Wolverines – Free Safety
Fresh off their first National Championship appearance, the Wolverines have very few holes to fill to attempt to win their first National Championship in team history. There are a few places they will have to replace talent, however. Most notably, FS Maverick LeBlanc will graduate, leaving only 4-star Tanya Brown on the roster. For a championship-caliber roster, the Wolverines will likely again look for new talent at that position. After all, LeBlanc's transfer last offseason was a key piece of Michigan's run this season.
North Carolina Tar Heels – Wide Receiver
The Tar Heels threw a bunch this season, making a star out of Quarterback Ayden Martinez. Martinez loses two wide receivers to graduation as he goes into his senior year. To take that next step they need to keep as much momentum as possible on offense. While finding a few WRs willing to play in the pass-happy setup North Carolina has going shouldn't be difficult, it is their biggest priority.
Notre Dame Fighting Irish – Middle Linebacker
Notre Dame will not have many holes to fill this offseason, but the middle linebacker stands out as the exception. Zackary Babineau finishes an excellent career and graduates, leaving the Fighting Irish with zero returning MLBs. With two OLBs, Notre Dame could play one out of position next season, but it is more likely the new AD coming in starts here in recruiting this offseason.
Ohio State Buckeyes – Wide Receiver
While Andrei Belov is the presumed replacement for graduating Senior QB Logan Radloff, the answer of who replaces graduating WRs Jalen Thomas and JT Camden is much less clear. There are a few guys still on the roster at the position, but Ohio State will be looking to improve here to support what is likely a first-time starter come next season. There are a few more holes to fill elsewhere on the roster as well, but Ohio State must give Belov the best chance to succeed out of the gate.
Oklahoma Sooners – Cornerback
Oklahoma will also have some work to do this offseason at wide receiver, but the focus for the Sooners will be at CB this cycle. Marcus Elliott and Brandon Montgomery graduate, leaving at least one (if not two) starting spots open at the position this offseason to fill. Outside of WR and CB, the team has a lot of in-house options to replace leaving talent, so this should be another fascinating case to see what the team can build upon heading into next season. With their in-state rivals winning another championship, you know the team is fired up to challenge them in Season 18.
Oklahoma State Cowboys – Defensive Tackle
Speaking of those in-state rivals, Oklahoma State is fresh off another National Championship run, but filling the gaps on the roster should be an interesting storyline to watch this offseason. There are more than a few graduations on the roster, especially at defense. At defensive tackle, both starters graduate and leave only three-star Ricky Cobb on the roster at the spot. While there are similar examples of this elsewhere on the roster, this is where the most urgency is for roster building this offseason in Stillwater. Though, if the last few seasons have proven anything, Oklahoma State can reload on the fly and still compete on a championship level.
Oregon Ducks – Wide Receiver
The Ducks have a long history of success at WR. They will need to lean on that experience this year with a few graduations at the position. For a team with said history of passing, one of Oregon's biggest issues last season was a lack of progress in said department. For Brantley Guaci to feel more comfortable in the pocket and be able to be more creative outside of it, getting more talent at WR is the first step. The rest of the offense as well will have some more holes to fill and depth to create.
Pittsburgh Panthers – Quarterback
Pittsburgh arguably ran the ball better than any other team last season, which makes their loss of Senior QB Helix Myers all the more important. No QB ran better than Myers last season, and his loss is a changing of the guard for the Panthers as a whole. The first starting QB in Pittsburgh history has been great, but to take the next step finding the right guy for the starting job next season is the biggest goal. Not only will this offseason likely define Pittsburgh for seasons to come, this might be the most fascinating team to watch nationally this offseason. Keep your eyes peeled here.
Texas Longhorns – Cornerback
Depth is the name of the game for the Texas Longhorns this offseason. Cornerback is the best example on the roster, with program legend Buck Michaels graduating and Darian Conner entering his senior season. There is still talent at CB on the roster for Texas. However, with the departures, Texas will still need to look outside the program to add new guys, either through the portal or freshman recruiting. Cornerback isn't the only position Texas needs to do this, but it is the most notable.
West Virginia Mountaineers – Tight End
The Mountaineers are one of the older rosters in Power 2, and this leaves much work to do for AD Nathan Murphy and his staff. While notably there will be large holes at places such as defensive tackle and cornerback, the graduation of TE Brendan Goshay presents an underrated challenge for an offense that in the past relied heavily on the position. As stated, there is a lot of work to do, so like Pittsburgh expect an active offseason from the other side of the Backyard Brawl rivalry as well.
Bowling Green Falcons – Tight End
Entering the MAC, the common theme between all six teams will be depth and retaining guys looking to go Power 2. While transfers are not taken into account for this article, Bowling Green still will have some depth to fill this offseason. Despite one of the deeper MAC rosters, only Jordan Tank returns at tight end this offseason for the team, and thus Tight End might be the place the team starts in recruiting this offseason. Still, like most MAC teams there are very few seniors, and thus there should be plenty of returning talent for this squad.
Eastern Michigan Eagles – Defensive Depth
EMU's lack of defensive depth cost them multiple points last season, to the degree that it derailed much of their progress on offense. The team has some really interesting pieces, starting with QB Greg Cooksey and HB Chef Wyatt. However, to take that next step the team will need much more help in all areas of the defense. Like most MAC squads there will be lots of work to fill lots of spots, but this also presents an opportunity to completely reform what the staff wants when it comes to their defense. Look for a lot of action this offseason from Ypsilanti.
Kent State Golden Flashes – Defensive Line
Kent State had some big moments last season, but their biggest struggle started at the defensive line. With only two 3-stars (Jason Mallory and Dale Sanchez) returning on the roster, Kent State will be looking to upgrade and fill depth there (among other spots). Kent State is led by star QB Shaker Mayflower and HB Aldous Sampson, so while the defense as a whole will need work, this is another case of an offense that can score and put on a show.
Northern Illinois Huskies – Defensive End
Your Season 17 MAC champions and playoff representative might not have had a Cinderella run such as past MAC teams, but that doesn't mean NIU doesn't have some great talent. While there are a few open positions from graduations, Defensive End Drew Brandt's graduation is a big hit to the defense. Adequately replacing that production will be the top priority for the team, and expect their offseason strategy to revolve around this and similar questions.
Ohio Bobcats – Safety
Ohio is similar to other MAC teams with work to do on defense this offseason. Still, for Ohio, the first look will be at their back end of the defense. The team only had two safeties on the roster this season, and one of them (Mike Whitley) graduated. So replacing that depth and building up on your progress is the goal for the Bobcats this offseason. Similarly, look for depth moves for Ohio on the defensive line and maybe a second HB being brought in behind Braxton McFadden.
Toledo Rockets – Halfback
With how many awards McKade Alber won, it should also be noted that despite the success Toledo was not the playoff representative for the conference. This offense needs no introduction, but with only one halfback (KJ Kretzer), they will be limited in how much it can achieve. To take that next step and be the MAC Champion in Season 18, evolving this offense to the respect it almost surely will receive moving forward is the biggest challenge for the team.