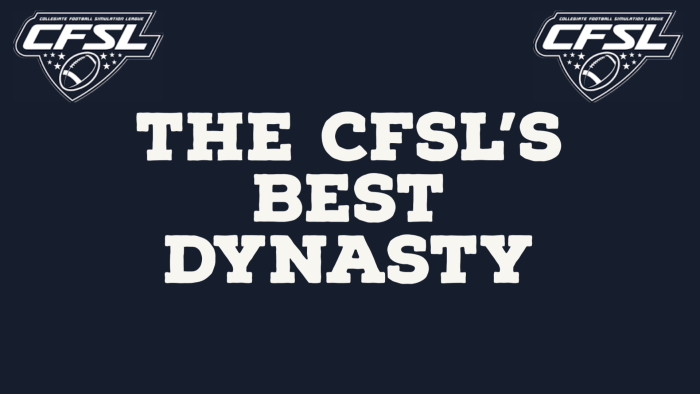 By: Cole Mantell (@ColeMantell)
What makes a dynasty? Or more accurately, what in the CFSL's long history should we call a dynasty? There have been many great teams throughout the history of the CFSL, including 17 champions in the history of the league. Still, the teams most well-remembered in history are the ones that not only win a championship but win multiple over a sustained period of dominance. As such, two notable recent examples shine as what ADs aspire to build and players aspire to play for. 
For this article, we will look at the winning peaks of the Notre Dame program from Seasons 11-13 and the Oklahoma State Program from Seasons 15-17. Both programs are recent examples of what you might call a dynasty. Both programs won two championships and lost less than 5 games over the 3 season period. For Notre Dame, I included Season 11 so that each team in this sample size had 3 seasons of data included, and for Oklahoma State, I included both championship seasons, even though there was an AD change between Season 15 and 16.
So, with this all in mind, the first question is how do these programs compare? Well, here are a few data points I gathered while researching this article.
| | | |
| --- | --- | --- |
| | Notre Dame S11-13 | Oklahoma State S15-17 |
| Record | 25-3 | 32-4 |
| Points For (per game) | 980 (35) | 1475 (40.97) |
| Points Against (per game) | 665 (23.75) | 557 (15.47) |
| Championships | 2 (Season 12+13) | 2 (Season 15+17) |
| Championship Game Appearances | 2 | 3 |
| Longest Winning Streak | 17 Games | 10 Games |
| Major Awards* | 4 | 9 |
| Record of Teams Lost Against | 11-8 | 31-12 |
| Shortened Season? | Yes (Season 11) | No |
*Major Awards count any award with a listed member of the respective team during this period, including off-the-field awards won as well.
Before we dissect these numbers, I also asked a recently retired AD who was very familiar with both teams in question. Here is his opinion on both teams. Comments are edited for clarity.
"I think the biggest difference [between the two teams] is the style of play. Oklahoma State had a very pass-heavy spread shoot-out style offense that was flashy and put up a lot of points. I think at times it overshadowed an incredibly high-motored defense that created a lot of pressure and turnovers. [Oklahoma State] might've had the most sacks and interceptions in a three-season span, you'd have to look. Notre Dame was much more of a methodical spread running team that could throw the ball when it counted. I think they intentionally played the "bad boy" vibe too with their defense. They had hit men on defense. Their secondary did not let you complete passes at all. I think this defense overshadowed a pretty great offense for back in those days too."
Setting aside era differences and different league rules and competition, the main takeaways here seem to be that Oklahoma State might've been a flashier team on the field. At the same time, Notre Dame was a much more dominant team compared to their era. Of course, there are plenty of valid points for and against each team in this data set.
First off, Notre Dame was an average team in Season 11. They lost to a 1-3 Alabama and finished the Season 4-2. Does including that season to give each team three seasons of data favor Oklahoma State? Or does not having a great third season give Oklahoma State the edge? On the other hand, Oklahoma State's 10-game winning streak from the data table is still ongoing. If Oklahoma State goes out and breaks Notre Dame's record in Season 18, does that give the Cowboys the clear edge in this debate?
Oklahoma State seems to have the edge in statistics in this dataset, but is that a factor of where the league has gone, or is Oklahoma State the example that has helped drive the CFSL more pass-happy? All of this leaves the answer still unclear. The only thing for certain is that both teams provided the very best football ever seen in the CFSL.
Which team do you think has the best dynasty in CFSL history?