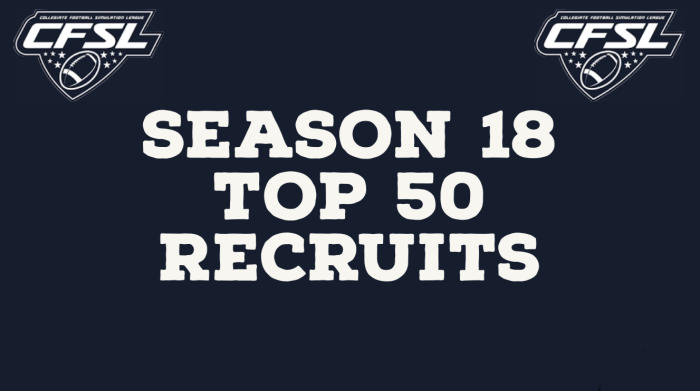 By: Ryan Moreland (@ryanmoreland)
The CFSL Recruiting Service has compiled its list of the best incoming freshman from across the nation. Congratulations on everyone who made the list and a special thanks to the folks in the Recruiting Service for their time and effort.
50-26
| | | | | |
| --- | --- | --- | --- | --- |
| Rank | Player | Position | Hometown | Committed To |
| 50 | Kevin Davis | WR | Mooreland, OK | Kentucky |
| 49 | Leo Valdez | CB | South Bend, IN | Georgia |
| 48 | Gage Tyson | WR | White Bluff, TN | Pittsburgh |
| 47 | Max Duncan | DE | Atlanta, GA | Florida State |
| 46 | Harry Shack | DT | Titletown, VA | West Virginia |
| 45 | Mackenzie Wilder | FS | New Braunfels, TX | Eastern Michigan |
| 44 | Thomas Banks | TE | Cape Girardeau, MO | Illinois |
| 43 | Brodie Slater | DT | Hollywood, CA | North Carolina |
| 42 | Cleveland Edison | CB | Harlan, KY | North Carolina |
| 41 | Tyrell Dunn | CB | New Orleans, LA | Alabama |
| 40 | Boaz Beam | WR | Bird in Hand, PA | Georgia |
| 39 | Cody James | HB | Dallas-Fortworth, TX | Notre Dame |
| 38 | Cade McClain | HB | Greenwood, IN | Kentucky |
| 37 | Terrell Collins | HB | St. Petersburg, FL | Eastern Michigan |
| 36 | Andre Hopper | WR | Blazeville, TX | Eastern Michigan |
| 35 | Bo Carter | MLB | Stuarts Draft, VA | North Carolina |
| 34 | Joseph Holms | MLB | New Brunswick, NJ | Alabama |
| 33 | Beau Justice | DE | Meigs, OH | Auburn |
| 32 | Brian Jones | TE | Walla Walla, WA | West Virginia |
| 31 | Timothy Richardson | WR | Tampa, FL | Eastern Michigan |
| 30 | Adam Leach | CB | Miami, FL | Florida State |
| 29 | CeeCee Mucci | HB | Norwich, CT | Georgia |
| 26 | Wyatt Babineau | TE | Ramstein, Germany | Kentucky |
| 27 | AJ Stover | TE | Sorrento, LA | North Carolina |
| 26 | Demelo Washington | WR | Miami, FL | Ohio State |
The Top 25
#25 Andrew Green
MLB | Tallahassee, FL | Oklahoma State
Green has been a recruit many teams have kept an eye on all offseason long. The do-it-all linebacker has elite potential and the skillset to make any offense nervous. Green spurned the hometown Seminoles (and the home state Hurricanes and Gators) to go to the defending champs. The folks in Stillwater will be happy to see him in orange.
#24 Titan Jackson
MLB | Ypsilanti, MI | Michigan
This triathlete turned football star shows off a rare athletic ability at the linebacker position. Jackson was born in raised in the shadow of Eastern Michigan leaving many to believe that is where he would end up. However, Jackson had his sights set on the Big House. B1G offenses beware.
#23 Les Longley
DT | Idabel, OK | West Virginia
This two-time All-State defensive lineman had offers from schools around the country. Perhaps that is why he spurned both in-state schools for West Virginia (or maybe he just really likes that field). Either way, the Mountaineers have landed a monster at DT with Longley.
#22 Damian Walker
CB | Aberdeen, MI | Texas
Walker is a gifted athlete who is known for his speed and hard-working nature. The Mississippi Missle is now heading to Austin to become the newest Longhorn. Can Walker and the rest of this talented Texas recruiting class push the Longhorns back into the contender conversation?
#21 Haden Carter
WR | Panama City, FL | Ohio
This four-year starter has been a target for schools across the nation for some time now. Fresh off a fantastic senior season (with a state title to go along with it) Carter is ready to take the CFSL by storm. Carter has packed his bags for the long trip up to Athens. Can he help the Bobcats make noise in the MAC?
#20 Theodore Hitchcock
DE | Newport, TN | Bowling Green
Don't let the 19th-century name fool you, this kid is a dawg. It took a while for Hitchcock to be noticed coming out of a small school in Tennessee, but after his tape came out word traveled fast. Now the country bumpkin is headed to Bowling Green, Ohio to help the Falcons compete in the MAC.
#19 Owen Dart
QB | Houston, TX | Ohio
What happens when you cross a bazooka arm with cheetah legs? Dart is what happens. The Texas native has set records all across the state and is ready for the limelight of the CFSL. Dart is headed to Athens, Ohio to replace Del Toro. Can the fleet-footed QB push the Bobcats to the top of the MAC?
#18 Dakota LeBlanc
CB | Sorrento, LA | North Carolina
Few have a better CFSL legacy than LeBlanc. His brothers, Maverick and Dillon, have five CFSL All-American Awards between the two of them. Despite being the smallest of the LeBlanc brothers, the word is Dakota is the best athlete in the family.
#17 Tucker McGuire
SS | Tallapoosa, GA | Undecided
McGuire is yet another name on this list with an impressive pedigree. The youngest of the McGuire boys is ready to prove he can be just as good. While Tucker has yet to commit anywhere he has narrowed his search down to Boise State, Clemson, Ohio State, Oklahoma, and Pittsburgh. All five teams anxiously await his decision.
#16 Kevin Walsh
FS | Cairo, IL | West Virginia
There is a lot that stands out on tape when you watch Walsh play. However, it is what you don't see on tape that makes him such an exceptional prospect. His dedication to the game has made him a top-25 recruit in Season 18. The Mountaineer faithful can't wait to see how much higher that dedication will take him.
#15 Isaac Sparks
MLB | Indianapolis, IN | Kentucky
The lone Wildcat to make the top-25 is this outside-turned-inside linebacker. Sparks is one of the best ball-hawking linebackers in recent memory. Kentucky he picks up right where he left off in high school and gets the ball back to the offense quickly.
#14 Jayden Strange
CB | Baltimore, MD | Eastern Michigan
This St. Francis High product is the top-rated corner in this class. Stange was a three-time All-State player and looks to keep that level of play at the next level. Despite being recruited by most of the Power Two schools, Strange decided to take his talents to the MAC. The Eagles could not be happier with his choice.
#13 Admiral Lasky
OLB | South Bend, IN | Auburn
Lasky is a coach's dream player. His military-like discipline leaves time for little else outside of football. Lasky will undoubtedly be a team captain in the future. The Tigers may have only gotten one top-25 recruit this year, but they grabbed a great one.
#12 Jake Price
SS | Carthage, MO | Oklahoma State
Prices award shelf is already overflowing and he has yet to take a snap in the CFSL. The highly decorated prospect is not only an exceptional football player but also a talented swimmer. Price will head to Stillwater to help the Cowboys defend their title.
#11 Mister Jones
DE | Denver, CO | Eastern Michigan
Jones has a rare athletic ability for an edge rusher and nothing shows that more than his high school tapes where he can be seen running the ball as well as rushing the passer. Jones was also a talented sprinter on his high school's track team. This freak athlete is now getting acquainted with Ypsilanti.
#10 Alexander Tolbert
WR | Susan Moore, AL | Pittsburgh
Alexander is the younger brother of Oklahoma State standout Kyle Tolbert. While he certainly lacks his brothers' size, he more than makes up for it with his athletic ability. The one and only future Pittsburgh Panther in the top 25 should have an immediate impact.
#9 Ty Wolfe
HB | Belle, West Virginia | Oklahoma
Ty and his brother Tristin are both recruits in this class and both went together to Oklahoma. However, only Ty makes our top 25. Ty has broken nearly every record in the state of West Virginia. He is a freakish athlete with outstanding hands. Oklahoma saw a lot of turnover this season, but landing a big name like this was a great sign for their future.
#8 Mike Diamond
DE | Pittsburgh, PA | Florida State
Diamond may be a bit of a class clown, but he is all business on the field. This pass rusher decided to not play for the instate Panthers. Instead, he took his talents south to join Grin's team in Tallahassee. SEC offensive linemen better prepare.
#7 Lincoln Martin
WR | Papillon, NE | Alabama
Martin is a playbook junkie. He is an athlete with a love for the complexity of the game. Martin committed to Alabama this offseason. Now the small-town kid will leave his town of 24,000 to play in front of 101,000.
#6 Sebastian Sapp
WR | Carol City, FL | Florida State
Sebastian watched his older brother, Ben, play for National Championships. Now the younger brother wants to do the same. Sapp is a homerun threat from anywhere on the field. No wonder Florida State was so hyped when they landed him.
#5 Bjorn Thorsen
OLB | Spokane, WA | Eastern Michigan
Thorsen is the nation's top-rated linebacker for a reason. Big, fast, strong, and dedicated, Thorsen is the perfect combination. He is yet another piece in what was a fantastic recruiting class for Eastern Michigan.
#4 Messiah Bishop
HB | Omaha, NE | Texas
The nation's top-rated running back is a big, physical downhill runner. Defenders often make business decisions when he gets to the second level. He hopes to be the next great Longhorn halfback as he heads to Austin.
#3 JM Cook Jr
SS | New Braunfels, TX | Eastern Michigan
Eastern Michigan has had perhaps the best recruiting class in MAC history. And Cook is the gem of such a talented group. This hard-hitting safety is as tough as a two-dollar steak and as mean as a junkyard dog. MAC offenses, you've been warned.
#2 Zeus Claydon
QB | Los Angeles, CA | Florida State
Claydon is the latest in a long line of great QBs to come from Mater Dei High School. Claydon has a rare pocket presence for a young player. His knowledge of the game shines through in his play. In what was a small QB class, Claydon is one of the standouts.
#1 Sean Keohane
QB | New Market, AL | Kent State
The top spot goes to the top quarterback in the class. The younger brother of Alabama/Miami great Kris is ready to make his legacy in the CFSL. Sean is headed to Kent State marking a massive get for the Golden Flashes. The hype in Kent could not be higher.