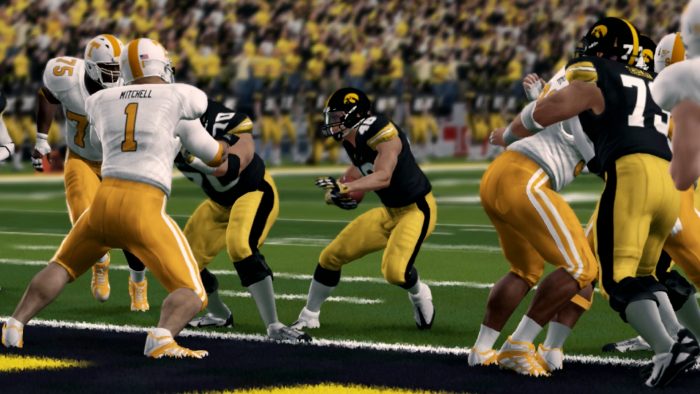 By: @UCanDoIt24
The CFSL is an ever-changing landscape. There has been an increase in the quality of play in the league over the years. With that, many records are replaced almost year after year. However, some records have (or will) stand the test of time. Let's take a look at who set the marks we all have been chasing since.
#1 Joe Kane's 99-Yard Rush (S4, W4)
Being physically impossible to beat, this might have been the easiest choice on this list. You could only hope to tie this record, but no one had. Joe Kane was one of the countless duel-threat QBs that popped up during the early years of the CFSL. Season 4 ended up being his only as a starter. He was very respectable as the signal caller, racking up 2,200 pass yards and 1,200 rush yards.
The first version of Iowa embodied what real-life Iowa subscribes to. They were tough and physical and would grind you down. Even the best teams would run into trouble when the Hawkeyes lined up against them.
Although the video of the play is lost to history, a great punt left them pinned as far back as possible, inside their one. One read option and over-commitment by the defense and the athletic Kane was off to the races.
The scenario for a play like this to happen is rare. First, a perfect punt has to happen. That doesn't happen often. League veterans will remember Shane's punt obsession and guys like that are few and far between. Then a QB needs speed to break away from defenders that are just straight up faster than they were. With QBs slower than ever, even if given the chance it is hard to see this happening. This record is impossible to beat, but of all these records this is the easiest to tie.
#2 Season Rushing Yards – Bob Smith 1,954 (S2)
Season Two saw a baby league take its first steps towards becoming what it is today. The league as a whole was far more focused on rushing than they are today. Every QB in the CFSL was basically Cam Newton. The league was dominated by the read option. Only a few teams, such as Iowa, committed to a more traditional offense. The other thing to keep in mind here was how limited the rosters were at this time. There were fewer players, so every defense had holes. However, there were still a lot of elite running backs. This formed the perfect storm for a great HB to rush for nearly 2K.
Bob Smith had a massive season. Not only did he set this record, but he also set the single-season rushing touchdown record and the single-season rushing attempts record. Both of these records wouldn't last long. Both were broken the following season. However, his single-season rushing yards record has been standing for 15 seasons and still stands to this day.
Just to show how unbeatable this record is, no one has come within 400 yards of the record after Season 4. Only Duane Simmons has eclipsed 1,300 yards in recent years.
Bob Smith only played one season, like his Iowa counterpart Joe Kane. These two players show us a sliver of problems that faced a team that struggled with success, and high turnover at the premium positions. With all that being said, Bob Smith gave us a season that almost certainly is one of a kind.
#3 Season Tackle Record – Jimbo Smithers 153 (S4)
This one is personal to me as this is my player. And not to pat myself on the back too hard, this record has stood for a long time. Even taking into account the extra game, Smithers is still the only player to record over 140 tackles. The 13 tackles in the bowl game pushed Smithers' total to 153.
Smithers was perhaps the greatest of a long list of dominant safeties from the time. That is until the elimination of the SS2/CB3 position, which provided teams the option of putting a safety in the box almost every play. When this was phased out in S7, the rise of middle linebackers began and safeties returned to their role as ballhawks.
No one has ever been able to put real pressure on this record. The gap between Smithers and 2nd place (Nate Jones, S3) is the same gap between 2nd place and 9th place. Even with the best efforts, the only recent challenge close was Rocky Dale, looking at 135 total in Season 12.
#4 Career Broken Tackles – Frost Carlson 186 (S3-S6)
Frost Carlson was known as one thing, a bruiser. He was the leader of an Ohio State team whose main goal was to dominate the trenches and win between the tackles. His efforts made him the first running back to win Offensive Player of the Year.
He never had a season below 40 broken tackles. This gives him a 40-tackle advantage over second place on this list (Robert Davis). No one has been within 60 tackles of him since he graduated, showing just how great this bowling ball was throughout his career.
It isn't like there haven't been great running backs since Frost Carlson hung it up. However, with the current way running backs are utilized, it's unlikely we see this record be broken.
#5 Single Game INT Record – Ayden Martinez 9 (S16 W1)
This is the most recent of the unbreakable records and also certainly the least desirable record of them. Nine interceptions in a single game, at face value, seems unfathomable. There are often entire games where a team won't possess the ball 10 times, much less end up throwing an INT in all 10. For now, this record seems safe, although I'm sure Ayden Martinez wishes it wasn't.
Records are meant to be broken. Many around look at the record book and dream of finding themselves atop. When old records fall we all can sense a special moment in which one overcomes massive odds to topple the greatness which preceded them. As unbreakable as any record may seem, a day comes when they will fall. It is only a matter of time.