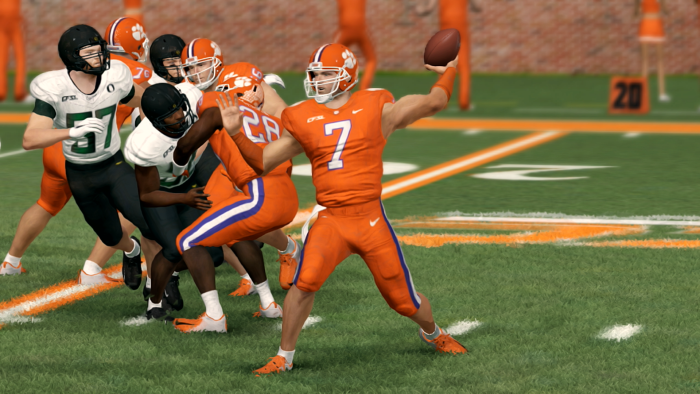 BY: Tony Papol (@SGEasty)
Season 18 is almost here! We have gotten our first taste of CFSL action with the North vs South and East vs West Newcomer Games and the East vs West Senior Game, which were instant classics. Leading up to the Inside Blitz podcast and the opening whistle of Oklahoma State and Miami, we all have preconceived notions about which teams are the best and which need a bit of luck this season. Some teams are generating lots of hype, while others are flying under the radar.
Every season offers us lots of tasty surprises, whether that be an impressive Ohio State for most of Season 15 or a struggling Boise State in Season 16. Let's look at some programs that just might surprise the league this season.
B1G
The Good
Clemson's Offense
Clemson has struggled the past several seasons. They have never found the consistency to rise into that "average" category of CFSL teams. This season, their defense is lacking some depth at key positions. However, the Tiger's offense consists of five elite, experienced talents ready to put lots of points on the board. In an air raid playbook, QB Loki Gunderson will be able to let loose and find his talented receivers all over the field. The defense will give up points, but the offense has the quality talent to keep them in most games and score some upsets.
Illinois's Defense
The Illini have gotten a lot of deserved attention this offseason for signing a talented transfer and recruiting class. Most of that hype comes from the signing of HB Josiah Henry, who Ryan Moreland said was living "in an imaginary land where he is the GOAT at everything." However, that attention should be instead focused on the defensive side of the ball. Three elite cornerbacks, three elite defensive linemen, two elite linebackers, and two elite safeties form the core of a dominant squad. You know in the Illinois Orange and Blue game, the defense was giving QB Dylan Shumate, Henry, and the rest of the offense all they could handle.
The Questionable
Oklahoma's Roster
It's no surprise that Oklahoma generated a lot of buzz this offseason by signing a large recruiting class comprised of three elite players and seven five-stars. That is a lot of talent, but how far does that go in revitalizing their roster? Most of their offensive and defensive starters will be underclassmen, and they lack quality depth at many positions on the defensive side of the ball. Over the past three seasons, the Sooners are 1-5 against rivals Oklahoma State and Texas and are 10-16 over those three full seasons. Do they have enough talent and depth to finish above .500?
Oklahoma State's Defense
Oklahoma State is undoubtedly the team to beat in the CFSL this season, as they are firmly in the middle of their dynastic run. However, they no longer have the most talented roster compared to teams like Kentucky or Florida. The defensive side of the ball is where the Cowboys have won their championships, relying on incredible defensive line and secondary play. This season, at least early on, the dominant defensive line and linebacker core is missing the depth we have become used to, especially at the DT position. Teams might be able to take advantage of running the football up the middle of the field, as their defensive secondary is still a no-fly zone. Can the defense support a fourth straight title game appearance?
SEC
The Good
Alabama's Defense
The Crimson Tide have been known for several seasons to be a team that wins by scoring a lot of points, reminiscent of modern real-life BIG XII football. This season, they may be more like their real-life counterpart than ever. With quality talent at each defensive position, highlighted by defensive linemen Tyleek Tyree and Hiro Nakajima, corners Bradley Chares and Alexander Kirsch, and one of the best linebackers in CFSL history in Ryan Schultz, it is easy to see how Iowa … erm, how Alabama will be a serious contender for the national championship.
North Carolina's Defense
AD Daniel Gunn has done a great job of accumulating a very talented roster in Chapel Hill, and that is exemplified by their defense. A big defensive line led by Jeff Knight and a stacked linebacker room featuring three elites and one star will make running the football very tough against the Tar Heels. But that front 7 is backed up by great depth at the corner position, so offenses need to pick their poison against this North Carolina team. They lack the depth to enter that "elite" tier of teams, but they firmly step into the "above average" category.
The Questionable
Kentucky's Offense
Kentucky is the most talented team in the league, with only one player not being an elite or a 5-star. Their defense will be incredibly fast, strong, and dynamic, and is championship quality. The concern is their offense, specifically their wide receivers. Led by All-American Ken Dixon III and complemented nicely by JJ Lang, the rest of the wide receiver room is a bit lacking in talent compared to the rest of their phenomenal team. Can QB Charlie Sammons rely on his targets enough in the passing game? Or will he rely on Dixon and Lang to have AA-type seasons to win a title?

West Virginia's Roster
The Mountaineers have generated lots of hype, considerably more than programs that recruited similar amounts of talent in the offseason. They have a fantastic halfback room led by All-American John Paul Smith and a very talented wide receiver room with four quality targets led by Cait Graziano. Their defense is highlighted by defensive end Valentino Villarreal, linebacker Leroy White, and safety Adam Sala, but the rest of the roster lacks the depth at many positions to compete at the elite or above-average levels. It might be best to temper expectations with the Mountaineers and enjoy the ride wherever it goes.
MAC
The Good
Kent State's Offense
As QB Sean Keohane showed in the North vs South Newcomer game, he can throw and run the ball all over the field. He will be a nightmare for coaches in the MAC to defend against. Complimented by an elite HB in Aldous Sampson, the Golden Flashes have one of the best read-option run games in the country. And with WRs Tanner Wilson and Carter Manning, Kent State has solid options in the receiving game as well. Don't be surprised if the Flashes make some noise in the MAC this season.
Northern Illinois's Defense
Northern Illinois has a very solid roster in general, but their defense will keep them in games against Power 2 opponents and give them a chance to repeat as MAC Champions. The defensive front is the Huskies' weakest position, but it is still dominated by defense tackle Anthony Kuehler, who has 25 career sacks and 40 career TFLs. Both the linebackers and cornerbacks are starting two five-stars, and the safeties are supported by an elite and a five-star. That is a defense some of the P2 teams would like to have. Eastern Michigan is the favorite to win the MAC this season, but don't sleep on NIU.
CFSL
The Stinky
Georgia's Entire Coaching Staff – Who else could it be?