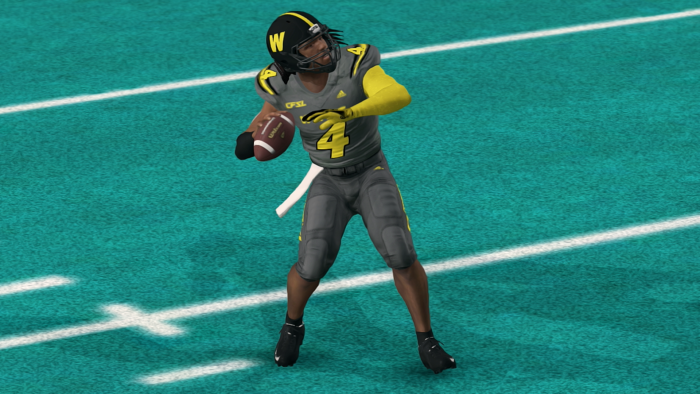 BY: Tony Papol (@SGEasty)
As is often said, there is no more important position on a football field than the quarterback. They are crucial to the passing game and can be an excellent addition to a team's rushing dynamic. They are the gunslinger, the field general, and the "Blue 42."
With Season 18 of CFSL action starting tonight, let's go through the tiers of quarterbacks that will start for all 26 teams this season.
"Freshmen"
This tier is for the QBs that we have yet to see play (whether they are actually freshmen or not).
Andrei Belov, Ohio State, Sophomore
The only time we have seen Belov in any action was in the Season 17 Newcomer game. What we saw was a competent pocket passer. However, the jury is still out until we see more of the Russian Rocket.
Zeus Claydon, Florida State, Freshman
The hype is big around Zeus Claydon. He looked great (albeit slow) in the Newcomer game this season. He is taking over the helm of a very talented Florida State team. Can the freshman do enough to keep their championship hopes alive?
Owen Dart, Ohio, Freshman
This dual-threat QB showed off his skills in the Newcomer game. Ohio is no stranger to talented QBs, but they haven't seen this kind of running ability at the position in a long time. Can the Bobcats use Dart's wheels to make some noise in the MAC?
Sean Keohane, Kent State, Freshman
Keohane is another freshman with a great rushing ability. Kent State has finished second to last in back-to-back seasons in the MAC. Can Keohane be the answer to their prayers?
Good in the Right System
The quarterbacks in this tier are either of lesser overall talent and have excelled in the right system or have struggled so far in their careers and are waiting for that breakout season in the right scheme.
Greg Cooksey, Eastern Michigan, Sophomore
Greg Cooksey's 122.5 quarterback rating is the lowest of any starting quarterback this season (not including the "freshmen,") and his .644 completion percentage is near the lowest. He is just a sophomore and now has a very talented team surrounding him at Eastern Michigan, so let's see if he can raise those numbers this season.
Tony Ellis, West Virginia, Senior
West Virginia's Tony Ellis has one of the lowest QBRs and a below-average completion percentage, but it is his ratio of 33 touchdowns to 27 interceptions that lands him in this tier. With loads of talent at the wide receiver position in Morgantown, can the senior lead the Mountaineers with great success?
Brantley Gauci, Oregon, Junior
Brantley Gauci's QBR and TD-to-INT ratio are both well below average, but he does have a respectable .681 completion percentage. Oregon might struggle this season, and the Ducks likely need to utilize Gauci in a dual-threat role to maximize their offensive output.
Shaker Mayflower, Pittsburgh, Senior
If this was a category list, Shaker Mayflower would be a member of a Tier that will appear later in this article. However, the journeyman QB (S15 and S16 at Florida, S17 at Kent State, S18 at Pittsburgh) has the second-lowest QBR and has the second-most interceptions of any QB on this list, having more INTs than TDs. The Panthers will be relying on his senior leadership this season to reach the playoffs.
Terry Olliff, Northern Illinois, Junior
Terry Olliff is the face of this tier. Despite having the lowest completion percentage of any QB in the CFSL he thrived in NIU's offensive scheme last season, leading the Huskies to a MAC title. The other members of this tier and their ADs should use Olliff as inspiration.
Baker Thomas, Auburn, Junior
Despite having an above-average completion percentage and the second-most rushing yards of any active QB, Thomas still finds himself here. Auburn's signal caller has more interceptions than touchdowns and has a well-below-average QBR. Auburn needs to find a way to maximize its performance of Thomas as they have a very special athlete on their hands.
Promoted QBs
Del Toro, Notre Dame, Junior
With a good Season 17 performance, Del Toro is one of two QBs to earn a promotion from the MAC to the P2 this season. A lot of fantastic QBs in CFSL history have spent time in the MAC, so that should relieve some of the pressure off the junior signal-caller. However, he has now entered "the big leagues" as they say, and we'll see if the Fighting Irish starter can maintain his performance.
The Franchise QBs
The members of this tier have been the starters for their entire careers in the same program. There is a fifth member of this category, but we will get to him later.
Loki Gunderson, Clemson, Senior
Gunderson has shown that he can run the football in the pistol offense, but his arm is where his true value lies. A below-average completion percentage is made up for by a 65-43 TD-INT ratio.
Ayden Martinez, North Carolina, Senior
Perhaps it isn't a shock that Ayden Martinez is the active leader in interceptions thrown, but I bet many would be surprised to know that Martinez is third in passing yards amongst active QBs.
Derrick Power, Oklahoma, Senior
Power's stats have been hindered a bit by the Sooners running the triple option in Season 15. Stats aside, Power is a solid and reliable signal caller for Oklahoma.
Dylan Shumate, Illinois, Senior
Shumate has among the lowest QBRs and completion percentages in the league, but he now has so much talent surrounding him at Illinois. Can the fourth time be the charm?
We will see what these seniors can do in their swan song seasons. Some have had more success than others, but there is something to say about loyalty to a program and the confidence that their ADs have in them.
Good, but not Great Good. Just Kind of Regular Good
These are the guys who have shown flashes of greatness but have never quite been consistent enough to find themselves in a better tier.
Kyson Carey, Bowling Green, Junior
Kyson Carey was a backup for a season at Boise before starting at Bowling Green last season. He returns to BGSU after a great performance last season. Carey threw over two times as many TDs as INTs in Season 18. This was despite not playing with the best talent. Bowling Green is behind the 8-ball again this season, but we'll see if Carey can continue to take advantage of MAC secondaries.
Topher Foreman, Michigan, Junior
Coming off a National Championship runner-up performance in Season 17, Foreman and the Wolverines will look to continue their success. Topher has a superb TD-INT ratio, but he just lost his biggest target to the transfer portal. How will the Michigan QB respond?
Charlie Sammons, Kentucky, Junior
With the third-highest completion percentage amongst active QBs, Charlie Sammons made the move to Kentucky where he heads an extremely talented roster. He should flourish in the Wildcats' system in Season 18 and add to his legacy. Can Syrok use him effectively and get Kentucky to make a deep postseason run? A good season from Sammons and he easily moves up in the tier list.
Avery Ware, Texas, Junior
Is Texas back? That's like asking how many licks it takes to get to the center of a Tootsie Pop. The world may never know. Or maybe it will in about four or five licks … er, weeks. But the mediocre performance of Texas the last few seasons has not been due to their quarterback. Ware has a very good completion percentage and a good TD-INT ratio. We'll see how he is used this season in Austin.
The Where Am I Now? Tier
Sam Dobbins, Toledo, Junior
This tier solely belongs to Sam Dobbins, as he is in his third program in three seasons. Despite having the second-highest QBR of any active quarterback (and the highest of any who has spent his entire playing career in the P2) the teams Dobbins has been on haven't had much postseason success. He could be in store for a monster season for Toledo as the field general made the move to the MAC for Season 18.
Generational … So Like Two a Season
This tier is reserved for the truly great quarterbacks in the CFSL. Many of these quarterbacks have won postseason awards, and all have had fantastic careers to this point.
McKade Alber, Boise State, Junior
Coming off an Offensive Player of the Year performance, McKade Alber makes the jump from the MAC to the P2 to lead the Boise State Broncos. He has the highest active QBR rating currently in the CFSL, but he will be challenged more this season in the P2. Can he continue to build on his impressive legacy in Boise?
Beau Dale, Florida, Sophomore
Beau Dale had a monster season in Season 17. He won Freshman of the Year by throwing for 5,190 yards and having a completion percentage north of .700. Florida once again brings a stacked roster to Season 18. Is Dale the QB to lead them to that elusive national championship?
Ludwig Friedman, Georgia, Junior
Friedman, the Season 16 Freshman of the Year, had an incredible freshman campaign leading Eastern Michigan to the semifinals. This was by far the farthest a MAC team has ever progressed. After a decent campaign at Georgia last season in his first in the P2, will the Salzburg Slinger lead Georgia on a deep postseason run?
Cece Range, Alabama, Senior
Cece Range is among the best quarterbacks the league has ever seen. He will almost certainly set the CFSL record for passing TDs this season, and he has a chance to set other records in completions, attempts, and passing yards. And, of course, he wouldn't be Cece Range without being third actively in INTs thrown. Range has a fantastic roster at Alabama this season, can he lead the Crimson Tide to a title?
Mateo Walker, Miami, Junior
As others and I have been saying for several seasons, Mateo Walker is an extremely underrated QB in the CFSL. He has had a fantastic career through two seasons with Miami and will likely have another this season. He could eventually shatter the passing yards record if he keeps on his current pace. With four elite wide receivers on the Miami roster, I don't suspect that will be a problem this season. The offense will be fantastic with Mateo at the helm, but will Miami finally make it to the championship game?
The GOAT
Ryan Moreland, Oklahoma State, Senior
Moreland is the 5th member of the Franchise QB category, but he stands head and shoulders and chest and abs and waist above the rest. He has led Oklahoma State to two national championship titles and three straight title game appearances. He will likely set the CFSL record for completions, attempts, and total touchdowns, and might finish the season with the passing yards record as well. He could also be the first CFSL QB with three national titles and four title game appearances. He currently does not have a losing record against any team in the CFSL, and he is amongst the winningest QBs in CFSL history, in terms of total wins and win percentage. He also has a chance to finish his career with over 1,000 rushing yards, showing that he is a very capable runner as well as an all-time passer.
Record Watch
This season, all of the QB records could be broken. At the top of the list will be the all-time leader, followed by the 5 highest active players.
Completions
| | |
| --- | --- |
| Player | Competitions |
| Phil Camit (Current Record Holder) | 1,541 |
| Ryan Moreland | 1,340 |
| Cece Range | 1,106 |
| Mateo Walker | 862 |
| Ayden Martinez | 854 |
| Ludwig Friedman | 803 |
Attempts
| | |
| --- | --- |
| Player | Attempts |
| Phil Camet (Current Record Holder) | 2,163 |
| Ryan Moreland | 1,873 |
| Cece Range | 1,582 |
| Ayden Martinez | 1,232 |
| Dylan Shumate | 1,199 |
| Mateo Walker | 1,173 |
Passing Yards
| | |
| --- | --- |
| Player | Passing Yards |
| Jim Carr (Current Record Holder) | 16,989 |
| Ryan Moreland | 13,218 |
| Cece Range | 13,218 |
| Ayden Martinez | 9,813 |
| Mateo Walker | 9,186 |
| Loki Gunderson | 9,000 |
Passing TDs
| | |
| --- | --- |
| Player | Passing Touchdowns |
| Doug Day (Current Record Holder) | 139 |
| Cece Range | 114 |
| Ryan Moreland | 100 |
| Mateo Walker | 68 |
| Loki Gunderson | 65 |
| Dylan Shumate | 63 |
Total Touchdowns
| | |
| --- | --- |
| Player | Total Touchdowns |
| Moses King (Current Record Holder) | 160 |
| Ryan Moreland | 132 |
| Cece Range | 118 |
| Mateo Walker | 76 |
| Loki Gunderson | 73 |
| Avery Ware | 70 |
Interceptions
| | |
| --- | --- |
| Player | Interceptions Thrown |
| Phil Camit (Current Record Holder) | 73 |
| Ayden Martinez | 56 |
| Shaker Mayflower | 55 |
| Cece Range | 54 |
| Dylan Shumate | 48 |
| Ryan Moreland | 44 |