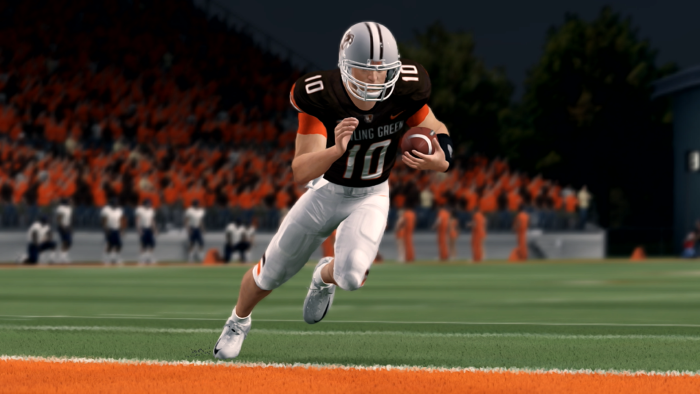 By: Cory Dobbins (@Dobbins)
A new season is upon us and the CFSL looks to have as more parity than ever. That even extends to the Mid-American Conference. The league, as always, will start with interconference play and it is a chance for MAC teams to see how they stack up against the Power Two teams. Let's take a look at the MAC vs Power Two matchups and make some predictions. Who will be able to pull the elusive Power 2 upset in Week One? 
Bowling Green at Pittsburgh
Bowling Green starts the season in Pittsburgh. Panther QB Helix Myers' reign has come and gone. Enter CFSL journeyman QB Shaker Mayfield. You can expect a heavy dose of the big, bruising halfback Derek Eldridge. Can BGSU's young front seven slow this Pitt rushing attack?
On the other side, the Falcons return junior signal caller Kyson Carey. Carey threw for over 3,000 yards and 25 TDs last season in his first season as a starter. I am looking for even bigger numbers this season. I am putting Pitt on upset notice. 
Prediction: Bowling Green 42, Pittsburgh 38 
Oregon at Eastern Michigan
Eastern Michigan is the most hyped team in the MAC after bringing in an impressive recruiting and transfer class. This haul includes MLB Kirby Sierra and four top 20 recruits. Can they live up to the hype and make a run like they did in the Season 16 playoffs? Their journey starts in Eugene against Oregon. Oregon has been down the past couple of seasons and lost to Toledo last season in the season opener. EMU returns Greg Cooksey to lead their air raid offense another season. I love what Coach Blanton is building, but I am going to take a wait-and-see approach with this team. Give me Oregon by 14. 
Prediction: Oregon 35, EMU 21
Auburn at Kent State
Kent State brings in a young, promising freshman QB Sean Keohane to the plains in Aw-burn to start the season. Auburn has been on the struggle wagon for multiple seasons now. Auburn Junior QB Baker Thomas is the bright spot on an otherwise average team. If the Golden Flashes slow him down, they win. I think they do and pull off the win. Alabama fans everywhere rejoice at the Tiger's expense. 
Prediction: Kent 49, Aw-burn 42 
Northern Illinois at Georgia
Northern Illinois drew a tough opening matchup with the Georgia Bulldogs. I know Northern Illinois is a very good team, but this is a mismatch. The best-case scenario is RB Dustin Roller grinds out some long drives and keeps it close. Give me the Dawgs by 30+. 
Prediction: Georgia 49, NIU 14
Ohio at Ohio State
Ohio drives up the road to Columbus to face off against THE Ohio State University Buckeyes. Ohio is a very young team and is looking to prove themselves. I like the reports I am hearing about freshman QB Owen Dart. Junior transfer LB Cristiano Valentine might be the best defensive player in the MAC. I just don't think this team is ready yet to pull off the Power 2 upset. Give me the Buckeyes in this one.
Predictions: Ohio State 38, Ohio 13
Toledo at Texas
Toledo (I will try to be as unbiased as possible) travels down to Austin to take on the Longhorns of Texas. Toledo may have the best QB/RB duo in the nation in Dobbins and Knerr. The defense is young and will take a few lumps to start the season. Will the Dobbins and Knerr read option game be enough to keep the game close? Will one of the freshmen WRs step up and become that true number one WR the team needs? Can this inexperienced defense slow down Texas QB Avery Ware? I would love to see it! Texas is just too much down the stretch and pulls away in the end. 
Prediction: Texas 49, Toledo 35