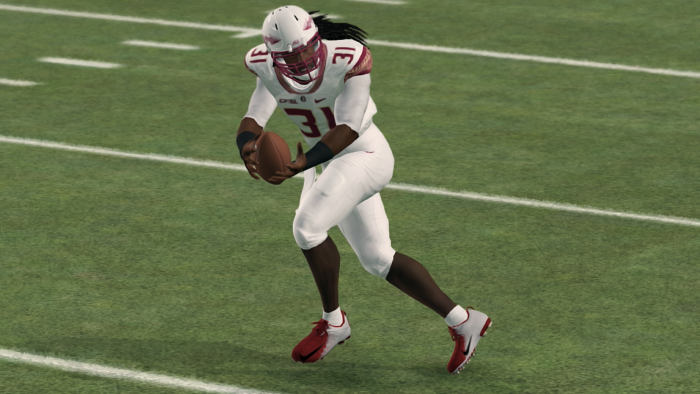 By: Ryan Moreland (@ryanmoreland)
The first week is in the books and there is a lot to cover. Let's dive in.
The Master Becomes the Master
The are many marks of a great Athletic Director in the CFSL, like winning titles and great recruiting classes. Another way would be the talented coaches that they groom. And few have been better at that than Florida State's Tom Pence (aka Grin). In fact, he may have been too good at it.
Ever since Aaron Ike left Florida State he has had Pence's number. Ike's first game as an AD was a 62-21 beat down of his former team. The next season Ike once again met his mentor, this time in the playoffs. Once again Ike would come out on top (27-20) on the way to Michigan's first Championship appearance.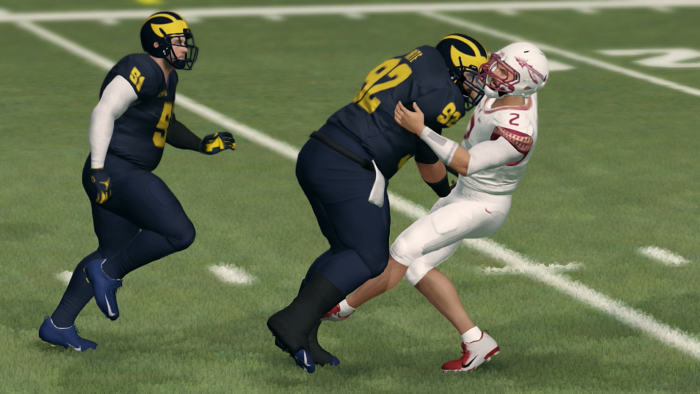 You can see why this was a major storyline heading into the Week One matchup between Michigan and Florida State. In what has to be a Game of the Week candidate, these two teams battled to the last second of this game. Florida State outlasted Michigan beating the Wolverines 52 to 49. This marks the first time that Pence has gotten the better of his former protege.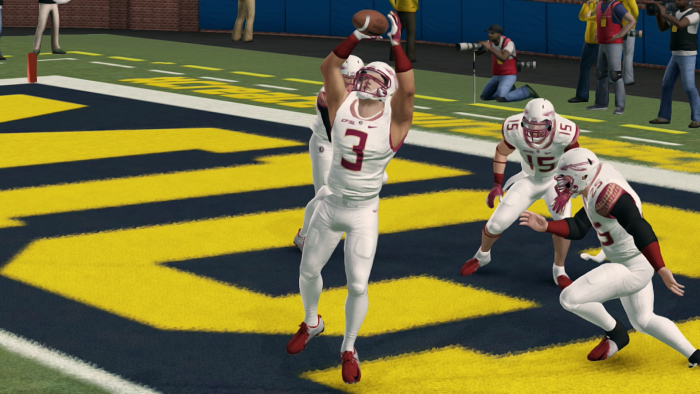 The future of this series should be just as interesting. The league knows exactly how great Pence has been at Florida State and Aaron Ike has proven himself to be a talented gameplanner. It isn't crazy to think that we could see these two teams play once again in the playoffs. But for now, the storyline of Ike's reign over Pence has come to a close. The Master has become the Master.
The Redemption of Ypsilanti
Eastern Michigan would rather forget what happened last season. The Eagles lost every game they played in and they did so in spectacular fashion. EMU lost by an average of more than 33 points per game. Heading into the offseason before Season 18 they had far more questions than answers and a restless fanbase. Yet, despite the down season EMU decided to stick with Head Coach Trellis Blanton.
Blanton (aka SirWyvern) has a disability that makes recruiting more challenging. As those of us who recruit know, it can already be a challenge in itself. This made it difficult for Blanton to build a roster last season. However, this season Mike Peters came over to help out. "Mike came in this season and made a lot of things possible for me in recruiting," Blanton said. This move would make all the difference.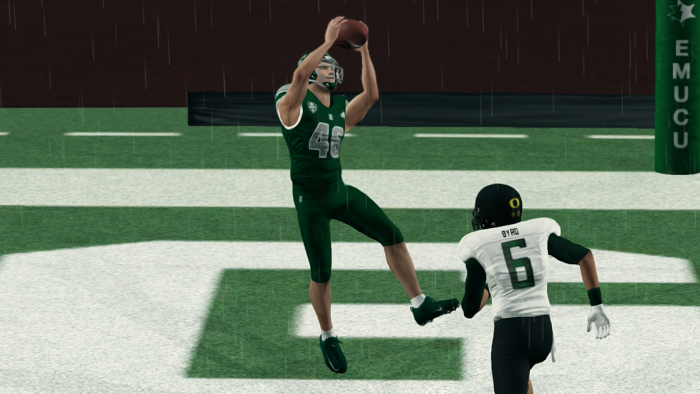 It didn't take long for the team's faith in Blanton to pay off. This offseason Eastern Michigan had one of the best recruiting classes ever by a MAC team. They have been a popular pick to win the MAC this season. The hype was real, but would the Eagles live up to it?
This week they started the season with a close win over Oregon. "After our win, our locker room was absolutely insane," Blanton said. And insane it should be. Not only did EMU already beat their win total from last season, but they also found themselves with an early lead in the conference. They were the only MAC team to score a win in the opening week.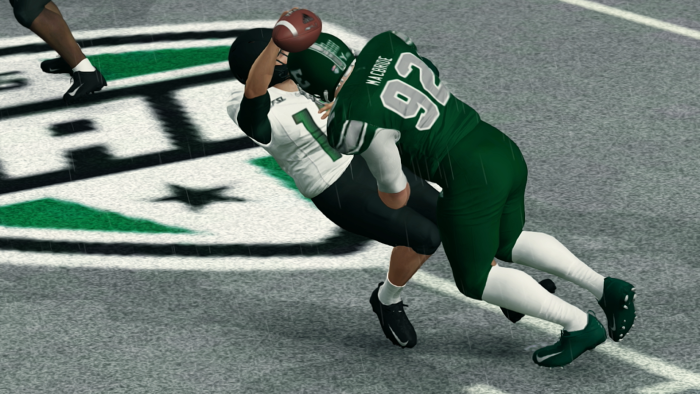 But one win isn't the goal. This EMU team has its sights set high. "I feel very, very, very confident that we will be in the MAC Championship," Blanton said.
The journey for a second conference title in the team's history continues this week as the Eagles head to Auburn. It will be a tough matchup, but the Ypsilanti faithful believe in this team and its Head Coach. I, for one, will be rooting for the Eagles this season. Good luck Coach Blanton.
The Battle for Power (Two)
There has been a lot said this offseason about how dominant the SEC appears to be. Well, so far, their dominance isn't easy to see.
This week there were five games played between SEC and B1G teams. The SEC won three of these games. Here is a breakdown of those games:
SEC vs B1G
Miami 59, Oklahoma State 34
Boise State 34, Alabama 32
Florida State 52, Michigan 49
Notre Dame 44, North Carolina 41
Florida 44, Oklahoma 32
As you can see, the SEC still came out on top. However, given the talk this offseason about how great the SEC is, this was not the showing many of us suspected. The question then becomes why did this happen? Is the CFSL's southernmost conference overrated? Was this just lucky scheduling for the B1G?
We can all make our speculations, but we won't truly know until later in the season. Lucky for us, there is a fresh slate of great interconference matchups this week and the week after. Will the SEC prove the hype true or are these conferences closer in talent than we expected?
SEC vs B1G Week Two
Here are the matchups between the two power conferences that we will see this coming week.
SEC vs B1G Week Two
Texas at Alabama
Michigan at Florida
Week Three
Georgia at Illinois
Florida State at Notre Dame
Miami at Boise State
Kentucky at Oklahoma State
Who Impressed Me This Week
Loki Gunderson, Clemson QB
Gunderson had a great season last year but had inflated numbers thanks to inferior competition. Or at least, that is what I thought. This week he completed 83% of his passes for 446 yards and three touchdowns against a talented Illinois defense. This was an impressive game, even if Clemson was unable to get the win.
Ronnie De La Rocha, Florida State HB
De La Rocha is ready to pick up right where he left off. RDLR rushed for 111 yards and two scores against the fierce Michigan defense. There is no question that his impressive performance was integral to the big win. This is De La Rocha's sixth game with over 100 yards rushing.
Maalik Henderson, Notre Dame WR
There is an adjustment when someone moves from the MAC to a Power Two team. Or at least there is for people not named Maalik Henderson. Henderson caught nine passes for 223 yards and a touchdown. Not only was this a career-high for yards, it also set the Notre Dame Single-Game Record for receiving yards. Not bad for your first game with the big boys.
Miami's Defensive Line
Jay Gates, Laci White, and Daniel Winston combined for eight sacks and 11 TFLs in their game against Oklahoma State this week. Thanks to this effort Miami was able to handily beat the Cowboys in a statement win. Gates is currently tied for first in sacks and TFLs. White is tied for third and fourth, respectively. And the QB that they just destroyed is still feeling the sting.
Jaxson Vernal, Oklahoma CB
Vernal had two interceptions last season as a Toledo Rocket. He has already tied that total in his first game as a Sooner. This includes a long pick-six that helped pull Oklahoma back into the game against Florida. While the Sooners were unable to beat the Gators, they did hang a lot closer than the 18.5-point spread. And Vernal is a big reason why the Sooners were able to keep it close.
Maverick Rivers, Kent State MLB
Kent State suffered a big loss to Auburn, but it was not because of the play of their star linebacker. Rivers had 15 tackles, 3 TFLs, 1 sack, 1 interception, and 1 pass deflection. This was a true demonstration of Rivers' varied skill set. His 15 tackles were also good enough to tie the second most ever by a Kent State player. He tied himself. He also only trails himself.
Dakota Jorgensen, Boise State AD
According to Sportsbook spreads, there was only one upset this week. That, of course, was Boise State's 34-32 victory over Alabama. This was a complete team effort and an impressive win over a great team. Hats off to Clutch and his team.
The Adieu Haiku
You can't win them all
If you don't win the first one.
But it's just one week.