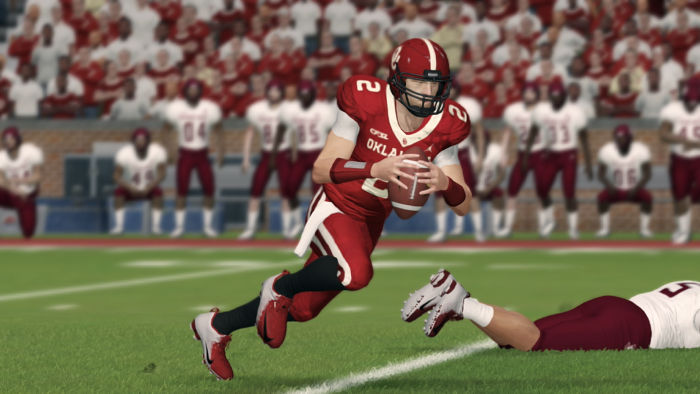 By: Cole Mantell (@colemantell)
What is one fact about you the audience might not know that you think they should?
"I'm the biggest Taylor Swift fan. She's the goat."
You heard it here first. The CFSL's newest Athletic Director is not afraid of what people think of his music choices and wants everyone to know it. No word yet on a reaction from the league office.
This will be the second season we follow the new Athletic Directors in the CFSL, and this season is somewhat unique. Unlike previous seasons, while there was some turnover in MAC, Vinny Mixon is the only new Athletic Director at the Power 2 level in Season 18. Vinny is no stranger to Oklahoma of course, having previously been an assistant coach to former AD Dustin Hall, now at Notre Dame. With this in mind and a successful season at Toledo in the MAC in Season 17, Vinny seems like a natural fit to take the reins in Norman.
He's been busy this offseason as well. Hitting the ground running, Oklahoma went out and landed 19 recruits, including 10 five-star rated players. While Vinny when asked was quoted as saying "Rome wasn't built in a day" when it comes to roster building and the culture of this team, he certainly is off to a running start in Year 1 in Norman.
It isn't all new faces on the team as well. Derrick Power returns for his Senior season and notably, the Sooners kept a few key pieces on defense instead of losing them as often happens when there is a change of the head of a program. Oklahoma took the Vanderbilt (Multiple) playbook this season, a continuation of Vinny's scheming at Toledo as well. With his previous familiarity with the Oklahoma staff, there are a bunch of building blocks to success here already.
Of course, it won't be easy. No Power 2 team is going to be able to get through the regular season without a big test, and Oklahoma has been a prime example of this the last few seasons. No matter what progress you make, fans will be comparing the program to the rival CFSL program in Stillwater. One that has two championships in the last three seasons, and has the upper hand recently in the Bedlam rivalry. With all of that said, the only way to beat the best is to play the best. Vinny Mixon certainly will have plenty of those big-game opportunities early in his tenure at Oklahoma. It will be fascinating to see how he approaches said games.
We already had a preview in Week 1. Oklahoma drew a bad hand for non-conference and got a team from last season's final four. Florida might have the best offense in the country right now, with reigning Freshman of the Year Beau Dale making his Sophomore debut in Norman for Week 1. It was a back-and-forth affair, with both Florida and Oklahoma showing some great offensive fireworks. While Florida showed some experience and pulled ahead late, there certainly was a lot to build on here, including nearly 200 receiving yards from Ty Wolfe. This should be a fascinating storyline to watch this season, and Vinny certainly was excited in our interview to prove himself among the 20 Power 2 teams.