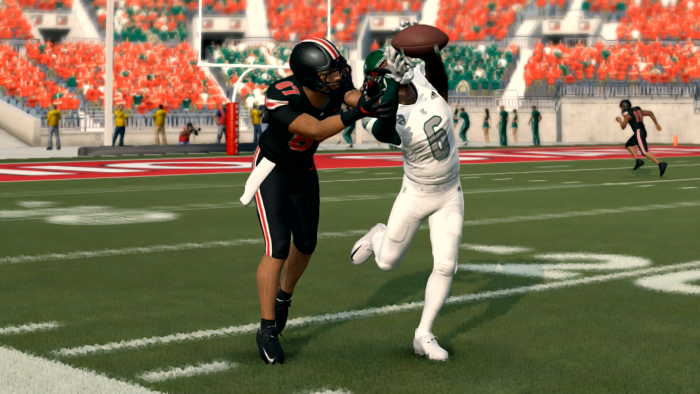 By: Ryan Moreland (@ryanmoreland)
The last week of interconference play did not disappoint. There were shocking upsets, down-to-the-wire games, and plenty of fantastic storylines. Let's dive into what caught my eye last week.
The Unbeatens
At the start of Week Three, there were eight unbeaten teams. Going into Week Four there are only two left. Auburn, Kentucky, Florida, Florida State, Texas, and Illinois all lost for the first time this week. Now, only Miami and Notre Dame have been unscathed.
Odds are that Notre Dame will be able to stay that way (for now at least). This week the Irish host an Ohio State team that was just blown out by Eastern Michigan. Never say never, but Notre Dame should capture the win.
Things for Miami aren't so simple. They will host Florida this week. The Gators are coming off their first loss, but have been red hot this season. Can the Gators be the first team to upset the Hurricanes, or will Jay Gates' squad continue to roll? Time will tell.
MACtion
Coming into Week Three the MAC had won one of its meetings with Power Two teams. This week MAC teams won three games and looked great doing it.
The first was Toledo's 59-27 upset of Pittsburgh. I can confirm that I didn't see this one happening. In fact, I took Pittsburgh in Survivor this week (so, thanks Toledo). Anyway, the Rockets came into this one ready. The Panthers had no answer for Toledo's balanced offensive attack. Toledo had over 250 yards passing and rushing. The Rockets also won the turnover battle 5-0. This was a statement win for George Yost and his team.
The next MAC upset was even more impressive. Eastern Michigan (who was the only MAC team to have a win before Week Three) shocked Ohio State in Columbus. EMU won this game 57-10. They forced five turnovers on defense, had eight sacks as a team, and outgained the Buckeyes by nearly 200 yards. This has to be the most dominant MAC win of time. Congrats.
The last MAC victory was Kent State outlasting Oregon. This game was close from start to finish, but the Golden Flashes would hold on to win 50-45. Kent State QB Sean Keohane threw for 656 yards and six touchdowns as he and his receivers shredded the Duck defense. This was an impressive win.
MAC conference play starts this week and I couldn't be more excited for it. These teams proved this week that they have what it takes to compete with the big boys.
The Battle for Power (Two) Continued…Again
This is a storyline I have followed every week this season. The preseason hype said the SEC would far outplay their counterparts in the north. In the first two weeks of the season, however, that wasn't the case. Going into Week Three the SEC held a narrow 4-3 lead over the B1G. The two conferences played four more games this week. Here is how those games went:
| | | |
| --- | --- | --- |
| Score | Winning Team | Losing Team |
| 58-55 | Notre Dame | Florida State |
| 36-31 | Georgia | Illinois |
| 37-0 | Oklahoma State | Kentucky |
| 33-31 | Miami | Boise State |
As you can see, the Power Two Conferences split their games against each other. This leaves the regular season record at 6-5 in favor of the SEC. While the Southeastern Conference has won this season's battle, the margin was much narrower than many expected. This will be something to remember come playoff time.
Who Impressed Me This Week
Sean Keohane, Kent State QB
Keohane had 656 passing yards and six touchdowns. That kind of performance is impressive on its own. The fact that he did it against a Power Two team makes it that much better. This was a great win and Keohane was a big reason why.
Cortez Largent, Boise State WR
Despite the losing effort, Boise played a great game against Miami. The game was close and Largent was a big reason why. Largent had 11 catches, 161 yards, and two touchdowns. Against this Hurricane defense, that is one hell of an accomplishment.
Brandon Oliver, Georgia WR
221 yards and two scores on 11 snags is a crazy game. Do it against a great Illinois defense in a close game and you find yourself on this list. It is easy to say that without Oliver the Bulldogs do not win this game. Fantastic performance.
Michigan, Secondary
The Wolverines dominated the Texas Longhorns for their first win of the season. They did it by forcing turnovers. CBs Daemon Ike, Tyler Scally, and Josh Hess all had interceptions (along with MLB Alex Holgersen). Ike had two interceptions in this game and Hess took his interception back for an 85 pick-six. This was an inspired performance from the coverage unit and one opposing QBs will take care to remember.
Beau Dale, Florida QB
Look, I know Alabama won this game (and hats off to them), but Dale was spectacular. He threw for over 500 yards and five touchdowns without throwing a single interception. It will still go down as a loss, but it wasn't for lack of quarterback play.
Jordan Baker, Florida State DT
Baker was a one-man wrecking crew this week. Baker had four sacks against Notre Dame. Now, the Irish still got the better of the Seminoles, but I am sure that Zeus Claydon won't forget Baker anytime soon.
Oklahoma State, Defense
Kentucky had the top-scoring offense going into this past week. This Cowboy defense shut them out. Kentucky had 161 total yards and averaged 2.5 yards per play. This was a stellar performance from a defense we've come to expect them from.
Eastern Michigan, The Whole Team
It is hard to point out someone to highlight from this game, as it seemed everyone played/coached at their absolute best. To say this was an impressive win is an understatement. Shout out to Head Coach Trellis Blanton and his team.
The Adieu Haiku
Conference play starts,
Sixteen spots are up for grabs.
Who has what it takes?