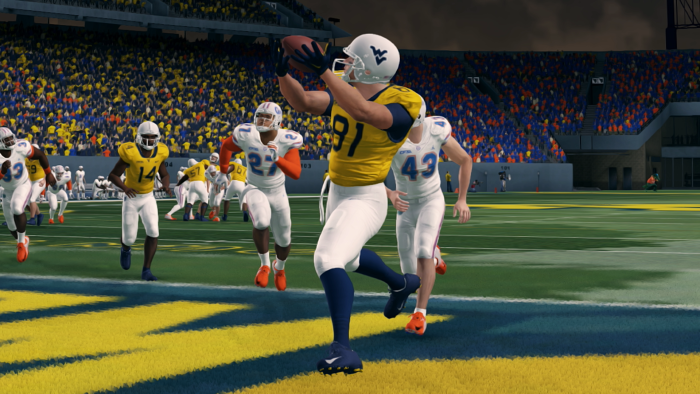 By: Ryan Moreland (@ryanmoreland)
The Giant Slayers
Heading into Week Five we had two unbeaten teams left in the league. Now we have none. The chaos started in the first game of the week. The unscathed Miami Hurricanes were not only undefeated but were dominating good teams. They blew out Oklahoma State and Georgia. They were fresh off a 10-win over Florida.
The Canes traveled to Lexington with all the confidence in the world. Kentucky was started against West Virginia and Toledo, but got boat raced by Oklahoma State and Alabama. This should be an easy win for Miami.
Well, that is not what happened. Kentucky dominated this game from the start. They would go on to win 43 to 14. Only one unbeaten team remained and they lost in somehow an even more poetic way.
Notre Dame's first season with Dustin Hall was off to a great start. Sure, there were questions about their defense (that has allowed 39 points per game), but it didn't matter because their offense has been so dominant (scoring over 50 a game). They were 4-0 and hosting an Oklahoma team that was 0-2 vs top 15 teams. This is the same Oklahoma that Dustin Hall left to take the Notre Dame AD position.
Hall's former team came to Notre Dame and handled the Irish. The Sooners would win 55-45 in a shocking upset. The CFSL has no more unbeaten teams and Kentucky and Oklahoma are giant killers. The rest of you have been warned.
Killing Two Birds in One Week
Surprisingly, this isn't the first time that the last two unbeaten teams both lost in the same week. It has happened a few times in the CFSL (and once in the playoffs). Here is a breakdown of the times the last lossless teams fell together.
| | |
| --- | --- |
| Season | What Happened |
| 18 | Miami and Notre Dame lost in Week 5 |
| 13 | Alabama and LSU lost in the Second Round of the Playoffs |
| 10 | Boise State and Oklahoma State lost in Week Six |
| 4 | Clemson and Auburn lost in Week Four |
Also, having no unbeaten teams left after Week Five is very fast in CFSL history. Only Season 4 saw no unbeaten faster. This is the second straight season in which the last unbeaten team lost in Week Five.
The Bite of the Underdog
The start of Season 18 saw very few upsets (according to Sportsbook spreads). There was only one in each of the first two weeks. In Week Three there were three. However, the last two weeks have seen an explosion of underdog wins.
Last week we had five upsets. That means that 38% of games ended with the underdog winning. That is an incredible number. It is also a number that was shattered this week. Seven of the 13 games this week ended with the underdog coming out with a win. That means over half of this week's games were upsets.
We have already talked about Kentucky and Oklahoma's amazing upsets. They were joined by Ohio on Wednesday night who beat heavily favored Northern Illinois by 12.
Having three upsets going into Thursday isn't abnormal or even noteworthy. That is, as long as Thursday isn't crazy. But this Thursday was crazy indeed. Every single Thursday night game is was won by the underdog. Every underdog was a double-digit underdog.
This started with Ohio State's nail-biting win over Clemson. The final score was 47 to 44. While that game was going on on Twitch there were fireworks going on on YouTube. Toledo beat MAC-favorite Eastern Michigan by 13 in a brilliant game.
The early games were matched in their wildness by the late games. West Virginia was a 19.5-point underdog, but that didn't stop them from beating Florida 30-27. While the Mountaineers did the impossible, Bowling Green was doing the same. The Falcons beat Kent State by three in a wild game.
Seven upsets in a single week (and four in a night) are rare and unbelievable numbers. If you are a favorite, beware. And good luck to everyone when voting for the game of the week!
Biggest Upsets of the Season
The upset-heavy week got me thinking about what the biggest upsets of the season would look like. As you can see from the top 10 largest upsets below, Week Five was exceptionally wild.
| | | | |
| --- | --- | --- | --- |
| Rank | Upset | Spread | Week |
| 1 | Toledo over Pittsburgh | -27.5 | Toledo |
| 2 | Oklahoma over Notre Dame | -19.5 | Week 5 |
| 2 | West Virginia over Florida | -19.5 | Week 5 |
| 4 | Ohio over Northern Illinois | -18.5 | Week 5 |
| 5 | Ohio State over Clemson | -17.5 | Week 5 |
| 6 | Alabama over Florida | -16.5 | Week 3 |
| 7 | Bowling Green over Kent State | -14.5 | Week 5 |
| 8 | Toledo over Eastern Michigan | -12.5 | Week 5 |
| 9 | Kentucky over Miami | -10.5 | Week 5 |
| 10 | North Carolina over Florida State | -9.5 | Week 4 |
| 10 | West Virginia over Auburn | -9.5 | Week 4 |
Who Impressed Me This Week
In honor of the wild week we have had, I have decided to honor the coaches who made these wins possible this week. Therefore, the people that impressed me are:
Derek Hawkins, Kentucky AD
Vinny Mixon, Oklahoma AD
Gene Pettijohn, Ohio HC
TJ Hayes, Ohio State AD
George Yost, Toledo HC
Nate Murphy, West Virginia AD
CJ Furman, Bowling Green HC
Hats off to all of these great coaches and their teams this week.
The Adieu Haiku
Your team was favored,
But the underdog had teeth.
Now it is your turn.