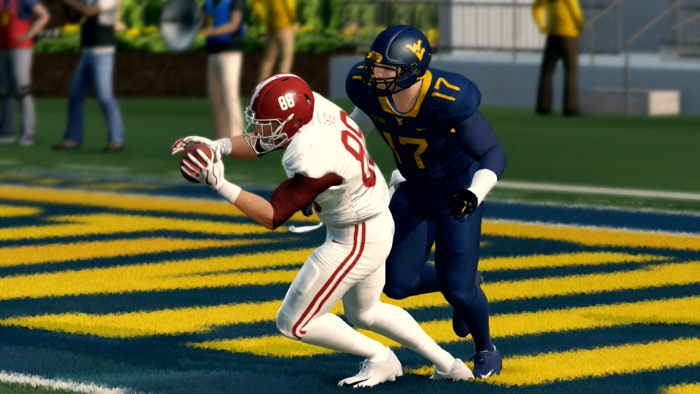 By: Ryan Moreland (@ryanmoreland)
Only 1 team with 1 loss/back to back losses for unbeaten teams
Playoff Scenarios
We are now just two weeks away from the playoffs. Since we are operating in a new playoff system, you might be wondering where your team stands for postseason play. Well, wonder no longer. I am going to jump in with where teams stand right now and what each team's playoff scenarios look like.
Before we jump into the current standings, let's refresh your memory on how the tiebreakers will work.
| | |
| --- | --- |
| Order | Tiebreakers |
| 1 | Conference Record |
| 2 | Head-to-Head |
| 3 | Record vs common conference opponents |
| 4 | Point differential vs common conference opponents |
| 5 | Record vs common overall opponents |
| 6 | Point differential vs common overall opponents |
| 7 | Overall record |
| 8 | Overall point differential |
Now let's look at the current standings and playoff scenarios.
B1G Playoff Scenarios
| | | |
| --- | --- | --- |
| Rank | Team | Conference Record (Overall Record) |
| 1 | Oklahoma State | 4-0 (5-1) |
| 2 | Michigan | 3-1 (3-3) |
| 3 | Oklahoma | 3-1 (4-2) |
| 4 | Illinois | 2-2 (3-3) |
| 5 | Texas | 2-2 (4-2) |
| 6 | Notre Dame | 2-2 (4-2) |
| 7 | Ohio State | 2-2 (3-3) |
| 8 | Boise State | 1-3 (2-4) |
| 9 | Clemson | 1-3 (2-4) |
| 10 | Oregon | 0-4 (0-6) |
As you can see by the table, Oklahoma State has officially punched their ticket. Even if they lose out from here, they can't drop past the fifth place (thanks to head-to-head wins over Notre Dame and Illinois). They are the only team in the B1G that has clinched.
Michigan and Oklahoma are both very close to a clinch. If they win this coming week they both clinch a playoff spot. The only way that these two teams could possibly miss out on the playoffs would be to lose out and one of the 3-1 teams wins out. Michigan has the tiebreaker over Boise State and Oklahoma has it over Clemson. Even if they lose, Michigan would punch their ticket with a Clemson loss. The same is true for Oklahoma if Boise State loses.
The next grouping is Illinois, Texas, Notre Dame, and Ohio State. All of these teams would get in if they win out, but that will be harder for some. Illinois has Ohio State and Oregon left on their schedule. They should be favored in both games. Ohio State, on the other hand, has Illinois and Michigan left. They should be an underdog in both games.
Boise State and Clemson both still control their destinies. Boise State ends the season with Notre Dame. If they win both games, they would be ahead of the Irish and in the playoffs. The same is true for Clemson, who ends the season with Texas. Before they worry about the last game, however, they need to worry about this week. These two teams play each other. While the loser of this game won't be technically eliminated, they will have a difficult road to the playoffs.
Despite being 0-6, the Oregon Ducks still have a chance to make it. If the Ducks win out they could tie the 2-2 group (if they lost out). Unfortunately for Oregon, they would lose the tiebreaker to Notre Dame, Texas, and Ohio State because they lost to them head-to-head. Therefore, Oregon's playoff hopes are tied to Illinois. If the Illini win this week over Ohio State, then the Ducks are eliminated.
SEC Playoff Scenarios
| | | |
| --- | --- | --- |
| Rank | Team | Conference Record (Overall Record) |
| 1 | Alabama | 4-0 (4-2) |
| 2 | Kentucky | 3-1 (4-2) |
| 3 | North Carolina | 3-1 (4-2) |
| 4 | Florida State | 3-1 (4-2) |
| 5 | Miami | 2-2 (4-2) |
| 6 | Georgia | 2-2 (4-2) |
| 7 | West Virginia | 2-2 (4-2) |
| 8 | Florida | 1-3 (3-3) |
| 9 | Pittsburgh | 0-4 (1-5) |
| 10 | Auburn | 0-4 (2-4) |
Alabama is the only SEC team that has clinched. Even if they lost both games, the worst they could finish is 6th in the conference.
Kentucky, North Carolina, and Florida State are all a win away from punching their ticket. The only way they could be eliminated from the playoffs is if they lose out and Florida wins out. A Florida loss would also guarantee all three teams a playoff spot.
The 2-2 group of Miami, Georgia, and West Virginia control their destiny. If they win out, they punch their ticket. All three teams would also punch their ticket with a win and a Florida loss.
The last group is Pittsburgh and Auburn. They both have the opportunity to get in, but they need help. For Pittsburgh, they need to win out and either Miami, Georgia, or West Virginia to lose out. Auburn needs to win both of their games and either Miami or Georgia to lose both (they can't win a tie with West Virginia since they already lost to them).
As a reminder, even not making the top seven doesn't mean you are officially eliminated. One team will get the 16th seed by popular vote. So everyone has a chance to make it.
MAC Playoff Scenarios
| | | |
| --- | --- | --- |
| Rank | Team | Conference Record (Overall Record) |
| 1 | Toledo | 3-0 (4-2) |
| 2 | Eastern Michigan | 2-1 (4-2) |
| 3 | Bowling Green | 2-1 (2-4) |
| 4 | Ohio | 1-2 (1-5) |
| 5 | Northern Illinois | 1-2 (1-5) |
| 6 | Kent State | 0-3 (1-5) |
Only the MAC Champion gets an automatic playoff bid, so the goal is to finish the regular season on top. Toledo has the easiest road. If the Rockets win out then they punch their ticket.
There are still plenty of teams that have a chance to get the automatic playoff bid. Bowling Green is the only other team in the MAC that controls their destiny. They finish the season at Toledo. If they win this week and beat Toledo then they are the MAC Champ.
Eastern Michigan lost to Toledo earlier this season, which means they can't win a tie with the Rockets. That means they would need Toledo to lose both games and they need to win both of theirs.
None of the other MAC teams have a chance to win the MAC. Northern Illinois can't beat Toledo in a tie. Ohio needs Bowling Green and Toledo to lose out, which is impossible since they play each other. And Kent State is too far back to catch up. However, with a strong finish, these teams could get the 16th seed with the at-large vote.
Who Impressed Me This Week
Tatiana Hoops, North Carolina WR
The Tar Heels pulled off a massive upset with a win over Miami and Hoops was a massive reason why. The Hurricanes had no answer for her. Hoops caught 13 passes for 262 yards and 4 touchdowns. Her performance set a new school record for receiving yards in a game and tied the record for receiving touchdowns in a game.
Trystin Haynes, Florida WR
Haynes had 13 snags for 276 yards and three touchdowns in a big win over Auburn. Not only was this an unreal statistical performance, but the win kept Florida's playoff hopes alive. This was the second-most yards in a game in school history.
Jayden Riley, Florida DE
Riley lived in the backfield all game long against Auburn. He had five sacks and six TFLs. Both of these were the second most in a single game for a Gator. This is a performance that Riley won't soon forget.
Zeus Claydon, Florida State QB
This freshman has been impressive this season, but in the last two weeks, he has been on a new level. This week he threw for 455 yards and 6 touchdowns while not throwing a single interception. Claydon led his team over Georgia in a much-needed win for the Seminoles. This was impressive.
Bode Dale, Oklahoma HB
Dale had 177 total yards and a score in this game. But more impressively, he ran for 6.3 yards per attempt in this game. The only thing stopping him from a massive performance was his workload. He was dependable all night and helped his team score a nice win over Clemson.
Daniel Gunn, North Carolina AD
This whole team deserves a lot of credit for their brilliant win over Miami and I am sure Gunn has let them know. Now let's shine a spotlight on him and his coaching staff. They had a great game plan, their players executed it perfectly, and they scored a huge win. Congrats coach.
The Adieu Haiku
Twenty-six started,
Only sixteen will advance.
Who is staying home?