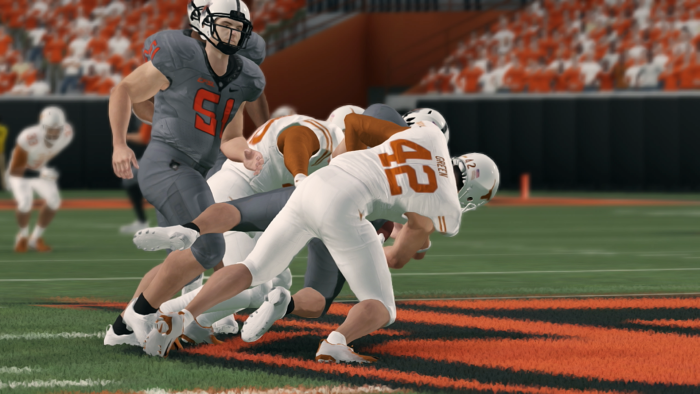 By: Ryan Moreland (@ryanmoreland)
There is only one week of CFSL regular season action left.
Back to Our Roots
A few weeks ago I devoted a section of my column to the fact that there were no longer any unbeaten teams left in the CFSL. This week Texas upset Oklahoma State, who was the last 1-loss team left. Not only is this fitting for how crazy this season has been, but it also marks a return to parity that we haven't seen in a long time.
In the beginning of the CFSL having a team survive the regular season with less than 2 losses was unheard of. No team was able to do it until Season 5 when Ohio State, Texas, and Clemson all finished the regular season with 1 or fewer losses. That started a streak of powerhouse programs dominating the regular season. Since then there has only been one season (Season 10) in which every team had at least two losses before the postseason started.
The league has more parity than it has in a long time. That has created the beautiful chaos that has been Season 18. I don't know about you, but I am excited to see what happens in the playoffs.
The Best Rivalries in the CFSL
Rivalry week starts next week. Teams will line up against the team hate the most. I thought this was a good time to highlight the best rivalry week matchups in the CFSL. My criteria for these rankings are how many times have they played, how close the rivalry has been, and how the rivalry has impacted the league. Without further ado, here are my top five rivalries in the CFSL.
#5 Northern Illinois vs Eastern Michigan
This rivalry (which we should start calling the Pizza Bowl; Detroit vs Chicago) might be overlooked by some, but it has been fiercely competitive. Next week will be the sixth meeting between these two squads. Northern Illinois holds the series lead with a 3-2 record over the Eagles.
While this rivalry might not have been around as long as others, it is competitive and has had a major impact on the CFSL. These two teams have won the last two MAC Championships. This has been a great rivalry and I think that will continue in their next meeting.
#4 The Backyard Brawl
The rivalry between West Virginia and Pittsburgh is newer than many. However, that didn't stop me from including them on this list for a few reasons. First, it has been a competitive series. WVU leads the series 2-1. Also, these two teams seem to hate each other. Some rivalries seem like just another game to the players and coaches. This is not one of those rivalries.
This season hasn't been Pittsburgh's year. But I know that they will leave the season happy if they can beat the red-hot Mountaineers and rattle their cage before the playoffs.
#3 Florida State vs Miami
This has been a stellar rivalry in the CFSL. This season marks the 12th meeting between these two teams. Miami holds a narrow 6-5 lead in the series. This game always seems to have major implications (like it does this season; more on that later) and there have been several memorable matchups. Like Miami being the only team to beat FSU during their Season 14 Championship run.
This season there is a lot on the line. Miami has gone from the best team in the CFSL to barely a playoff team after three straight losses. Florida State could put the dagger in Miami's season by giving them their fourth consecutive loss.
#2 Texas vs Clemson
Picking the top two was tough (I completely understand if you disagree). Texas and Clemson might not be a traditional rivalry in real life, but it has been a heated one in the CFSL. These two teams will be meeting for the tenth time next week. Texas holds a tight 5-4 lead in the all-time series. And there have been some unforgettable games between these two teams. Like Texas' massive 51-21 win over Clemson in the Season 3 Gator Bowl. Or Clemson's 52-47 win over Texas in Season 8's National Championship.
The stakes are pretty high this season. Clemson has been mathematically eliminated from the automatic bid, but a win over Texas could be enough to earn the 16th seed. Also, while Texas has very high odds of making the postseason, they have not completely clinched their spot yet.
#1 The Game
While picking the top two was difficult, this has to be the clear favorite (for me, at least). This will be the 17th time Michigan and Ohio State have met in the CFSL. Michigan holds the series lead at 9-7. Not only have the meetings been very competitive, but the underdog has a habit of winning this game. Like in Season 15, when Michigan gave Ohio State their first loss of the season in the final regular season game. Or the following season when Michigan was an 8.5-point favorite and Ohio State upset them for a chance to play in the B1G Conference Title Game.
This season should be another great game. Michigan will come into this game as the favorite. Ohio State is on the bubble and needs a win to get them a playoff berth. Will this upset trend continue? Either way, this has been the best rivalry in the CFSL.
I know some of you might be upset that I didn't include Bedlam or the Iron Bowl. While these rivalries have long histories in the CFSL, they have not been competitive. Auburn and Oklahoma, time to prove me wrong if you want to crack the top five.
Who Impressed Me This Week?
Jordan Holt, West Virginia CB
West Virginia had a major win over North Carolina this week and their secondary was a big reason for their success. No one in the Mountaineer secondary had a better day than Jordan Holt. Holt had 3 pass breakups and a 48-yard pick-six. He provided lock-down coverage all game. Holt Island is not where you want to be.
Cece Range, Alabama QB
Alabama's gunslinger had a day on Tuesday night. Range threw for 602 yards and seven touchdowns in a big win over Miami. This tied his personal record for touchdowns and was the third time in his career he went over 600 passing yards. An amazing game by an amazing quarterback.
Beau Dale, Florida QB
Denim Dale was at it again this week. His Gators dropped 80 points on the rival Seminoles. Much of that was thanks to eight passing touchdowns (yes, you read that right)! This was the third most passing touchdowns in a single game in Florida history. What a performance!
Maalik Henderson, Notre Dame WR
Henderson has cemented himself as one of the best pass catchers in the CFSL this season. This week Henderson caught 10 passes for 123 yards and a pair of touchdowns. This is the fifth time he went over the 100-yard mark this season. He was instrumental in Notre Dame's playoff-sealing win over Michigan. Keep an eye on this guy.
Ken Dixon III, Kentucky WR
Speaking of great wideouts, did you see Dixon this week? He caught six passes for 186 yards and four touchdowns! Dixon tied himself for the second-most touchdown receptions in a single game by a Wildcat. This guy is a walking, talking touchdown. Great game.
Texas Pass Rush
Texas pulled off a major upset this week with their win over Oklahoma State. They held the Cowboys to just 17 points in this game. This was thanks to a deadly pass rush. As a team, they had six sacks and 12 TFLs. They never let Oklahoma State QB Ryan Moreland get comfortable and they got a huge win because of it. Shout out to Tabitha Duke, Luke Radloff, Robert Green, and Collin McDowell for the bumps and bruises.
George Yost, Toledo HC
Toledo beat down the Ohio Bobcats this week 55 to 3. But that isn't the only reason Yost made this list. The Rockets clinched the MAC Championship with this win (and an automatic bid to the playoffs with it). This is the first conference title in school history. Congrats to Coach Yost and his team on a great season. Good luck in the playoffs.
Tavian Tyree, Alabama AD
Yost isn't the only coach celebrating a conference championship this week. Congratulations are in order for Tavian Tyree and his Crimson Tide team. Alabama locked up the SEC Championship with their win over Miami. This is the third conference title in school history and their second in a row. Great work Coach Tyree and the Alabama Crimson Tide.
The Adieu Haiku
No team stands unscathed.
Bruised and scarred, but not finished.
Who has what it takes?