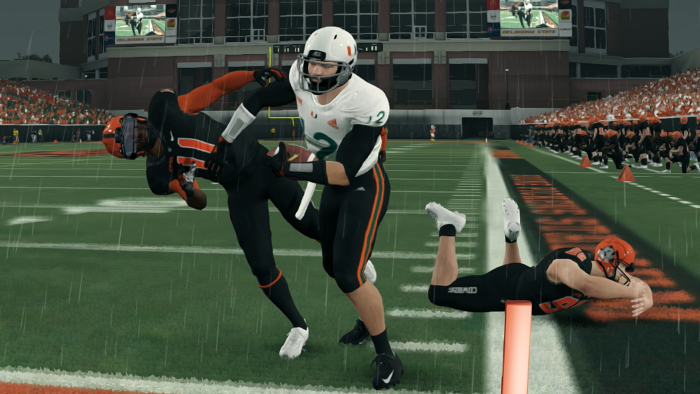 By: Ryan Moreland (@ryanmoreland)
In just a handful of hours, the CFSL will crown its Season 18 Champion. If a National Championship isn't enough on its own to convince you to tune in, I have even more reasons you should be joining us on Twitch tonight. Let's dive in.
#10 Record Watch
There are quite a few records that will be in danger tonight. Laci White is climbing the TFL leaderboard, Rick Koon is trying to catch the single-season interception record, and Mateo Walker is trying to become the first QB to ever have multiple 5,000-yard seasons. These are just a taste of the history that could be made tonight.
#9 Channel Points
Hoodies, t-shirts, and listening to Murph awkwardly try to roast someone. That and more are available to those who can get their channel points. And we all know the only way to earn them is to show up for the games.
#8 The Broadcast Team
Murph and I will be on the call for this game. I realize that the broadcast team isn't the reason most tune into a game, but a guy can dream, right?
#7 Last Dance
For nine players this will be their last game and your last chance to watch them play. These players will look to leave it all out there on the field so that they can finish their careers off right. How can you miss that?
#6 Revenge
These two teams met earlier this season. Miami came into that game undefeated and the unanimous pick for #1 in the country. That didn't stop Kentucky from punishing the Hurricanes. The Wildcats beat Miami 43-14. That started a four-game losing streak that lasted until the start of the playoffs. Miami wants nothing more than to return the favor.
#5 Making History
After the losing streak, Miami was still able to sneak into the playoffs as the 13th overall seed. That makes them the lowest seed to ever make it to a Championship game. Can the CFSL have its first-ever champion to overcome a four-game losing streak?
#4 Last Chance
This will be the last CFSL action for a while. This offseason is scheduled to be longer than normal to get us through the holidays. Over the next two months we will all be desperate for some CFSL action, so why not get your last taste while you can?
#3 Dynasty Watch?
Kentucky has the opportunity to win two National Championships in just three seasons. Only two teams (Notre Dame and Oklahoma State) have been able to do that. The Wildcats would put themselves in rarified air with a win.
#2 Ending on a High Note
The ADs of both teams will be leaving after the end of this season. Miami AD Jay Gates is retiring from coaching and Kentucky AD Derek Hawkins will be leaving for LSU. Both of these men would love nothing more than to get their first National Championship as an AD and ride off into the sunset.
#1 IT'S THE CHAMPIONSHIP GAME
What more do you need than that?
The Championship Pregame Show starts at 5 P.M. CST on Twitch and leads into the game, which starts at 7 P.M. CST.