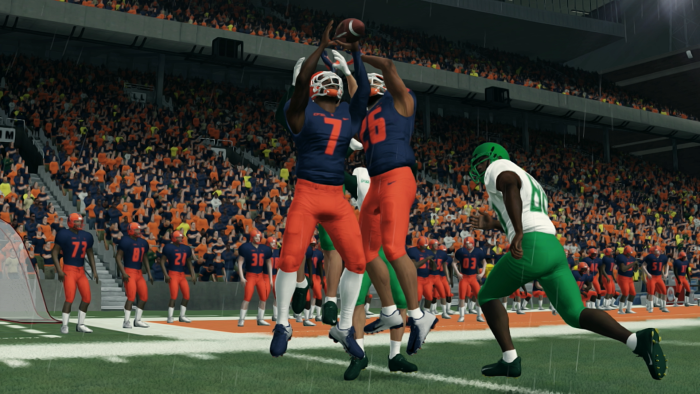 By: Cole Mantell (@lightningdragon)
The old saying goes, "Time flies when you write a lot". Or something to that effect. In gathering some data and reviewing past work for this year's edition of "What Each Team Needs In Recruiting for Season X", I realized that the first of these articles was published over a year ago, for Season 13. Through thousands of words and seemingly thousands of revisions, these articles are some of the most fun media I get to do. I know they are some of the more popular items I've made for the CFSL. So, for the audience that reads these every offseason, thank you for your support.
If you are new to these articles, each offseason I identify the most pressing need for each returning team in the CFSL. Often by doing so, we get a look into what positions are in greatest need entering the new season. For Season 19, we have much turnover when it comes to new teams coming and old teams leaving. For the 19 applicable teams, we will look at what position groups or even more they might need to focus on the most. As usual, we will not include new expansion teams, as they need everything. In addition, this article doesn't take into account any transfers or early graduations. It purely looks at what teams are losing to graduation and thus what they need to replace there.
Alabama Crimson Tide – Linebacker
It would almost be cheating to put Quarterback here, as Alabama will lose Cece Range to graduation. He is one of the best passers in CFSL history and the Crimson Tide has a tall task in replacing him.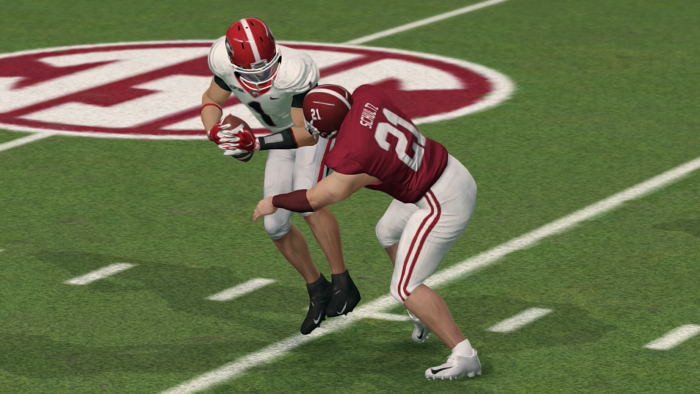 However, maybe less talked about, but even more important to the team, Alabama will lose both Troy William and Ryan Schultz to graduation this offseason. Shultz in particular is one of the best linebackers in CFSL history. With only five-star Joseph Holms left on the roster at the position, that's a few players at least Alabama will need to replace. For returning Crimson Tide AD David Ware, this position group is likely his top priority.
Auburn Tigers – Free Safety
There are eight total graduations for the Auburn Tigers entering Season 19. None are concentrated in one particular position. This means that when it comes to graduation replacements, Auburn AD Cole Mantell will be looking more for one guy at many spots instead of many guys at one spot.
That includes free safety, where graduating starter Kendrick Jarrett leaves Auburn without any true FS on the roster at the moment. Starting SS Chad Wendel is also entering his Senior season as well, so over the next two seasons the back of the defense will be a big recruiting need for the Auburn defense.
Boise State Broncos – Defensive Tackle
Boise State already has one of the smallest rosters of any Power 2 (now Power 4) team in the CFSL. Add to that six more graduations and you should see a busy offseason ahead for Hall of Fame AD Dakota Jorgensen. Nowhere is this more apparent than at DT for the Broncos. Talented Defensive Ends Plano Greene and Archer Fox both should return, but Boise State will lose both Pierce Parker and Mo Hart to graduation.
While depth will also be important to build throughout the roster in recruiting this offseason, getting two new starter quality DTs should be near or at the top of the Boise State staff's list when it comes to recruiting wish list making. Don't be surprised as well if the team, already known for big transfer moves in the past, dips into the transfer portal a bit once again.
Clemson Tigers – Quarterback
Clemson will be a team in transition this offseason. Loki Gunderson graduates as the leading passer in Tiger's school history by every major metric. He was the only Clemson QB ever with over 10000 passing yards.
Replacing him will not be easy, and it is the biggest priority for the Clemson staff. Including Gunderson the Tigers have a total of five graduations. This should mean that Clemson might not have the largest recruiting class, but it will still be one of the most important ones in school history. For incoming freshman Quarterbacks, Clemson will be an interesting school to discuss considering how well Gunderson performed over his career in Death Valley.
Florida Gators – Halfback
Honorable mention goes to the safety position for Florida, where the Gators have both starting safeties graduating (FS Tyrone Wysinger and SS Colby Ray Walker). However, if Florida is known for anything, it is their passing attack. That has been and likely will continue to be the biggest key to their success. So the question then is why is Halfback such an important need for the team if they love passing? Put simply, no Air Raid offense works without a dynamic halfback.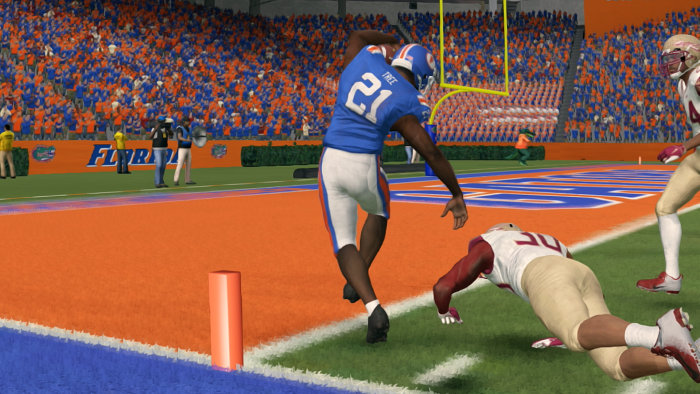 Florida will be losing William Tree, one of the best Air Raid halfbacks ever, to graduation. Braxton McFadden is still here as the next guy up as a rising junior. But knowing Florida AD Justyn Veneklasen, getting that next key piece in place for his offense is the biggest priority in recruiting for the team. Will it be McFadden? Or is a new face at HB the next guy to lead the running and short-receiving offense in Gainesville?
Florida State Seminoles – Wide Receiver
It was an up-and-down season for the Seminoles. On the one hand, there were points during the season when Florida State was at least a Top Five program in the CFSL. You can even argue they should've been higher than that at points. On the other hand, the Seminoles also lost to both of their biggest rivals in big games, including a Quarterfinals loss to rival Miami in the playoffs. However, this team is close to reaching the heights only reached once so far in team history. Replacing talent is one of Florida State AD Tom Pence's specialties.
With Blake Elder and Quinn James graduating, along with James Newton entering his senior season, getting younger at WR is the biggest priority for the Seminoles staff this offseason. There also is depth to replace elsewhere, but that should not be a huge jump for a team with only nine graduations.
Georgia Bulldogs – Tight End
While Cadbury Wellington and Perry Pushkaryov rightfully get a lot of praise, Steven Eastridge was the heart and soul of the Georgia Bulldogs for his entire time on the roster. The team has won Team Spirit twice in a row now, and Eastridge is a huge part of why. With him graduating and only four-star TE Jake Banks left on the roster, it is likely the new Georgia staff sees Tight End as a big spot to fill this offseason.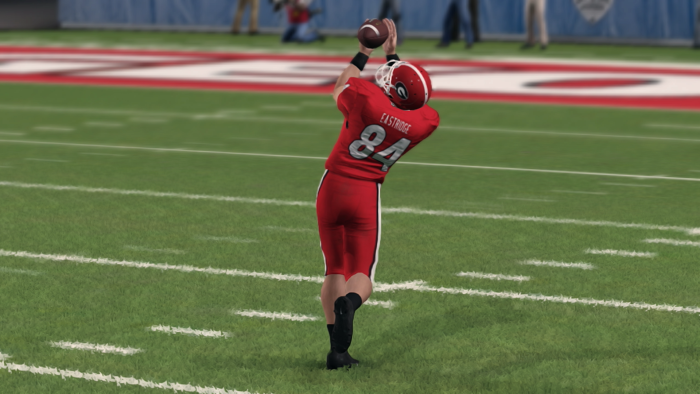 Wide Receiver and Cornerback are also positions with graduations that could see efforts to fill depth as well. However, Georgia has relatively few graduations this season. This does provide the opportunity for the staff to be able to be more targeted in recruiting provided they can keep guys who are looking to stay on with the new coaching staff.
Illinois Fighting Illini – Cornerback
Illinois is similar to Alabama where it almost feels too easy to say quarterback is their biggest position of need. Dylan Shumate graduates a program legend after Illinois took that big next step and became a playoff contender this season.
However, there will need to be a lot of work done by Illinois AD Will Stephens and his staff this offseason. All four cornerbacks (Zay Martinez, Cletarius White, Luca Hudson, and Ted Zelenock) graduated. With zero players on the roster at the position, that is a huge hole to fill. Especially as Illinois stays in what could be a pass-happy Big 10 next season. For Illinois to truly challenge heavyweights in that conference, they'll need to put the work in and refill lost depth.
Kentucky Wildcats – Cornerback
As a reminder from the top, we are only looking at what Kentucky needs to replace when it comes to graduations. In that sense, Kentucky is doing pretty well after winning their second National Championship. Only DT Israel Jordan Ward and CB Brady Boutwell are graduating. Cornerback gets the slight edge here for the team since the other three cornerbacks on the roster are all also rising seniors. The new staff will likely try to at least get one CB as a freshman and that is a big need.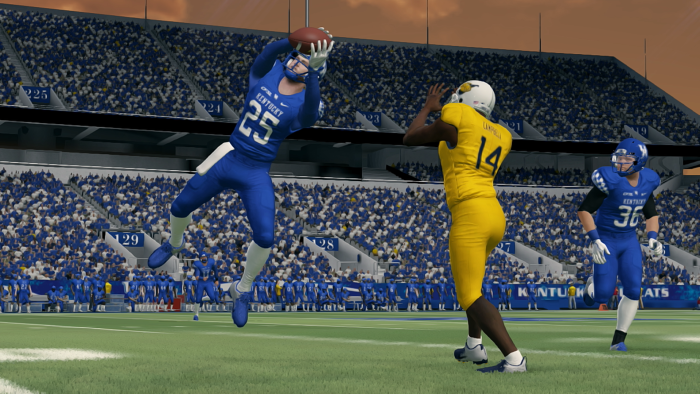 However, while we only look at graduating seniors in this article, it is impossible to ignore the bigger picture with Kentucky. AD Derek Hawkins is leaving to revive LSU. There is likely to be a battle between the LSU staff and Kentucky staff for players on this championship team this offseason. That will be the biggest story in Lexington this offseason, and one of the biggest recruiting stories in the CFSL period this offseason. Keep an eye on it, as at least two teams hang in the balance on the result.
Miami Hurricanes – Defensive Line
This might be the easiest pick of any of the nineteen teams we are writing about this season. While there are other graduations, Miami made a championship building a roster off their award-winning defensive line the last few seasons. This offseason, the Hurricanes lose DE Jay Gates, DE Laci White (also Defensive Player of the Year this season), and DT Daniel Winston to graduation. For a defensive line known as maybe the best in the CFSL ever in past seasons, only three-star rising sophomore DT Chip York remains.
For the new incoming staff at Miami, this is the biggest priority for them. Forget returning or even winning a National Championship. For Miami to stay competitive in the new ACC, they must address the defensive line first. In addition, replacing lost talent at other spots such as HB and CB is also going to be a huge test for this new staff.
Michigan Wolverines – Tight End
Michigan is unique in how successful they've been running a Multiple offense. While certainly not the first or only team to make deep playoff runs with said offense, that has been their calling card the last few seasons. In that type of offense, the tight end (and fullback) is a huge piece to make the offense successful.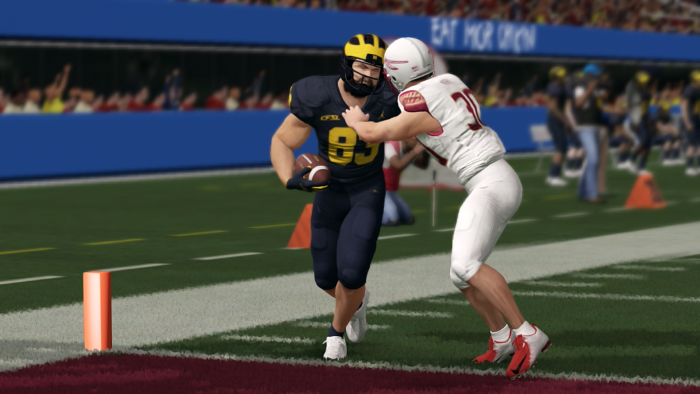 Daniel Begley is graduating, which leaves only three-star JaCory Hicks Jr in the position. Not only will Michigan AD Aaron Ike need to find a suitable replacement at tight end, he'll have to find one willing and able to run his style of offense. That's no small feat. It should easily be one of the biggest needs for Michigan this offseason in recruiting.
North Carolina Tar Heels – Defensive Line
Now replacing Cadbury Wellington and Teddy Roberts, who both graduated, will be important for UNC. However, considering that replacing Cadbury Wellington is impossible, I don't think that should be UNC's biggest priority this offseason.
Similar to Miami, UNC will have three graduations on the defensive line this offseason. They are DE DeAndre Gross, DE Jaiden Carter, and DT Jeff Knight. While UNC on paper will have more returning talent compared to Miami, the predicament is the same. You cannot win in the modern CFSL without depth at defensive tackle and defensive end. Both positions should be the biggest priority for the UNC staff this offseason.
Notre Dame Fighting Irish – Linebacker
Notre Dame under new AD Dustin Hall, had a relatively successful season. However, 'relative' is not the standard for a program with three National Championships. When it comes to pure graduations, Notre Dame will lose OLBs Tyrell Kross and Thomas Schultz. In addition, the only remaining linebacker on the roster, OLB Van Jackson, enters his senior season.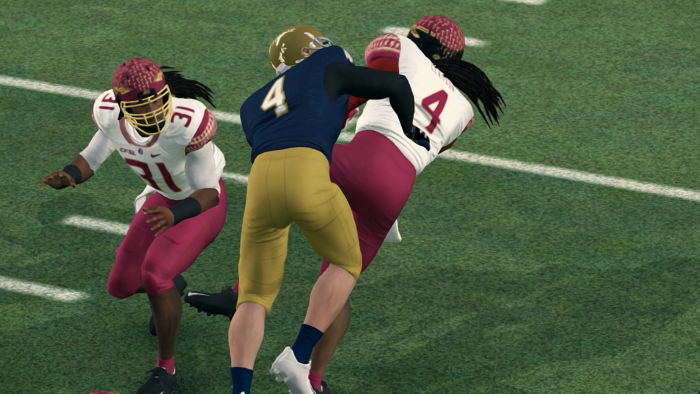 Notre Dame not only needs to replace graduating talent, but they'll need to get younger at linebacker too. After a good start in the first season under a new regime, it is all about building momentum. So, that will be the question Notre Dame and its new staff will need to answer. Can they sustain that momentum into Season 19?
Ohio State Buckeyes – Linebacker
It would be fun to say fullback is Ohio State's biggest recruiting need, considering FB Corbin Archer is one of just three total graduations on the roster. Similar to Kentucky, the question this offseason for Ohio State isn't who the team replaces from graduation. It's who the new staff needs to replace as the coaching staff transitions and players may or may not leave.
Beyond that, the other two graduations are CB Gerald Pope and OLB Haisten Kai. Considering Jon Lee is also entering his senior season and that will only leave DJ Money after next season. That is the biggest graduation replacement objective for the new Buckeyes staff coming in.
Oklahoma State Cowboys – Quarterback/Halfback
Again, very tempted here to not go for the obvious answer and instead talk about the four graduating CBs. That will be an issue, but the biggest story for the perennially contending Cowboys is at the two big skill positions on offense. Both QB Ryan Moreland and HB Ricky Hammer graduate as two of the best of their era, and leave a huge hole for Oklahoma State AD Adam Smith to fill.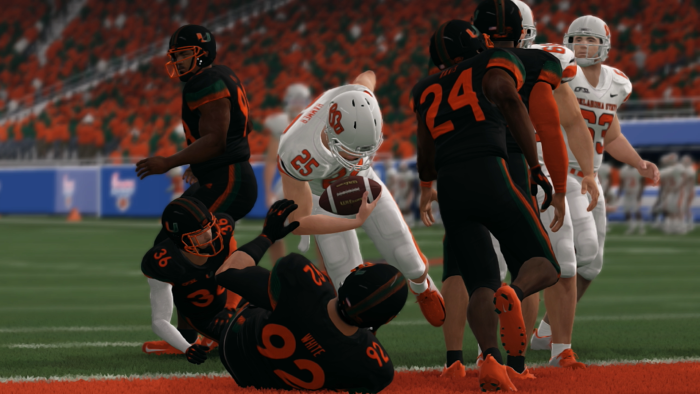 Over the last few seasons, Oklahoma State has been the best recruiting team in the CFSL, period. That experience will be needed as the Cowboys enter a new era for the team. In total, including the kicker, nine are graduating this offseason from Oklahoma State. Not even including potential transfers, that will be more work than usual for the recruiting staff in Stillwater.
Oregon Ducks – Depth
It's a new era in Eugene. Season 18 AD of the Year Vinny Mixon moves from Oklahoma over to the Oregon Ducks for Season 19. As one of many teams getting a new AD, retaining key talent is a huge issue for Mixon. While it was tempting to say the defensive line is the biggest issue for Oregon, in reality, the Ducks are not a team that needs certain players at certain spots.
A lot of what happened with their 0-8 record was due to the lack of depth at multiple key spots. So for Vinny Mixon, it's all about building that depth. There is talent on the roster. Look for maybe a lot of Oklahoma transfers to come over and help fill the team as Oregon looks to a new era to continue the storied traditions of the colorful uniforms.
Pittsburgh Panthers – Offense
In the past, I've been burned saying a team needs "everything" or even a lot in recruiting. But I feel comfortable saying Pittsburgh needs that this offseason. For the Panthers, they had a roster that featured ten players total on the offensive side of the ball this season. Five of them graduated, and two more (both TEs Darius Harris and Dave Dawkins) are rising seniors.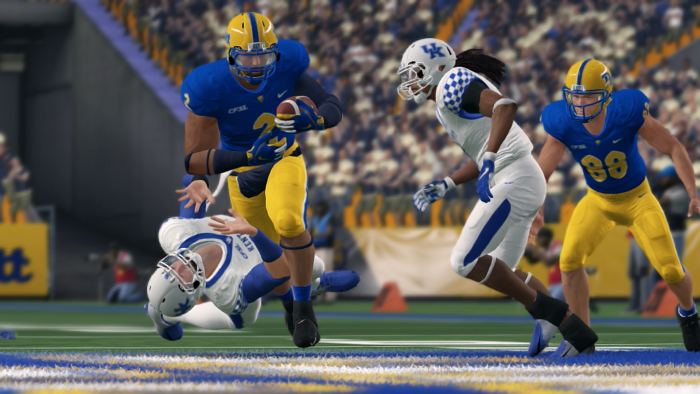 For Pittsburgh, this also includes both QB Shaker Mayfield and HB Derek Eldridge graduating. Replacing all the leaving talent is the priority. Still, it is not all doom and gloom, even considering that the team has work to do on the defensive side of the ball as well. WRs Alexander Tolbert, Gage Tyson, and Josh Mizikar are all five-stars and all just rising sophomores. Whoever comes in at QB will have the opportunity to grow with a young core, and probably get to help build an offense in their vision with the coaching staff. That is a big recruiting opportunity for the Panthers staff this offseason.
Texas Longhorns – Defensive Tackle
Texas has come far under AD Justin Duke. While the team is still searching for their first National Championship since Season 5, the team is still a force to be reckoned with as well. If a few plays went differently this season, it easily could've been the Longhorns playing in the National Championship this season.
The team also is doing relatively well on graduations with only five total including the kicker. While David Ware does leave to go coach in Tuscaloosa, for this article Texas will have to look at DT as their biggest recruiting weak spot. Collin McDowell graduates and leaves only rising sophomore John Ryan on the roster. Replacing McDowell and filling depth is all Texas needs to do to keep the momentum going into Season 19.
West Virginia Mountaineers – Safety
This easily was the most successful season in West Virginia team history so far. The Mountaineers were another team to take that next step into contention. Unfortunately, a lot of pieces will graduate, including both the starting quarterback and halfback. However, nowhere will graduations hurt on the roster for depth more than at both safety spots.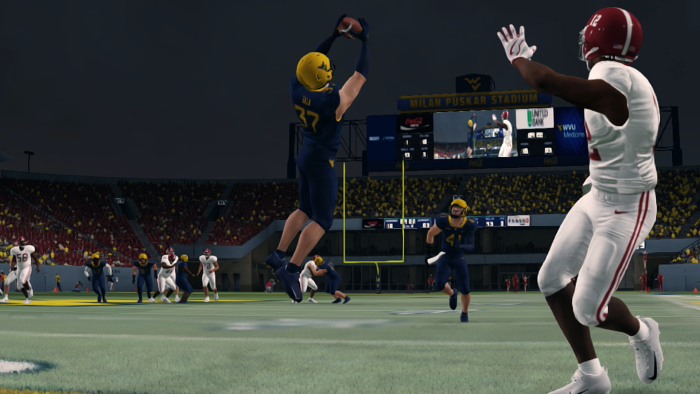 FS Adam Sala and SS Jakoby Cobb were both two huge parts of WVU's success this season. Not only do the Mountaineers lose both this offseason, only FS Kevin Walsh remains. With ten graduations, not to mention a coach moving on to becoming an AD, West Virginia AD Nate Murphy has his work cut out for him this offseason. Still, with the momentum already in WVU's favor, this does seem like something the team over there is up to the challenge.