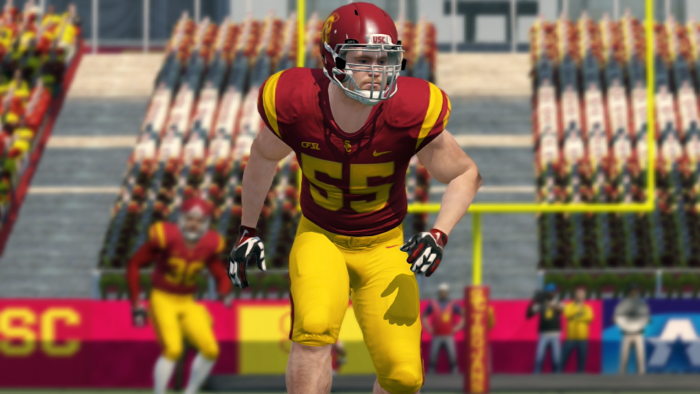 By: Cole Mantell (@lightningdragon)
"What makes you the right guy for USC?"

"USC isn't a program that could be led by someone who just wanted to be an AD wherever they could. It needs someone who understands its history and its potential and I know both of those things very well"
While many new programs are entering the CFSL, there is only one USC. For longtime viewers, USC has a storied history in the CFSL. The legacy of the program is one of the last great Triple Option teams and also one of the first Air Raid offenses in the Revamped era. This team is not one that just any person can run, and so Jacob Cobb (@Jacobb02) is the guy who will try to bring back greatness to SoCal.
Cobb has experience in this league and with USC. He originally was a player and coach at USC. Cobb then would move over to the newly formed West Virginia after USC folded. He has been a big part of the coaching staff in Morgantown that made the playoffs this season. "From day one it was really important to him that we got to know our players. And that included him getting to know and helping me," West Virginia AD Cobb said of Nate Murphy.
However, Cobb originally was not a USC fan growing up. A Knoxville native, the new AD enjoys cheering for the Tennessee Volunteers and Tennessee Titans in real life. He now lives in the Atlanta area. When asked about a potential out-of-conference matchup between the returning USC and Tennessee, Cobb responded simply, "I would love to play Tennessee!". No word yet from the league office on what the schedule will look like in Season 19. However, a student-versus-teacher matchup between USC and WVU almost seems certain.
USC reenters the CFSL in the B1G, a conference it has been a member of previously. It joins a conference with Illinois, Michigan, Ohio State, Oregon, Penn State, and Washington. That's three expansion teams (USC, Washington, Penn State) in one conference, which will be another storyline to keep an eye on. Also, for the first time in a few seasons, the CFSL will have a true West Coast presence outside of just Oregon. In addition to the returning Big 10 teams in USC and Washington, Colorado joins the Big 12 to fill out the western side of the CFSL map. This elevated presence out west is another factor in recruiting as well. Will more players be based out west? How much more work will coaches have to put in for guys in that region? With more competition, there should be quite a few storylines to keep track of on the other side of the Mississippi.
As for USC, they'll reenter the CFSL in a position of strength. A history of success and awards, including the Season 7 National Championship. It's been 12 seasons, however. Just because a team was successful in the past does not mean it will translate over into the modern CFSL era. But Cobb thinks he is the guy to continue that legacy and seems up to the challenge.
"I told [West Virginia AD Nate Murphy] I would probably only apply to be an AD if USC was announced as one of the teams. I wasn't interested in anywhere else. Love them or hate them EVERYONE (sic) knows and talks about USC and I don't expect that to change one bit."
While time will tell if Cobb can match the previous success of USC's history, he is certainly going to give it his best shot. No one can deny a good USC makes for a better CFSL. Keep an eye out west, this story is just getting restarted.