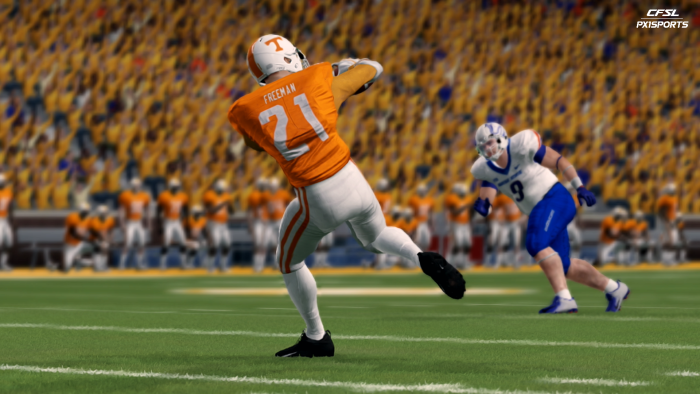 By: Cole Mantell (@lightningdragon)
CJ Furman (@TinyVFL) has heard all the stories. He is well aware of what the general CFSL audience thinks of Tennessee. For newer fans, no program struggled quite as much as Tennessee did from Seasons 12 through 15. This included a record losing streak of 24 straight losses, equaling 3 straight winless seasons. TinyVFL was a part of that as a player, saying "We had a historically bad time."
But that's not the entire story. That's not even really the most interesting part of this story. Many teams lose in the CFSL. Some teams, Tennessee included back in the day, lost many games in a row. Very few teams who are folded after losing a lot come back for revenge. Even rarer is it that a player from one of those schools grows into the Athletic Director to bring said school back.
But just like Tennessee, there's a lot more to the story with Furman as well. Furman has been in the league since Season 9 with Notre Dame. He would win a championship with the Fighting Irish as a player. Furman's coaching career started after his time at Notre Dame. He played and coached for Tennessee, North Carolina, and Bowling Green.
For those keeping track, that means he has been a part of a championship team, a team with the worst losing streak in CFSL history, and an expansion team. While many players might get to be a part of one big storyline, Furman has speed-run some of the biggest stories in the CFSL over the previous ten seasons. Almost no other new Athletic Director this season has as varied a background before taking their team.
When asked whose coaching tree Furman would identify with most, he split it between former Tennessee AD Logan Mitchell and current North Carolina AD Daniel Gunn. "Gunn taught me how to organize. And he was a big [help] on recruiting. [He taught me to] keep a good rapport with players that you contact throughout the recruiting process regardless of where they want to go," Furman said. "But I also learned a lot at Tennessee under Logan. The [number] of practice sims we watched showing me things to look for while we were watching them was key."
Tennessee should be in for an exciting first season returning to a reformed SEC. Florida State and Miami have left for the ACC. Tennessee and LSU have taken their place. There are also new Athletic Directors in charge at Kentucky, Georgia, and Alabama. While the SEC may not have as many expansion teams as other conferences, only the Big 10 has as many new Athletic Directors (five) as the SEC.
This provides both an opportunity and challenge for the new Volunteers staff. First, game planning will be more difficult when many ADs either have little or even zero history to go off of recently. How do you plan for something you have never seen? This is also an advantage that Furman has, being a new AD. In addition, with all the changes the SEC is more up for grabs than ever before.
That's the difference between this Tennessee and previous iterations. Not since the era when the Volunteers won the Season 3 National Championship has there been this much excitement in Knoxville. A former player and experienced coach leads the team and the SEC is wide-open. Tennessee is in as good a position as any expansion team for Season 19 to make some noise. Sure, success is neither easy nor guaranteed in the CFSL, but if Furman has any say, the days of long-losing streaks are long over for the Tennessee Volunteers.