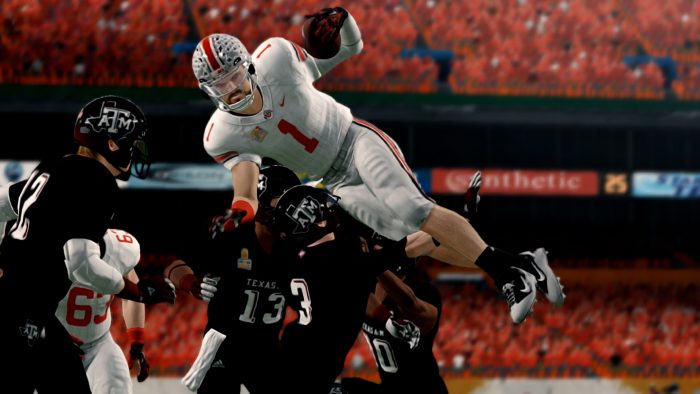 By: Cole Mantell (@lightningdragon)
What makes you the guy to take on the legacy of a historic school such as Ohio State?
"I take a lot of pride knowing I was the guy that brought Ohio State on the map in Season 9 and Season 10 [as QB Zach Davis]. I know what [being an AD] takes. Ohio State is a blue-blood CFSL powerhouse, and I can't wait to turn this team around."
Zach Davis (aka AssuredFame) is no stranger to Columbus. No stranger to the rivalry that fuels this school. Ohio State has not beaten "the team up north" since the finale of Season 16, a 33-30 upset win on February 24, 2023. Davis was hired to hopefully bring Ohio State a championship, but the first big goal is beating Michigan.
While many teams are getting new Athletic Directors for Season 19, only four teams get the honor of playing the last day of the regular season. Two of those teams got new Athletic Directors for Season 19. One, Alabama, is seeing the return of David Ware to a school he knows well and has coached for previously. The other is Davis, returning to the school he won a championship with as a player.
Daivs was a part of the original MAC, meaning he was the Head Coach of Bowling Green while his QB was winning the National Championship at Ohio State (a quirk of the original MAC coaching rules). From there, his coaching career includes stints at the original USC, under the legendary Michael Buck at Oregon, and then as well under another legend in Tom Pence at Florida State. That is where he was most recently, serving as Pence's Head Coach. In our short conversations for this article, Davis described himself as a man who puts community first in his locker room. He adds, "I love winning, and have won a lot. But I am here more for the community and relationships that we have here in the CFSL."
Of course, no conversation about Ohio State can go too far without mentioning the other half of this historic rivalry. While Ohio State historically had the upper hand at many points in this series, Michigan has shown recently how dangerous a contender they are. Under Aaron Ike's regime, the team has reached a National Championship and has reached numerous Top 5 rankings in the polls. Ohio State has struggled in recent seasons. All while Michigan, first-round loss to Florida this season notwithstanding, has thrived as the league continues to evolve.
In some ways, Davis is hoping to emulate the early success and momentum Aaron Ike and the Wolverines have enjoyed. On the other hand, for Ohio State to retake its crown in this rivalry and the B1G in general, it is going to take a lot more than copycat tactics. This is Davis's team now, and only he truly knows right now what Ohio State needs.
Beyond Michigan, the new look Big 10 will be changing as much as any conference entering Season 19. The conference is tied for the most new ADs with the SEC (5). Illinois and Michigan are the only two teams in the conference retaining their Athletic Directors. Penn State, USC, and Washington return to the CFSL, all as new expansion teams. That leaves Oregon alongside Ohio State with existing rosters, but new guys leading the team. Under this much change, including the exit of perennial conference champion and contender Oklahoma State, there is a lot of room for growth.
Expansion teams by definition are unpredictable, and Oregon was the only team below Ohio State in the standings last season in the B1G. That leaves theoretically Michigan and Illinois as the biggest obstacles for Ohio State to win the conference in Season 19. Time will tell if that is the case or if another team jumps into the fray as well. All in all, the B1G easily will be one of, if not the most, exciting conferences in the CFSL next season for all of these reasons and more.
So, I ask again. Is Davis the right guy for this job? Week 8 of Season 19 will be the real test. Ohio State has one game they must win, and one losing streak that must be broken before we talk about anything else.