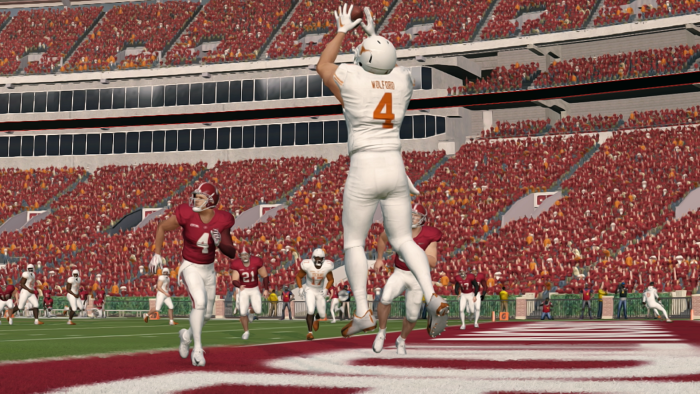 By: Ryan Moreland (@ryanmoreland)
Panic in Tuscaloosa?
According to the league's sportsbook spreads, there have only been two upsets so far this season. The first happened in Week One when Boise State outlasted Alabama in a 34-32 thriller. Alabama came into that game favored by 5.5 points. The past week we saw the second upset. This time the Texas Longhorns pulled off a big win in a tight 36-30 beating of… Alabama. That's right, the Crimson Tide have been the only team-favored team to lose a game in Season 18.
There weren't many that would have predicted an 0-2 start for Alabama. The Crimson Tide have been consistently one of the best teams in the CFSL. Last season they won the SEC and made it to the Final Four in the playoffs before losing to the eventual champions. The slow start has been the focus of many a Tide fan. The question is: Is it time to panic?
Alabama's AD Tavian Tyree doesn't think so. "I don't think panic would be the right word," said Tyree. "There's definitely more urgency now to get things on the right track." Alabama for many years has been known as a team that loves to get the ball in the air as much as possible. However, this season the Crimson Tide bucked tradition (a bit) and went with a spread book. However, after the 0-2 start the Tide changed to a run-and-shoot playbook.
Changing playbooks early might look like a desperate move to some. However, it has been proven to be a smart move at times. Last season the Oklahoma State Cowboys changed playbooks twice on their way to a National Championship. Since this playbook change was also a scheme change, Alabama will not have the opportunity to change out of it.
That still shouldn't worry the Alabama faithful. This was a change to something familiar. "It's a playbook that we're comfortable with though and have found a lot of success with over the last few seasons," Tyree said.
Tyree and his coaching staff feel confident that this was the right move and still have their sights set high. "Our expectation here is always a deep playoff run. But I'm trying to make sure we don't look ahead. If we're able to take it week by week and go 1-0 each week by the end of the season we'll be right where we want to be." Alabama will play their next game against Florida on Wednesday on Twitch.
Hurricane Season
We have to talk about this team. Miami has started the season on an unbelievable tear. The Hurricanes set 2-0 after taking down the defending champion Oklahoma State Cowboys and top-five ranked Georgia. And they didn't just beat them, they hammered them. The Hurricanes have won both games by three possessions. I know it is early in the season, but some are already starting to ask: Is Miami unbeatable?
Just look at this team. They have one of the best QBs in the league who has perhaps the best and deepest group of offensive weapons around him. Their defense is headlined by the devasting duo of Laci White and Jay Gates up front. Behind them, you have one of, if not the best linebacker duo of Nathan Reno and Candace Navarro. And their secondary shows little weakness as well.
Miami ranks inside the top three in points per game, yards per game, third-down percentage, redzone percentage, rushing yards allowed, and sacks. They did all of this while playing two teams that started the season ranked inside the top five.
I know, I know, it is too early to claim this. Perhaps their schedule wasn't as tough as we first thought. Or maybe it was just an off night for Georgia and Oklahoma State. Maybe Miami will be figured out as the season wears on and more coaches get to watch their tape. But for right now, this is the team to beat. Good luck to Boise State this week. You are going to need it.
The Battle for Power (Two) Continued
Last week we talked about the fact that despite a lot of preseason hype, the SEC had not separated themselves from the B1G in head-to-head battles. The SEC had a 3-2 record over the B1G in the season's opening week. And this week would follow suit.
There were only two matchups between the two power conferences this week. They were #13 Texas at #9 Alabama and #10 Michigan at #2 Florida. Despite coming into both games as the favorite, the SEC split them 1-1. This brings the head-to-head record between conferences to 4-3 in favor of the SEC.
The SEC hasn't quite lived up to the billing yet, but interconference play is not over. Week Three will see four more battles between the Power Two conferences (you can find the list of matchups in my column from last week). Can the SEC dominate these matchups and prove to the CFSL that they are indeed the far better conference or will it be more of the same? We will find out this week.
Who Impressed Me This Week
JaMarr Carr, Miami WR
Carr had an impressive week this week. He caught 13 passes for 217 yards and a touchdown. The Georgia defense just couldn't come up with an answer for him. This tied Carr for the second-most receiving yards in a single game for Hurricane. It was the second most prolific game of the junior's career and one I am sure he won't soon forget.
Shaker Mayflower, Pittsburgh QB
Pitt came close to pulling off a massive upset over Florida State this week and Mayflower is a big reason why. The senior signal caller threw 60 passes for 537 yards and three touchdowns. He also added another score with his legs. This was a major performance for Mayflower, who has had a rollercoaster of a career. So far, his senior season looks to be his best.
Cody Gammon, Oregon WR
Oregon came into the game against Notre Dame as massive underdogs. While they still lost by 17 points, they did put up a serious fight. Gammon was a big reason why. The Ohio transfer caught 8 passes for 221 yards and two scores. This is Gammon's second time going over 100 yards in a game. Well, consider this a breakout game for what appears to be a future star.
Timothy Richardson, Eastern Michigan WR
Three wideouts in one week, you ask? Yep. Richardson played out of his mind. He caught 7 passes for 208 yards and three scores. In only his second game in the league, Richardson was one yard away from tying the EMU single-game record. His performance kept Eastern Michigan close to Auburn as they sought their second straight win over a Power Two team. They fell short of that goal, but Richardson still shined.
Tymundus Bell, Florida MLB
Bell is no stranger to this list and games like this past one are why. Bell had 12 tackles, a TFL, two interceptions, and a forced fumble. He continues to prove that he is one of the very best to ever play the position.
Ezra Rogalski, Oklahoma State DE
Rogalski put a lot of pressure on Boise State QB McKade Alber this week. Roggie finished the game with ten tackles, five TFLs, and three sacks. When Oklahoma State needed a big stop, he was there with a sack. Oklahoma State might not have won this game without him.
Vinny Mixon, Oklahoma AD
It was no secret that the Sooners lost a lot of talent when former AD Dustin Hall left. Mixon came in, filled holes, and got Oklahoma back on track. After an impressive showing against Florida last week, Mixon scored his first win as an AD with a 42-30 victory over Ohio State. If this offseason is any indication, this will be the first of many wins for the young AD.
The Adieu Haiku
No MAC wins this week,
Underdogs have been vanquished.
Where are the upsets?